Today, Facebook announced the launch of "Conversion Tracking." It is described as a new conversion measurement and optimization system for direct response marketers.
According to Richard Sim, Product Marketing Manager at Facebook, "Marketers can now also use optimized CPM (OCPM) to deliver ads to people who are most likely to convert on their websites. Beta tests have shown that when conversion measurement is used with optimized CPM, ads reduced the cost per conversion by 40 percent when compared to CPC ads using the same budget."
Inside Facebook, a blog that closely follows Facebook's every move provided the screenshot below of the tool. It shows "Conversion Tracking" just below the Campaign Schedule details in the Campaign creation process.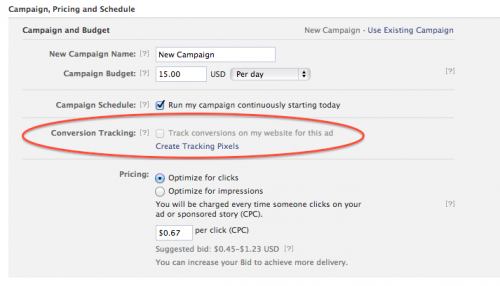 I love the way Facebook also released this tool by providing two excellent case study examples including Fab.com and the Democratic Governors Association, boasting boosts in conversions generated by Facebook advertising.
What does this mean for performance marketers? I believe this is another step in the name of progress. WE should never be afraid of technology that aims to provide more transparency to advertisers. Over time, marketers and advertisers will only grow smarter with their campaigns and demand more performance metrics to determine effectiveness. This will only drive the online advertising economy upward.
The only limitation I see currently is that reporting will remain within Facebook. Marketers today need to see all of their publisher and advertising relationships in one place in order to compare and analyze the value. I see this being an excellent tool for medium to small businesses, especially for those with businesses built around the Facebook social graph, but enterprise organizations and above need to reconcile this spend across their many distribution partners.
Either way, a great move by Facebook.
Author
Peter is CEO and Partner at TUNE. Developing his early skills as an online marketer in SEO, PPC, and Media Buying, he met the twin co-founders of TUNE in 2009 and had the opportunity to join prior to day one, leading product marketing for the company's first launch. He continues to contribute to media, white papers, analysts, and industry blogs with the goals of educating mobile marketers and making the digital marketing ecosystem more connected. Follow @peterhamilton