With over 600 million mobile users as of September 2012, Facebook is poised to be one of the largest publishers on every device. Facebook is in a fairly unique position to help mobile marketers and app developers acquire and engage users because of this extensive reach.
Facebook mobile app install ads are the connecting point between mobile marketers and Facebook Android and iOS app users. Mobile app install ad units introduce Facebook users to new apps while also reengaging users with previously downloaded apps.
Recognizing the importance of Facebook to mobile app marketers, we recently announced the integration of our MobileAppTracking (MAT) product with Facebook as a mobile measurement partner for Facebook mobile app install ads.
With the help of MAT, HasOffers measures the performance of Facebook mobile app install campaigns, alongside any other currently running mobile app campaigns. This post offers some insight into how MAT adds value to Facebook mobile app install campaigns as part of an overall mobile marketing strategy.
From Facebook to App Install
When a user taps a mobile install ad in either the iOS or Android Facebook app, they are taken to the app store to download the app. Once the app is downloaded and installed, the app install event is attributed to Facebook. The process looks a bit like the image below.

Setting Up Integration
Before an app developer starts measuring Facebook mobile app install campaigns with MAT, the developer is required to update the app's privacy policy to reflect compliance with Facebook data and privacy policies. A Facebook App ID from a Facebook developer account is also required. Here's an example App ID:

The Facebook App ID is stored in the Mobile App Details in MobileAppTracking, similar to the example below.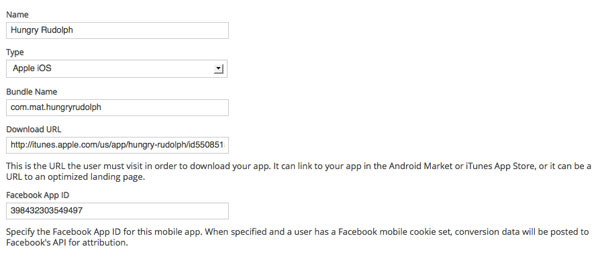 Measuring Revenue and LTV for Mobile App Installs
Once an app is configured for Facebook mobile app install ads, campaigns are measurable via the MAT interface. MobileAppTracking attributes the following types of events to all publishers (including Facebook):
Clicks and installs
Events generated by installs
Revenue generated from events
Here's an example of what the reporting would look like: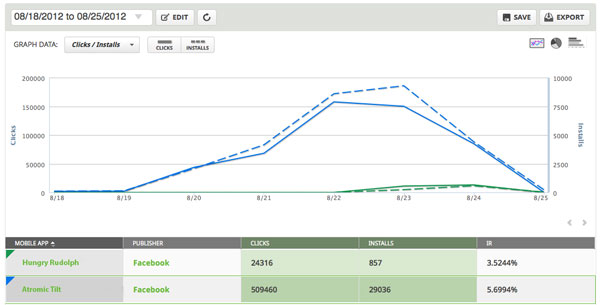 While it's important to be able to get data about Facebook campaigns, the full value of MobileAppTracking is attributing new users and in-app revenue to each publisher included in a comprehensive marketing effort in order to compare the value delivered by each publisher. With the detailed reporting provided in MAT, it's possible to see which publishers deliver users with the highest LTV, providing the agility necessary to adjust mobile app marketing spend to the campaigns where LTV and revenue goals are achieved.
As you can see, measuring your mobile app install ad campaigns with MobileAppTracking is both a simple and powerful way to integrate the performance of your Facebook marketing efforts with other app install advertising.
Author
This post was provided by a guest contributor. To check out posts by our most frequent authors, subscribe to our blog.