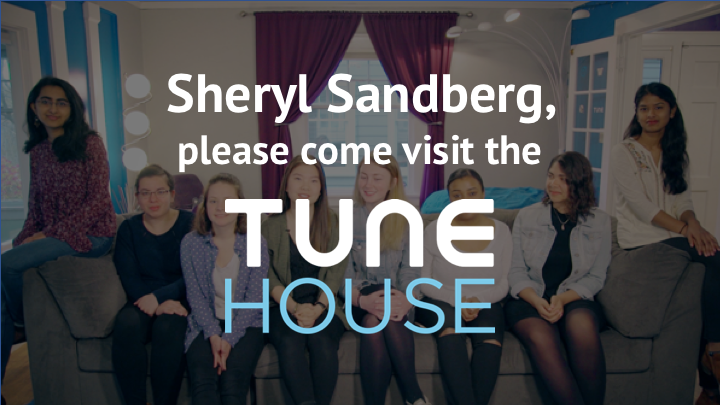 Each year, the TUNE House scholars invite an influential leader to visit their home for a casual chat in their living room. Last year's visitor was Melinda Gates, and this year the scholars set a goal of meeting Sheryl Sandberg.
The scholars said they were particularly interested in meeting Sheryl Sandberg "to pick her brain on becoming leaders, how to deal with the ever-changing world around us, the chaos that surrounds tech right now and what role they [the scholars] can play." They made this video to invite her to their house to learn more about her journey of becoming an influential woman in technology.
The scholars come from diverse backgrounds, have faced adversity, and also want to influence the meaning of being a woman in tech for future generations. As the scholars carve their own pathways, these visits serve as lifelong learning opportunities. In addition, the leaders who visit get to experience the TUNE House program first-hand while connecting with the bright minds of our future. 
From Goal to Reality
On behalf of the TUNE House scholars, Sheryl, will you accept their invite and visit them? Reach out to [email protected] to accept their invitation.
Never miss a thing!
Want the goods delivered straight to your inbox?
Sign up for our blog recap emails to stay in-the-know about digital marketing, analytics, and optimization.
Author
Ali is a recruiting program manager at TUNE. She combines her passion for recruiting marketing and employer branding into building a variety of successful programs. In addition to her recruiting manger role, she is also a manager of the TUNE House program and founder of the TUNE House Roadshow. Ali received her bachelor's degree in Communication from the University of Washington. Outside of work you can find her traveling and exploring new neighborhoods by foot with her fiancé and furry companion.