CERTIFIED PARTNER PROGRAM
The TUNE Certified Partner Program is composed of integrated advertising partners who are committed to upholding unbiased, trustworthy standards in mobile marketing. Marketers gain greater visibility into advertising partners that support best practices — and then connect them with a seamless working experience.
Start here
Please note: all fields are required.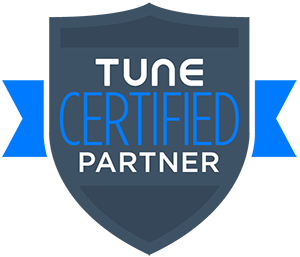 Why Join?
Certified Partner Program applications are subject to an extensive review and approval. To qualify, TUNE integrated advertising partners must meet specific requirements and adhere to TUNE's mobile marketing best practices. Interested? Apply to learn more.
Introductions to potential new clients
Spotlight in TUNE marketing initiatives
Training on TUNE products and best practices
Insights into the TUNE roadmap
Enhanced support to troubleshoot issues
"As a performance driven-marketer navigating countless marketing sources on a constant basis, I need tools and frameworks to help me make intelligent decisions to achieve my spend and ROI goals. The TUNE Certified Partner Program helps establish objective mobile marketing standards, making it easier for marketers to find trusted ad partners."
JAMES PENG, Head of Mobile & Social Acquisition
TUNE Certified Partners