Who We Are
"TUNE is building the world's best platform for marketing partnerships."
Peter Hamilton, Advisor
As one of the first cloud-based SaaS platforms to support affiliate marketing, our mission has evolved since our founding in 2009. Today, we support the growth of every performance partnership that marketers and their teams want to manage. In the past few years, affiliate marketing has expanded and evolved into a larger category called partner marketing. This category includes traditional affiliate marketing, but also includes business development relationships, influencers, content publishers, networks, and many other kinds of partnerships.
"Our approach to partner marketing is different."
Cameron Stewart, General Manager
---
---
We believe that every business can benefit from better technology to manage marketing partnerships. And we believe this need extends beyond advertisers and affiliate programs. Ad networks, agencies, and publisher businesses are also managing partnerships at scale. TUNE's partner marketing platform is designed to support the unique needs of these business models and make it easier for each to work with the others. This is why TUNE has never and will never compete with these models. Instead, we strive to open new opportunities for all of our customers to connect, integrate, and customize their partner marketing relationships.
"TUNE is a technology-first company."
Dan Koch, Advisor
Above everything else in our values and DNA, we are builders. Product and engineering efforts have lead our innovation since the founding of TUNE. We are obsessed with solving today's problems for our customers, and eager to determine the problems of tomorrow. We do this by listening closely, thinking deeply, and constantly pushing new releases — and ourselves. Our goal is to be the fastest evolving, most flexible, and by far most scalable platform available, and through doing so, empower every one of our customers to find partner marketing success.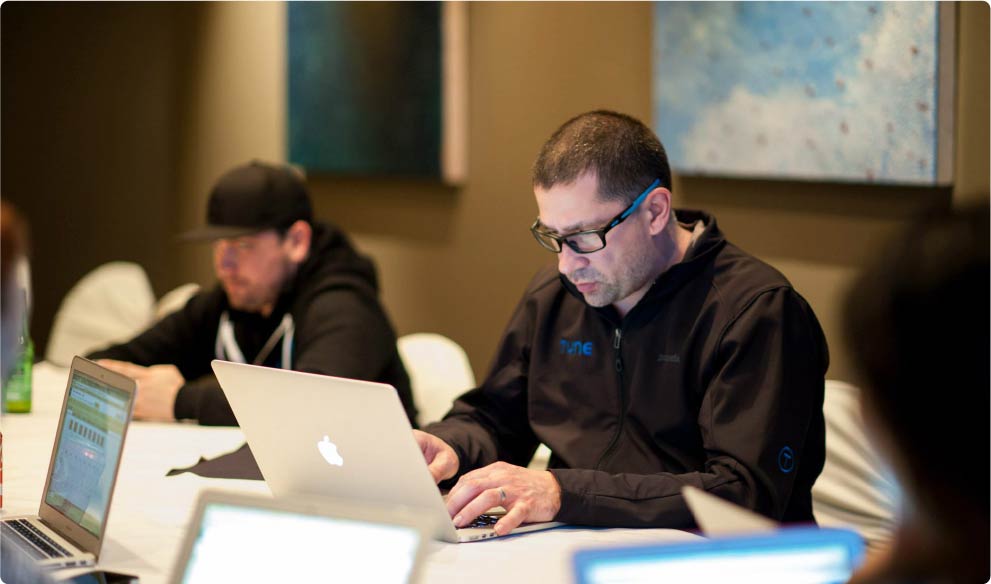 A Brief TUNE History
The first TUNE product was launched in 2009. We called it HasOffers, because it was a white label solution that allowed anyone to manage their own offers for affiliates and partners to promote. In the following years, hundreds of new and existing companies built their business on our platform, making HasOffers the most adopted SaaS solution for affiliate and publisher networks.

In 2011, TUNE invented and launched Attribution Analytics, the first SaaS solution for measuring the performance of mobile app campaigns. Among other firsts, our team introduced the industry to the concept of app install campaigns, and created the first mobile postbacks for tracking and attribution purposes. By 2013, Attribution Analytics had skyrocketed to become the industry standard, counting hundreds of the world's largest brands and mobile app advertisers among its users.

Fast forward to 2018, when TUNE's Attribution Analytics product was acquired by Branch, a Silicon Valley company solving the cross-platform mobile experience. The acquisition reformed TUNE around the core HasOffers product and refocused our team and our efforts on developing the existing platform into a complete partner marketing platform. In 2019, we retired the HasOffers name to bring us closer to this new mission.

And the market noticed. In 2020, TUNE was acquired by Constellation Software. Constellation's business strategy is to acquire and hold investments to create sustainable growth and profitability. This change in ownership only furthers TUNE's promise to enable both advertisers and networks to flexibly manage their marketing partnerships.

Today, TUNE delivers a truly technology-first solution for every business in the partner marketing industry. And we're not stopping there. We are dedicated to building the world's best platform for advertisers and networks. Our company keeps this as our singular focus for innovation, now and as we look toward the future of performance marketing partnerships.
Our Customers
We are proud to work with leading brands and networks around the world and are driven to help every partnership succeed.
---
Our Values
We strive to embody these ideals in our interactions with each other and in everything we do, from product development and customer-first thinking to personal growth and our impact on the community.
Be Excellent to Each Other

As humans who share common needs, we treat each other with care and respect. We value diversity of people and ideas. We have faith in each other's ability to succeed and cultivate that potential by inspiring and nurturing growth. We recognize and express sincere gratitude for each other's contributions.

Be Confident and Coachable

We leverage our strengths, and pursue growth in areas where improvement is needed. When we make mistakes or don't know something, we are not afraid to be vulnerable and admit it. We continuously pursue knowledge and are happy to share it with others.

Start With Why

Our actions are inspired by our deep understanding of those we serve and support. We explore what is most meaningful to them and why. We earn connection and loyalty by anticipating and delivering what will delight them the most.

Embrace 10x Thinking

We courageously strive for 10x advancements in pursuit of enormous opportunities. We think creatively about the future, navigate ambiguity, and deliver transformative change.

Be Relentlessly Resourceful

We overcome obstacles and find solutions to problems with relentless resourcefulness. We take full advantage of the wealth of information, tools, and expertise available to us.

Fail and Advance

When we strive, we may fail. Failure gives us unparalleled knowledge about ourselves and our subject matter. We face our failures with resilience, using what we learn from failures to advance.

Own the Outcome

We are committed to delivering high-quality work in a timely fashion. When we believe that something should be done, we assertively take action to make it happen. When setbacks or roadblocks threaten our ability to succeed, we dig deep inside ourselves and rise to the occasion.
Join Our Team
Browse open positions and discover why TUNE consistently ranks among the highest-rated places to work.