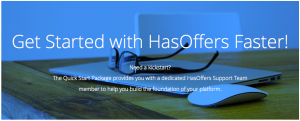 According to Forrester Research, spending on performance marketing is expected to reach $4.5 billion in 2016. Brands are beginning to invest more in this sector of advertising, realizing the benefits of paying only for conversions generated, rather than potential results. Many companies have found this to be a more cost effective way to get results out of their online marketing programs.
Are you ready to start your journey into performance marketing but aren't sure where to begin? Whether you are a novice to the world of performance marketing, simply don't have the time, or worry about your technical prowess, don't let these challenges prevent you from taking the leap.
Since 2009, HasOffers has been committed to building a best-in-class platform, making it easier for companies to grow. But, we understand that not everyone has the time or resources required to get their performance marketing program off the ground. To give you the jump start you need, we developed our Quick Start package—providing the all the tools to get you up and running swiftly, and more important, successfully.
The HasOffers Quick Start package includes:
Set up of five offers (conversion testing included)
Feature customization
Fraud prevention setup
White-labeling your platform
Onboarding of publishers and advertisers
These are only a fraction of the options available to you when purchasing the HasOffers Quick Start package. Not only do our onboarding specialists help you with all the above, they will also customize the package to your specific needs. Does your team need to be trained? Are you worried about integration with an existing third-party solution or internal system? What type of tracking protocol is right for you and your business model? Let us help you answer all of those questions!
HasOffers has helped thousands of companies optimize their performance marketing. Check out a few of our client testimonials to get an inside look at how the HasOffers platform increases bottom line, supports growth and creates innovation.
For more information about our Quick Start package, email us!
Author
This post was provided by a guest contributor. To check out posts by our most frequent authors, subscribe to our blog.