Builders, Teachers, Connectors
Fun, fearless professionals driving the future of mobile marketing
TUNE is bringing the mobile marketing ecosystem closer together by building the most innovative solutions, teaching the industry, and connecting marketers with the best possible partners. Since the beginning of TUNE, we've done things differently. We believe there is a need for a marketing technology that is open and unbiased, that allows marketers and the many players across the industry to easily do business together and drive the best possible results. We have a relentless commitment to help our customers and partners win.
Inventing the future of marketing technology
Founded with the insatiable desire to build new things that change the way marketing is done on mobile and digital, TUNE is consistently recognized as the most innovative, fastest-moving company in our field. We never stop pushing the industry forward as the inventors of things like the first self-service performance marketing platform, the original mobile app measurement product, and the first multi-touch attribution for app advertising. We were also the first to combine app and web measurement, and the first to measure performance on nearly every mobile advertising platform like Google, Twitter, Snapchat and others.
Self-aware, fearless, and knowledge-seeking people
We've grown to the teenage stage of a technology startup. We have all the foundations and security of a sustainable company, but we have the growth and upside potential of becoming the leader in marketing platforms. Over time, we've seen that the most successful people at TUNE are aware of their strengths and weaknesses, and thrive on feedback. They are fearless in their approach to solving a problem, and they constantly seek more knowledge and experience. These attributes lead to decisive action and quick reactions to failure that allow everyone to evolve.
Supporting servant managers
We want TUNE to be a place where contributors shine. That means managers have the duty to find the best ways to support their teams without blocking their progress. Managers should be excellent listeners, mentors, and communicators, and it is our goal that every manager and contributor relationship be based on trust and collaboration. Managers exist to serve their teams and help them create the best possible results.
Be excellent to each other
We are all human, and should treat everyone with respect. It is important at TUNE that every person assumes good faith in each other, and values the diversity of both people and ideas. We believe in our colleagues' abilities and their potential for growth. We support them by inspiring, questioning, challenging, and, at times, demanding improvement.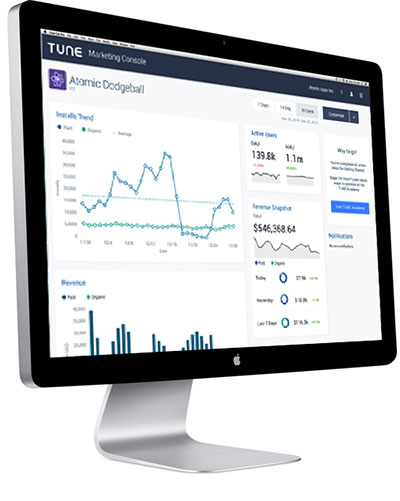 Learn more about our solutions
TUNE is behind two of the most innovative and well-respected products in digital marketing and advertising — the TUNE Marketing Console, the complete mobile marketing technology stack used by top marketers, and HasOffers, performance marketing software that is part of the TUNE Connect partner ecosystem.