It's an old, old story.
There's a new game in Marketing Town, and brands are rushing to figure it out. Some will flame out spectacularly. Others will soar to new heights and win new customers. Most will wait, watch, and get left behind.
Marketers are starting to employ virtual reality and augmented or mixed reality experiences to connect with customers.
But the questions are many:
What works?
When should I start?
Where's the real value?
How do these new technologies help me reach customers, meet needs, and make sales?
Aren't these really just over-hyped toys?
We asked 55 marketing influencers exactly that.
And with responses from luminaries such as uber-influencer Bryan Kramer, the amazing Tamara McCleary, Mr. live video Joel Comm, the prototypical futurist Robert Scoble, the ultimate connector Hillel Fuld, the incredible Sara Austin, and many, many more … we're excited to share them with you. It's especially exciting because they don't all agree. Some are gung-ho and bullish, ready to take that hill. Others urge experimentation and trials. And some diss the new tech entirely.
Read on to make up your own mind. Some quick definitions before we start:
Virtual reality replaces the real world
Augmented reality adds to the real world
Mixed reality adds virtual elements to the real world that behave as if they truly belong
Shameless plug: You probably have an app. And you probably want to get gazillions of installs. You should really understand the relationship between paid and organic installs. Get a free report, on us. You'll be glad you did!
VR/AR/MR predictions 2017: Super Influencers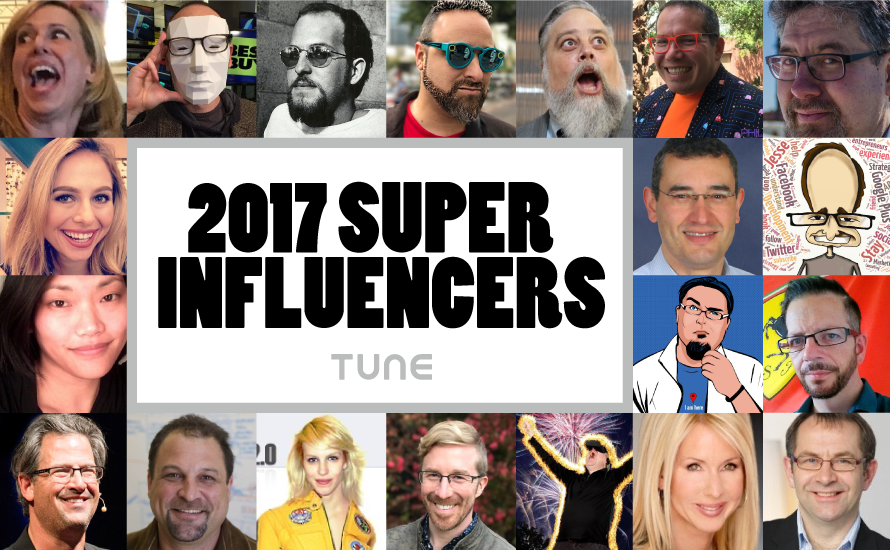 These super-influencers have tens or hundreds of thousands of social followers and significant experience in new technology. Each answered one simple question:
How should brands use virtual, augmented, and mixed reality in 2017?
Ayelet Noff

Founder and CEO of Blonde 2.0

Brands should find find a way to utilize these technologies in a way that is valuable to their end users/consumers.

For example, a store should offer customers the ability to see how they would look with clothing items in the store.

A travel agency should enable its consumers to 'experience' what their vacation destination would 'feel' like. Brands need to be careful to utilize these technologies in ways that are meaningful to their consumers and not only serving the brand's own agenda.

Bryan Kramer

Bestselling Author, Keynote & TED speaker and CEO

The challenge in any technology is in delivering quality storytelling with an educational and entertainment approach versus sales..

Chris Messina

Developer Experience Lead at @Uber; invented the hashtag; former Googler

To inspire and educate, to stimulate and serve.

Rather than taking a conventional advertising approach, what kinds of new and existing *experiences* can be created using these technologies to serve people?

Chris O'Brien

European Correspondent for VentureBeat, based in France after 15 years in Silicon Valley.

Brands should continue to experiment to find best use cases, but be cautious about over-investing at this point.

Wider mainstream adoption is not so clear at the point.

Douglas Karr

Founder of the Marketing Technology Blog, CEO, Speaker, Author

Augmented reality will bring us a step closer to the virtual showroom where we can interact with objects 3 dimensionally rather than via images.

That enhanced experience will drive both retail and online sales as the experience of online and offline move closer to one another.

Hillel Fuld

Cofounder of ZCast, tech blogger, startup advisor

VR, AR, and mixed reality are obviously set to increase in popularity throughout the next few years.

Brands must learn how to adapt their content to leverage these technologies and better tell their story.

Jesse Stay

Futurist, Author, Founder and Principal of Stay N Alive

Brands need to be getting ready — by end of 2017 VR and mixed reality will be much more mainstream, and all brands will need to have experiences built and ready for this.

The world around each customer is now the brand's canvas.

Joel Comm

New York Times Best-Selling Author, Social Influencer, Keynote Speaker and Futurist

VR will become consumer grade for entertainment purposes and reasonably priced by late 2017, while AR will take on a larger role in real-world applications such as medicine and construction/interior design.

Josh Bernoff


Thinker; author of Writing Without Bullshit

For now, it's about experiments. There are not enough users — or mature enough applications — to build any brand activities on.

But it's coming. Soon.

Phil Gerbyshak

Phil Gerbyshak helps leaders increase impact

I'd recommend brands use them to be part of other's worlds instead of creating their own that they have to invite people to.

Brands should create things that augment existing experiences and surprise and delight people. Few are using these well but those who do and who will be handsomely rewarded.

I also recommend they identify people inside their organization to be the digital ambassador and let them play with influencers, to aid in awareness and use of the product or service by taking these online methods and connecting them to offline experiences at conferences and trade shows.

Robert Scoble

I'm a futurist at Upload VR and one of the world's authorities on mixed reality.

Every brand needs to have an AR strategy.

I doubt your company has one. So you need to hire a team of strategists who understand VR and AR. Or build a lab. Those who are out when Apple brings along the iPhone 8 (or at least have a strategy to announce) will get a PR win.

Users will start expecting brands to have mixed reality experiences in 2018. The big money will show up in 2020.

Sarah Austin

AI expert and entrepreneur

Shopping!

Sarah Wallace

Research Director at IHS Markit covering artificial intelligence in the communications industry.

Brands should introduce virtual, augmented and mixed reality in a way that is user friendly.

For instance, makeup stores that allow users to test lip products by using facial recognition software directly in their app.

Brands must keep things simple if they want these technologies to become ubiquitous.

Sascha Segan

Lead Analyst at PCMag.com

VR is a stepping stone to AR, the ability to enhance everything you see with Internet-based data.

Think about what data you have that can be tied to physical objects and locations.

Serena Ehrlich

Director of Social and Evolving Media for Business Wire

Go slow. These tools are still in beta and many consumers are not embracing it as they should.

Only use these tools in 2017 if they can directly tie your consumer closer to your business goals. Otherwise wait at least one more year before diving in.

Stewart Rogers

Journalist, analyst, and speaker for VentureBeat and VB Insight

I asked consumers about mobile VR and even at this early stage in the game, I was surprised at the level of response. 62% have already tried, or want to try, mobile VR experiences. These "low-end" VR games, movies, and more will drive "high-end" unit sales for Sony, HTC, and Facebook's Oculus.

So the time for VR marketing is now, not in the future.

Brands can leverage the opportunity through amazing, emotional content. Whether as a trailer experience injected ahead of another VR movie or game, or a branded mini-experience within a related property, through product/brand placement, or a fully created and owned piece of original content, brands can no longer wait to see if VR is becoming the next big thing. It already is.

Tamara McCleary

International branding expert and Thulium CEO, Tamara McCleary is ranked by Klear in the Top 1% of global Social Media Influencers and is Top 50 Social Influencer of 2016 by Onalytica, ranking Top 10 AR, Top 25 AI/Machine Language, Top 50 Big Data, Top 100 IoT Influencer in 2016.

Mixed reality is opening an opportunity to show versus tell customers.

Mixed reality is here and it's ripe for the taking as innovative companies leap forward capitalizing on what we've learned from Pokemon Go and the lengths people will travel to merge their reality with illusion. I think everything from grocery shopping and experiencing where the produce comes from by plucking your oranges off the visual overlays of trees in the supermarket to Google Map overlays onto the street you are physically standing serve to create a more personalized connection between customer and brand.

Brands poised to harness MR are positioning themselves for the next big disruption. This isn't the future … this is now.

Thomas Husson

Vice-President, Principal Analyst at Forrester

Consumer adoption of VR headsets will remain niche in 2017 so brands should cut through the VR hype and first assess the propensity of their customers to use new technologies.

Then they should assess the fit with the brand: mostly relevant for aspirational brands selling highly experiential and digital offerings (e.g gaming, entertainment) or with a complex path to purchase (new showroom for cars, homes or vacation).

Travis Wright

Marketing technologist, author, keynote speaker, VentureBeat podcast host, and mediocre stand-up comedian

Brands should be building customer experiences.

Don't just do product placements inside of a VR experience. And for God's sake please no in-app VR popup ads.

Innovate and do something massive to the platform that people want to experience and share.
Mobile predictions 2017: Industry Influencers
These industry influencers may have significant numbers of social followers, but they certainly have deep industry experience in technology, marketing, mobile technologies, and mobile marketing.
Don't forget to grab that free report that tells you how paid app installs influence organic downloads.
Here's what they have to say about the future of AR, VR, and MR in 2017:
Aaron Strout

CMO of W2O Group. Writer in his spare time for Marketingland and Waze Blog.

There is a real risk that every company rushes to have some use of AR, VR or MR in their product or application. And while many companies will benefit, most will execute these technologies poorly thus running the risk of turning off consumers en masse.

Like any other technology, AR, VR and MR will be best used when a well-defined business case is laid out (like using VR to show parents of autistic children what it's like to be autistic — or using AR to help pedestrians navigate to hard to find places).

Aaron Weiche

I'm the CMO of GetFiveStars, entrepreneur, digital marketer and speaker.

If your product or service is an "experience" you better be working on these now.  

If I sold vacations or cruises, I'd be figuring out how to use VR to let prospects test drive a vacation. Identify how you can deliver a better sales and education experience with these technologies, they can really build trust.

Albert Einstein Renshaw, Ph.D.

22y/o; I've been in business longer than I haven't.

Everyone should abandon virtual reality and only focus on mixed reality.

Augmented reality contains within it virtual reality. An AR system can easily make its entire field of view opaque and then it is VR. VR is like a car engine and AR is the entire car including its engine … Nobody wants to sit in a room all day using an application, humans are on the go.

That's why mobile phone use is beating out computer use even though computers have a much wider range of applications. VR keeps you sitting in a room, AR takes you everywhere, including sitting in a room.

Ayaz Nanji

Digital strategist, data nerd, and co-founder of ICW Content

Brands should start experimenting with these now.

Large-scale adoption may take longer than some predict — there are still a lot of tech and experience issues to work out — but VR/AR will eventually be mainstream.

Humans have always gravitated to more engaging experiences.

Danan Margason

VP of Operations, General Counsel at TUNE

All of these new technologies will slowly be built into mobile devices, especially as processing speeds increase.

Within 3 years, high-quality VR will be possible on most new mobile devices, and thus VR will become ubiquitous.

The HTC Vive already has a strong and engaged user base via Steam (and Oculus to a lesser extent); advertisers should look for opportunities to engage with this powerful new medium and be part of the evolution.

Dulce Baerga

Tech blogger, full stack dev, augmented reality & virtual reality dev. Pioneer of new realities.

Brands should use VR/AR/MR very carefully and contextually.  Using a reality tech as a gimmick or for the sake of the tech will only make a brand look silly or clueless. Reality tech is powerful and extremely persuasive; users can easily be fooled into thinking something is real …

Placing ads like billboards or pop-ups will break the experience and make a user feel disconnected. Brands will have to figure out clever ways of integrating their products into experiences seamlessly. Product placement in subtle ways, or through machine learning/AI techniques will have more of an impact on the user in the end.

Dylan Tweney

Founder of content agency Tweney Media and former VentureBeat/Wired journalist.

Proceed cautiously.

VR and AR technologies are exciting but also incredibly resource-intensive. There are enormous problems with cross platform media compatibility, so if you make content for Oculus, for instance, it's not necessarily going to be easy to port it to an iOS experience.

For the near future, the vast majority of AR/VR users will experience it via phones, not dedicated headsets, so unless you're a videogame maker, focus on phone experiences.

Eric Seufert

Owner, Mobile Dev Memo, Heracles

Overhyped.

I'd suggest most brands stay away.

Esteban Contreras

VP of Product, HYP3R

The rise and fall in popularity of Pokemon Go is a big deal.

We should expect new ways in which AR will show up on our phones, inspired by this renewed interest in overlaying graphics over our camera displays and our physical locations. With Microsoft, Meta, Magic Leap, Samsung, HTC, Sony and Facebook Oculus all doing interesting things, we can expect new platforms, networks and UIs to become commonplace in the near future – but it is still very early.

Brands should experiment with a specific goal in mind – and with the aim to create high quality experiences on spaces that warrant it.

Never experiment just to experiment. Always focus on the basics: 'Who are we and who are our customers?'

Heike Scholz

Founder of mobile zeitgeist and FUTURE OF SHOPPING

All these technologies are great ways to engage with users. They are direct, emotional and fun.

Brands should look for the best usability in a given context.

Sometimes less is more and brands should avoid 'technological overkill.'

Helen Keegan

Specialist consultant & event organiser in mobile advertising & media

These are all very different things so it depends how you define these. With virtual reality specifically, I say proceed with caution. Headset sales have yet to show breakthrough figures.

The rest can be done on phones and should be investigated for usefulness or entertainment – but only used where it makes brand positioning or commercial sense above and beyond experiments.

Henry Helgeson

CEO and Co-Founder of Cayan, a Boston-based payment technology company

2017 will be the year of mobile payments – more specifically the year Apple Pay (finally) takes off. I have no doubt.

Apple should emphasize that Apple Pay replaces your whole wallet, not just your credit card, in order to tap into the power of the entire iPhone.

Ian Sefferman

General Manager of TMC for TUNE

Rather than think about the different technologies themselves, brands should be thinking about how they can morph themselves into technology companies.

The implementation of that will decide which new technologies will suit them best.

James Cameron

CEO of Masterclassing

Aside from the gaming and entertainment sectors, I think we will see more progressive brands making VR plays in 2017.

Travel, automotive, luxury and real estate sectors all have logical potential for product focused rather than marketing focused offerings, while the retail and CPG market will continue to use VR and AR more for both in-store and live experiences as well as immersive campaigns.

Jonahkai Hancock

I am a Director of Marketing at TUNE – I manage our paid, customer, and nurture marketing teams.

I think some of the augmented reality is more likely to happen, although full-on virtual reality will have some amazing applications in fields such as medicine, training, etc.

For marketers, I think mixed and augmented reality are the best surefire bets in the coming year since they are on the mobile device.

Justin Bougher

VP of Product at SiteSpect, Inc.

Augmented reality will be used most in the short term …

There is no doubt that AR and VR are going to be important customer experience tools.  Goldman Sachs states VR/AR will be an $80 billion market by 2025.

However, its greatest potential is that it creates an immediate emotional reaction and that is the #1 indicator of great customer experience.  Retailers need to tie life events and micro moments to to AR and VR.  Already retailers are using it for travel, home improvements and real estate but think about the opportunity for back to school shopping, wedding, gift registry and other life moments.  

These have great emotional pull and VR/AR can provide the emotional customer experience needed to sell and keep customer coming back.

Kelly Mullins

Been around the media block more than once.

I just don't see virtual going mass market. Good for gamers … but I don't see people strapping phones to their faces at scale.

Augmented reality, however, will find uses in terms of mapping, retail, and gaming.

Developers will find ways to use the PokemonGo experience to add value to shopping and traveling.

Manish Patel

Patel is the founder and CEO of Brandify, a local marketing technology platform that helps over 500 multi-location brands connect with local customers.

It's all about enriching and creating the most remarkable user experiences.

VR, AR and mixed reality can add another layer to the in-store shopping experience by serving as a mode of in-store research.

The data and user preferences gathered from these augmented experiences can be used to engage users online after they leave stores.

Martha M

Marketing Consultant

Self help and information still rule.

If brands can use these technologies to show that they can offer value to the consumer's life using these tools, they will win more consumers and gain revenue.

Martin Wilson

Specialist in: Digital strategy, Performance marketing, Mobile and Commercial development.

Brands should not simply jump on the bandwagon.

The reality environment will become the next big media but that is 3-4 years away. Brands should be looking to understand and define the strategic value that this media can deliver.

Only then should they start to consider the approach and data requirements to support.

Michael Della Penna

Entrepreneur, Mobile/Marketing Advisor, Investor

Every company will soon have a physical and an augmented component to their brand experience.

Brands should look for "moments" where VR/augmented and mixed reality offer up an opportunity to create value and/or improve the customer journey or experience.  

One great example is Sephora's use of VR makeup, which allows consumers to try on different looks/colors without the mess before making a purchase in store.  

Mikael Cho

Founder/CEO at Unsplash (Unsplash.com) and Crew (crew.co)

Many industries are poised to be disrupted by VR, but education seems to be one that's most likely and significant.

VR experiences can build practical skills by immersing us not only in knowledge but in the tasks themselves.

While many virtual reality experiences and companies have focused on fitting existing concepts into a virtual space, brands that create original experiences specifically for virtual reality will be the ones who stand out.

Nick Fajt

CEO of Against Gravity, maker of Rec Room for the HTC Vive & Oculus Rift

VR – You'll continue to see premium brands do location-based entertainment (headset with custom software setup in a place consumers can visit). A few brands will be able to partner with the early VR entrants.  Very few big brands will develop their own VR app. They'll continue to hang back until the hardware numbers hit a critical mass.

AR – Snap [Snapchat] will continue to push the field forward with consumers. Pokemon Go copycats will be plentiful (not realizing that it was Pokemon and not AR that made that app a phenomenon). AR & Snap remain the best way for the average brand to interact with consumers, as it's the only one with scale.

MR – Microsoft will continue to extend their tech lead with HoloLens. Magic Leap will start working with developers. Other MR hardware startups will be relegated to also-ran status, as capex becomes prohibitively high. VR headsets will embrace video pass through for MR-like experience.

Oliver Schonschek

Technology Journalist and Analyst, Germany

VR, AR and MR are perfect technologies to combine the digital and physical business.

Digital companies should use it to come even closer to their customers.

Pascal Clarysse

Pascal Clarysse has been in marketing for almost two decades, he is presently CMO at large for Eden Games and he consults for a bunch of successful mobile game publishers.

At the time being, mostly for marketing stunts, PR, and branding.

Peter Fodor

Mobile marketer who is always seeking to change the status quo and improve things to perfection.

Adoption is fairly low these days and it won't become a mainstream thing in 2017.

My suggestion is to use new technology for brand building, events, fairs, and for experiments. Several businesses might come to interesting use cases and it's good to understand the potential of the technology. But don't aim for monetizing the investment in a short term.

Peter Hamilton

Digital education veteran. Founder of EdTech Ventures

Beware the hype curve. Uses will be specialised with high production costs initially.

These high end uses will show us the way.

Randi Priluck

Author of Social Media & Mobile Marketing Strategy from Oxford University Press

More rich interactions. VR provides 360 degree experiences for customers in a convenient location that's fun and interactive.

Marketers can leverage these interactions to provide more value or showcase offerings,  reducing costs on the rest.

Ray Walia

Managing Partner at Victory Square/CEO of Launch Academy

First: brands will use VR/AR/MR to connect to customers and audiences not typically immediately accessible. For example current successes with live feeds of VR for NFL and NBA games will expand to more international sports, events, and concerts.

Second: VR/AR/MR will be used to add additional layers of engagement for customers and audiences, for example SnapChat Glasses view from actors and performers backstage at concerts, award shows, athletes at games, in training, off season.

Rob La Gesse

VP of Social Strategy, ten years in Social Media. Ex-coder.

Sparingly.

These technologies are not widely in consumer hands yet. Using these technologies will remain very niche throughout 2017.

Sean Patterson

Thunderbird MBA, startup funder, CMO for Worldcore

Alternative reality approaches need to be carefully measured for effectiveness.

Done properly, they can enhance the user experience.

You can imagine an FMCG company using augmented reality to guide you to their products within a store, for example. Click on the one in front of you and you could get the product info even in a different language, or even a special "hidden" discount.

Todd Haselton

Executive Editor of TechnoBuffalo

Carefully, certainly don't rush these products because I think, more than ever, the first impressions will really matter. VR can make you feel sick, AR can feel cluttered.

Take the time to do it right before putting it in front of people's faces.

Tom Heiser

CEO of ClickSoftware, the leader in field service management solutions

Arming technicians with augmented reality wearables such a smart glasses can transform customer service.

Imagine if a telephone pole went down outside your house and the technician servicing the transformer could see its specs, service history and upgrade instructions without having to sacrifice one of their hands to pull out their mobile device.

All of a sudden, service time drops from four hours to 40 minutes, because the smart glasses enabled a more seamless repair experience.

Tomi T Ahonen

Author of 13 books and consultant in tech focusing on mobile

AR is a mass market, VR is a gaming platform. VR will have some specialized uses but only AR is a mass market.

Brands outside of gaming and some experience brands should do AR, not VR.

Tony Long

I am known as "Geek Whisperer"

Everything short of full immersion will be the norm as brands increasingly want to overlay their presence into consumers' lives.

Smart brands will be able to walk the fine line between being an invited guest and an unwelcome intruder.

Wendy McClelland

Internet early adopter, social media strategist, business coach, author and professional speaker

So many opportunities here. A combination  of great technology used to tell emotion based stories will engage consumers.

The continuation of "gamification" of both everyday tasks and complex applications will ramp up even more.
Made it all the way down to the bottom? You're a champ!
Remember: here's that free report on how paid installs impact organic installs. You'll be happy you did.
Back to the influencer predictions:
If you'd prefer to view all of these in one deck, or even download it for your future reference, we've built all of these into a single slideshare.
Enjoy and share!
Author
Before acting as a mobile economist for TUNE, John built the VB Insight research team at VentureBeat and managed teams creating software for partners like Intel and Disney. In addition, he led technical teams, built social sites and mobile apps, and consulted on mobile, social, and IoT. In 2014, he was named to Folio's top 100 of the media industry's "most innovative entrepreneurs and market shaker-uppers." John lives in British Columbia, Canada with his family, where he coaches baseball and hockey, though not at the same time.