Mobile app deep linking allows users to click links to view specific content within your app, or download your app, depending on if they have your app installed. If a person doesn't have your app installed and clicks on a deep link, they will automatically be directed to your app's page in the App Store so they can download your app before proceeding to your deep link destination.
One of the biggest opportunities for mobile app marketers is to create invoke URLs so that their app is deep linkable. In other words, structuring links so that other areas or parts of the app are directly accessible.
Deep linking eliminates extra clicks, brings content closer to your users, and enables people to more easily take action on what you intend for them to take.
Deep links are an integral part of any online marketing campaign. As a marketer, I wouldn't dare use my website homepage as the destination URL for my user acquisition campaigns. It's a well known best practice to link to the most relevant page in my site or a specific landing page to optimize the user experience to drive strong conversion rates. It's no different with mobile apps.
In fact, in recent product release from Twitter and Facebook, they both announced features that allow advertisers to include deep links as a destination URL for mobile app ad campaigns.
Here are eight reasons mobile app marketers should be using them.
1. Increased advertising revenue
A deep link embedded within one piece of content in your app can easily funnel users towards a specific piece of content that you want them to see. Driving customers and users to desired types of content can hugely increase advertising performance since you are directing users to a specific page for conversion. For example, using similar techniques that are often seen in blogging, a mobile app marketer can encourage a user to view several different areas of the app to increase screen views.
2. Re-engagement
App developers can place links throughout the content leading users to products that they will be encouraged to buy. If a user has already downloaded your app then they should be more open to such purchases, since you are simply re-engaging a known user again. Another example is if you promote your app on Facebook and include a deep link to a product page, when a new user clicks your ad, you can decide exactly what screen within your app you'd like them to view – such the a specific product that you highlighted in your ad creative – if they already have your app installed.
3. Forgotten content
Depending on the type of app, once you have released a piece of content, it is often lost after an initial viewing by your user base. For this reason the majority of your content may never really see the light of day. This is a lost opportunity to resurface your best content. By deep linking from either related parts of your app or by having special featured content which changes on a daily basis, you can encourage your user base to visit or to use those parts of your app which otherwise would be missed, especially by new users.
4. More value
To encourage users to repeatedly use your app often they have to feel that they are getting value from having your app installed. By using deep links and showing them a wealth of other content, they are far more likely to revisit your app. Whether it be a new feature of the app or a piece of media content associated to the app, users will always know that there is something new to be found. This makes users feel that any purchase they have made for the app is well merited.
5. Get more content found
Earlier this year, Google announced that it would start indexing deep links within mobile apps. The aim is to create a seamless user experience across sites and mobile apps from search result pages. Inbound marketing is now relevant for the mobile app world. As an online marketer, you build value for your website when you have pages with rich content, and those pages are indexed and discoverable through search engines. Mobile app marketers have the same opportunity to build value with their app by providing rich content and making sure it is crawlable by search engine with deep links. In fact, this was called out as one of the most important features in KitKat that no one was talking about.
6. Seamless integrated marketing campaigns
Enabling deep linking with your mobile app opens up a new range of integrated marketing opportunities. One common scenario would be: you have travel app and you have a new offer for Spring flights to Seattle. When creating the promotion plan for this campaign, you'll likely want to include a diverse set of channels in your distribution strategy. With deep links, you can point people to the Seattle flights search right within your mobile app and promote that specific link in your emails and in your social media promotion. Users won't have to search through your app to find the offer, you can lead them right to it.
For example, I came across this ad when I checked into the gym on Foursquare. All the images from this app to web campaign are screen captures from my HTC One Mini phone. Some of the screen captures that have been seamed together show the full view of what I was able to see with scrolling.
The objective of this campaign is to get people to sign up for a sweepstakes – win a free green car. The optimal conversion flow is vertically down the center screen of the UI flow, started at the top most screen – the check in screen confirmation.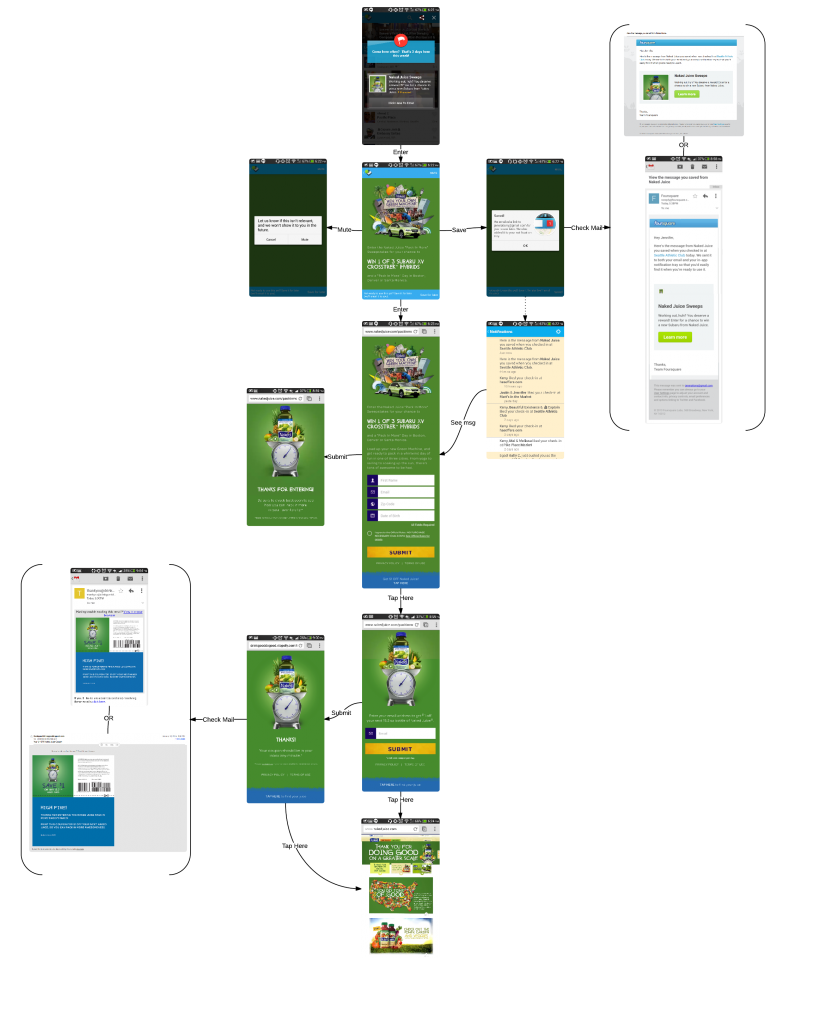 This campaign involved several channels: mobile app, mobile web, mobile email, and desktop email. The integration between each of these channels were pretty seamless except when viewing the offer on a mobile email client. The images were either distorted or very hard to read since they weren't mobile friendly. Also, the final screen you land on is their website (http://nakedjuice.com) which is not mobile responsive.
If you'd like to check out the screens for yourself, here are the URLs for the screens that are outside of the Foursquare app:
7. Improved user experience
It removes several layers in the conversion funnel which makes it easier for your users to navigate through your app. When users don't have to navigate through your app to get to the offer or intended destination, you'll likely lose less users through the conversion funnel.
8. Insights
By using in-app analytics, you will be able to figure out which links are being used most often and by whom. In doing this you will be able to get a better idea about which links are contributing to your desired funnel, letting you focus on improving the flow or on areas which are not quite as well visited. Deep links are a great way to see which parts of your app are most used.
These are just a few of the benefits of using deep linking. It eliminates friction from the process of taking action – which means more people are taking action – just like you wanted them to! With time and a little patience, a well thought out network of deep linking, an app can exponentially increase the user experience and its profitability.
Author
Becky is the Senior Content Marketing Manager at TUNE. Before TUNE, she led a variety of marketing and communications projects at San Francisco startups. Becky received her bachelor's degree in English from Wake Forest University. After living nearly a decade in San Francisco and Seattle, she has returned to her home of Charleston, SC, where you can find her enjoying the sun and salt water with her family.