HasOffers is "dialing in" our reporting technology and creating new reports to enhance our clients' reporting experiences. Here at HasOffers, we care about providing clients with real-time visibility into accurate and comprehensive reporting. Today we're launching two new reports and a feature enhancement, providing a whole new dimension on how users measure, analyze, and act on their data.
Measure the customer journey, not just the install

The new Goals Report provides goal conversions beyond the initial default goal, enabling clients to optimize campaigns and drive higher value to advertisers. Clients can now:
See the performance (conversions and conversion rate) on all their goals for each individual offer and accurately attribute all of them.

Drill down to the offer or affiliate level and see which goals are performing the best — and optimize them.

See how users moving from default goals to other goals are performing on conversions.
Hone in on your most important conversions
The new Default Goal Enhancements allow clients to filter specific default goals in the Stats and Conversion Report, as well as view their default goal names and data across all selected offers. Clients can now:
See their default goal names in their reports.

Filter their default goal conversion points.

View stats on just their default goals across all offers.
Maximize your budget with better visibility

The new Offer Caps Report provides clients visibility on their offer cap performance and progress, allowing them to see offers under each specific offer cap type and offer traffic data. Clients can now:
See caps set for each offer and the traffic currently driving toward them.

See offers that are near the budget limit, so they can proactively negotiate budget increases with advertisers.

Surface under-performing publishers faster, allowing clients to adjust budget allocation and maximize their spend.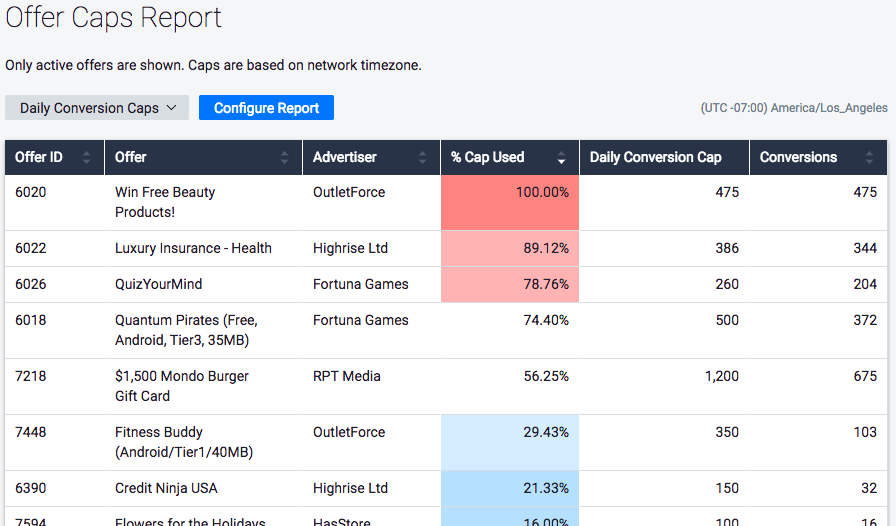 Dive into the reports today and take your performance to the next level! To learn more about each report and see how they work, schedule a demo call with us today: [email protected]
Author
Justin is a product marketer for TUNE. Prior to TUNE, Justin spent most his time keeping the world talking by owning product marketing for different Microsoft and AOL communication platforms (Skype, Outlook, AOL email, Alto, and Kanvas). A semi-true Washingtonian (born and lived in Pasadena for a hot second), he loves escaping the concrete jungle and exploring nature. You can often find him trying to stay warm on a mountain peak or fighting to stay above water on a lake.