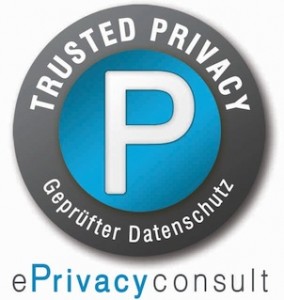 Today we are excited to announce that we have earned the ePrivacyseal following a rigorous technical and legal review certifying that our technology platform complies with the strict standards established by German federal data protection law and EU privacy regulations.
Who Is ePrivacy?
ePrivacy is an independent consulting service that assesses digital advertising and other clients for compliance with German and EU privacy requirements. ePrivacy certifies companies under their standard, which incorporates German and EU data protection requirements.  This certification seal is offered for websites and applications in the form of the a "Trusted Privacy certified" seal. It involves a fairly rigorous process (including interviews, a legal review, and completion of a technical questionnaire).
What does this mean for our clients?
Clients should be aware of EU/German compliance if they are targeting users or are otherwise doing business in these countries.  Under EU and German law, clients are the "data controller" bearing liability for data protection violations, including those incurred by a "data processor" (such as TUNE) acting on their behalf and only on their instruction. With this certification, MobileAppTracking is now compliant under German and EU law.
Read more comments from the full press release below:
"We wanted to show our commitment to the specific data and privacy requirements of Germany and the EU," said Peter Hamilton, CEO of TUNE. "So we looked for the most reputable certification process we could find to provide a strict examination of our technologies, and the ePrivacyseal is the clear leader and a trusted standard across Europe. I'd like to give a big thanks to our Chief Privacy Officer, Saira Nayak, for ensuring that TUNE remains compliant with all of the different  privacy and security requirements in the countries we do business in, including Germany."
"We recognize the ePrivacyseal's importance in signifying to clients, consumers and partners, that our practices are compliant with German and EU standards," said Saira Nayak, Chief Privacy Officer at TUNE. "Along with our data pledge, which assures clients they will always maintain full control and ownership of their data, the ePrivacyseal evidences TUNE's deep commitment to data privacy and protection."
View the full press release here. In German here.
Author
Becky is the Senior Content Marketing Manager at TUNE. Before TUNE, she led a variety of marketing and communications projects at San Francisco startups. Becky received her bachelor's degree in English from Wake Forest University. After living nearly a decade in San Francisco and Seattle, she has returned to her home of Charleston, SC, where you can find her enjoying the sun and salt water with her family.