Unlike the app store landscape in Asia that is made up of a number of viable alternatives, North America has largely been dominated by two prominent players: Google Play and the Apple App Store. For developers in the U.S., publishing apps in these stores has largely been the priority. But with Amazon, Microsoft, BlackBerry and others working hard to establish their app ecosystems, right now may be an opportune time to take your app to new marketplaces.
This post discusses some of the factors to consider when publishing your app in multiple stores, along with the major benefits that can accompany this strategic initiative.
Evaluating the Challenges
The decision to publish in new app stores is one that should not be taken lightly. If you currently have an app in more than one store, you may already have a good sense of what it takes for an app to be successful in multiple stores. But for those looking to publish to a second app store for the first time – or if you're publishing to a third, fourth, or fifth store – considering the following factors will help you make a more informed decision.
Porting your app: Learning a new set of APIs and other technologies may initially sound intimidating and time consuming, but in reality, the migration path between any two major platforms is fairly established. Further, all of the popular platforms provide access to support documentation to help make the porting process as efficient as possible. Determining how much development work will be required is largely based on the complexity of your app and the platforms you are porting to and from. For example, publishing your iOS app to the Windows platform will be more difficult than taking your Android app from Google Play to Amazon's Appstore.
Creating a new account: Creating a new account is not an overwhelming chore, but it is another task to complete and it does leave you with an additional account to manage. Also, many developer accounts charge a fee (i.e. one-time $25 for Android, $99/year for iOS, up to $99/year for Windows), which adds to your overall costs.
Learning the publishing process: Each app store has different publishing guidelines that must be met before your app can be published. Learning the intricacies of each platform will ensure that you don't experience any unexpected delays. For example, the approval process for iOS apps can take up to a couple of weeks. If you fail to meet the requirements, or make changes to your app that require it to be re-submitted, the launch date of your app might be significantly delayed. Researching the details of the publishing process is the only way to avoid these types of setbacks.
Monitoring and responding to user feedback: App store ratings and user reviews are often the first source perspective users reference when considering whether to download an app. Not all user feedback needs to be acted upon, but communicating that you are actually paying attention to their feedback and incorporating valid ideas into later versions of your app goes a long way in establishing a loyal and engaged user base. As you branch out into additional app markets, the task of monitoring, aggregating, and synthesizing user feedback becomes more challenging and may require additional resources.
Optimizing for each store: As you can see in the Statista data below, browsing and searching for apps in app stores is a major way users discover new apps. App store optimization is an absolute necessity to enhancing the discoverability of your app, and each app store has unique criteria for optimization. Ensuring that your apps consistently rank well across all app stores requires diligent and deliberate action.
Percentage of users that find apps through browsing and searching:

Advantages of Multi-Store Publishing
App Discoverability
With more than 1.2 million apps in both the Apple App Store and Google Play, even with concerted marketing effort and disciplined app store optimization practices, app discoverability is still an uphill battle. One of the primary benefits of the Amazon Appstore, Windows Store, and BlackBerry World, is the relatively small number of apps. With less competition, the probability of your app being discovered is higher.
For example, the Amazon Appstore is growing quickly (it nearly tripled in size year-over-year), but as of June of this year the store had an app count just over 240,000. If you already have an app in Google Play, porting your app to Amazon is relatively simple. Porting your app to a market with fewer apps automatically improves the discoverability – as it's easier to stand out among 240,000 than it is to stand out among 1.2 million.
Access to New Audiences
Publishing on additional markets introduces your app to whole new audiences through two primary avenues:
Devices: Many users have platform specific devices. For example, if you have previously only published on Android, you would not have access to users with iPhones, iPads, Windows Phones, etc. As alluded to earlier, porting Android apps to Amazon is particularly easy, and with Amazon's Kindle devices and new Fire Phone you'd have access to a rapidly growing user base with relatively little difficulty.
Geography: Certain operating systems have prominence in different global regions. If you are only available in one app store, you may be limiting your international reach. For example, if you have an app that is only available on iOS, you may be missing out on a huge number of users in markets where Android is more popular (and vice versa).
Opportunity to Increase Revenue
A recent study published on DeveloperEconomics, found the following revenue distribution based on the number of app stores an app is published in: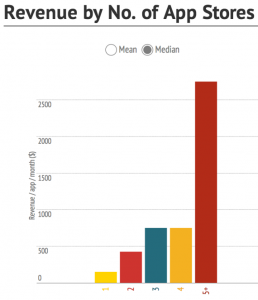 Although this graphic may encourage you to run out and publish your app in 5+ stores, the author of the article points out an important caveat – apps that already have high revenues tend to publish in more stores, which is why the revenue in the 5+ category is so high. However, if you have a low performing app, putting it in five different app stores is not going to produce a huge spike in your revenue. Regardless, increasing app discoverability and reaching out to new audiences introduces the opportunity to make more money.
The decision to publish your app to additional marketplaces is one that should be approached carefully. But if you do your research and execute effectively, the opportunities for increased discoverability, access to new audiences, and higher revenue can easily outweigh any additional responsibilities.
Did you recently expand to an additional app store? Are you thinking about it in near future? Tell us about your experience in the comments below.
Author
Becky is the Senior Content Marketing Manager at TUNE. Before TUNE, she led a variety of marketing and communications projects at San Francisco startups. Becky received her bachelor's degree in English from Wake Forest University. After living nearly a decade in San Francisco and Seattle, she has returned to her home of Charleston, SC, where you can find her enjoying the sun and salt water with her family.