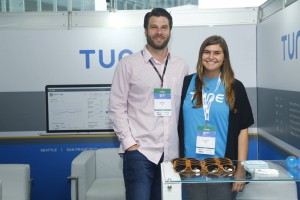 This spring, I was fortunate enough to make two separate trips to São Paulo, Brazil, where I had the opportunity to connect with current clients and build new relationships. In April, I hosted a presentation on global insights in mobile performance marketing, and I returned in late May to attend the Afiliados Brasil conference.
The online and mobile market in Brazil is huge. Brazil is the number one largest market for smartphones in LATAM (fourth largest in the world) and over 72% of smartphone users access mobile web daily. Criteo projects that by Q4 of 2015, 20% of all transactions will be via mobile device in Brazil, and a study by Razorfish found that 74% of Brazilians wish that they could make all of their purchases online. That's powerful data.
Here are a few of my tips for how to be successful while expanding in a new region:
Work hard: No doubt about it. You have to roll-up your sleeves and put in the time required to make headway.
Research: Be prepared to do a lot of research to find relevant data for the region, as well as research on who the key players and companies are in the region.
Find connections: Network early and often. It's true. it's not what you know, it's who you know, especially in Brazil.
TUNE client Gustavo Guima from Keepmedia commented on the event we hosted, "Meeting TUNE's team in São Paulo was a joy. A pleasant evening rubbing shoulders with important digital marketing players, while enjoying some fine catering and drinks. Keepmedia is specialized in a more traditional digital media, but the market research that our cordial host Brett Olson showed us, paired with TUNE's known quality of business, was a great eye opener to the fast-paced mobile market in Brazil. I see a new business in Keepmedia's horizon thanks to Brett and TUNE's initiative to come to my country."
People, places and things—we're told these are nouns, but I'm telling you they are what make up the beauty of Brazil. I can only hope the content that I presented was helpful and did truly provide insights into mobile performance marketing around the world. Thank you to the wonderful people, clients, partners and prospective clients I met while I was there.
Like this article? Sign up for our blog digest emails. 
Author
Becky is the Senior Content Marketing Manager at TUNE. Before TUNE, she led a variety of marketing and communications projects at San Francisco startups. Becky received her bachelor's degree in English from Wake Forest University. After living nearly a decade in San Francisco and Seattle, she has returned to her home of Charleston, SC, where you can find her enjoying the sun and salt water with her family.