Looking to expand your business to Russia? Then you must have questions about the market, what to do and not to do. Considering the current economic situation, you may be wondering whether it's even worth the investment to globalize in this region.
There are many things to consider, but the first thing you should do is study the market:
The Russian market is bigger than you may realize. About 233 million people on the planet speak Russian, where 164 million consider it native. There are 145 million people that live in Russia, with 119 million of them considering Russian their native language, and 27.1 million use it as a second language.*
"Russia is often compared with Asian markets, where it is simpler to work with local publishers and partners than try to be successful on your own. Although there are no general restrictions for foreign companies doing business in Russia, the main barriers to get up and running are language, bureaucracy and low overall business culture." —Alexander Karpovich, CEO AlternativaPlatform
What about the economy, you say?
During economic slowdown, there are many circumstances that you should consider. For instance, what the impact to digital agencies and performance marketing companies is going forward. However, where there are worries, there are always opportunities.
Of course, there are many factors that will determine your success in the new market. A few noteworthy points are:
1. Always start by finding the right partner to work with. Only the right kind of partnership will allow you to succeed in a new market.
2. A lower Ruble rate means that you are now able to buy traffic at a cheaper rate.
3. More agencies and advertisers most likely will move away from CPC/CPM models into more prominent performance CPA models, gaining more control over their spending.
4. The vertical you are in will determine how to position yourself against the competition in the market and how to succeed.
Because every vertical behaves differently when the economy is not at its best, let's take a look at a few that are most likely to succeed.
Mobile Games
According to NewZoo research, the Russian Federation's revenue in the gaming market topped $1.14 billion in 2014, earning a 12th position worldwide.
During an economic slowdown, people travel less; in fact, a case study done by Real Time Agency out of Moscow reported that the travel sector was affected the most during the economic slowdown. What else do people do, if they don't travel? Many will stay home and play games.
However, not all games are created equal. While social games have been decreasing, mobile games are on the rise, which can be attributed to a growing number of smart phones and tablets. Other factors, such as advancing technology and an increasing number of games on the market, contribute to that growth. Online games have already made the major leap forward, and mobile games are following a similar growth pattern.
Now, before you rush into the Russian market, don't miss the most important part: You must localize your content. Russians have a very distinct taste when it comes to games. Their preferences to games are somewhere between Europe and China, games that are localized in Russian earn much more than their English counterparts. However, localized content, not just language but also design and the game flow, is being developed at a much slower rate. This is part of the reason why the world-renowned Candy Crush Saga game didn't even make it to the Top 10 in terms of revenue in either in the Apple Store or Google Play Store in Russia.
If you're in the Mobile Games Market, I highly suggest you to read over the Free Trend Report – Introduction to the Russian Games Market done by NewZoo.
e-Commerce
e-Commerce is relatively new and is only 2% of all retail-market in Russia. In 2015, it's expected to increase to 5% or $46 billion, as reported by Morgan Stanley. However, even though there is expected growth, there are some complexities when it comes to expansion into Russia.
First, there are issues with shipping brought about by the new import laws that were implemented in December of 2013. Second, Russia's delivery and payment methods are somewhat unconventional when compared to other countries. Paying upon delivery with c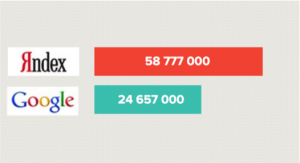 ash is still a very common method, and that can result in high return rates. Also, security concerns is another reason why some are still skeptical about buying online. Third, you need to make sure you can place in Yandex search results in order for your brand to be discovered. As you can see from the chart to the right, Yandex is the preferred search engine in Russia.
Last but not least, just like the gaming industry, make sure you localize every piece of content when you're going after a Russian consumer.
Overall, stats presented by McKinsey & Company show very attractive numbers for international players trying to enter the Russian market. The e-Commerce market is expected to reach $24 billion in 2014, with the consumer's average spending of $1,272 each.
In a Venture Beat post by Julie-Lynn Tikekar, she simply put it that way:
"With a population of over 140 million highly educated, increasingly tech-savvy people, Russia is a country ready to assume its place in the global e-commerce economy. By building a Web presence with high quality branded products, competitive pricing, good language translation, customer convenience, and strong payment/logistics options, it's possible to take a commanding position in one of the strongest developing markets in the world."
Outlook
Given that you have done your research and found the right partners to work with, you could and should expand into a Russian market, as there are a lot of opportunities. Economic slowdown is not the reason to slow down expansion and growth, but an opportunity to work and optimize all of your efforts in order to succeed.
Author
Becky is the Senior Content Marketing Manager at TUNE. Before TUNE, she led a variety of marketing and communications projects at San Francisco startups. Becky received her bachelor's degree in English from Wake Forest University. After living nearly a decade in San Francisco and Seattle, she has returned to her home of Charleston, SC, where you can find her enjoying the sun and salt water with her family.