This holiday season, we have witnessed a proliferation of beacons in a wide variety of settings. Retailers, shopping malls, museums, airports, hospitals and sports complexes are experimenting with, or deploying beacons for a variety of purposes.
Beacons positioned near an airport security checkpoint, for example, might trigger an airline app to display a boarding pass. A beacon next to a painting in a museum might signal the museum's app to show information about the artist. Retail-store beacons can help users locate products or indicate on-sale items. Library beacons can be used to remind users about overdue books. Advertisers are using beacons to help tailor a location based ad or to attribute that a consumer exposed to an ad has arrived at a destination.
It's critical that app developers and publishers understand how beacons and similar technology are used, especially in terms of data collection from consumers. This will enable them to develop the privacy practices needed to both ensure the opportunity to innovate around this technology, as well as the responsible use of this data. In this article, we seek to explain beacons and how they work. In future articles we will discuss some of the emerging best practices.
What are Beacons?
Beacons consist of a chip and other electronic components (e.g., antenna) on a small circuit board. A beacon is essentially a radio transmitter that sends out a one-way signal to devices equipped to receive it. There are numerous beacon makers around the world. Beacons come in various sizes but are generally small and inexpensive. Prices vary but they can be purchased for less than $30 per beacon.
Beacons transmit a low-power signal that can be picked up by nearby Bluetooth-enabled mobile devices, including smartphones. Beacons themselves don't collect data. They broadcast short-range signals that can be detected by apps on mobile devices in close proximity to a beacon. Beacon signals won't be received unless users have installed apps that are associated with those beacons (i.e. the airline app, a museum app, a retail store app, a library app, etc.).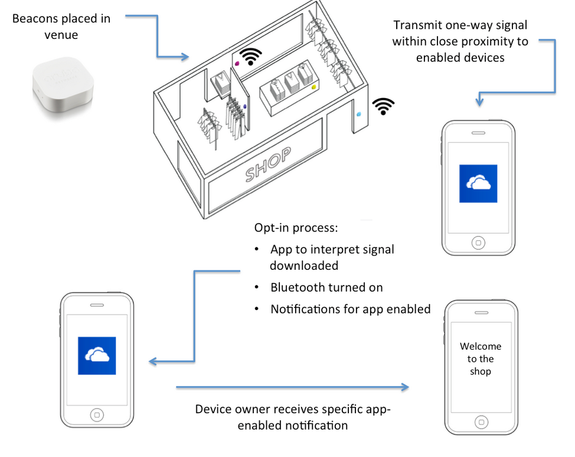 With a corresponding app installed, beacons can help deliver an improved indoor experience. The NBA's Golden State Warriors, for example, used its team app and beacons to inform fans at the game about the availability of better seats. Barclays has launched a beacon technology system in a UK branch to help disabled customers with their accessibility needs. The Barclays service, which requires customers to download an app and opt-in to the services, notifies staff if a customer with disabilities enters the branch. This way, the staff can provide quicker and more tailored services to any customers with disability needs, and the customer does not have to tell the staff about his or her individual needs every time he or she visits the branch.
Best Practices
For this technology to succeed, it will be important for apps to help explain how and why data is collected by beacons,  and to ensure that the uses are compatible with the reasonable expectations of consumers.
With TUNE and other supporters, the Future of Privacy Forum provides a range of useful privacy resources for app developers at applicationprivacy.org. If responsible practices are maintained, beacons will be a technology that delivers on providing value to consumers, support to advertisers, and privacy controls in a way that will ensure holiday cheer.

---
The Future of Privacy Forum (FPF) has a location privacy working group consisting of leading retail and technology companies that are discussing and formulating privacy practices relating to beacons. Working together with the Local Search Association, FPF released Understanding Beacons, a basic guide aimed at media and policymakers. For more information about FPF and its efforts, please contact [email protected].
---
Privacy & Policy Newsletter
Are you interested in learning more about cutting edge topics at the intersection of privacy and technology? Sign up to receive TUNE's bi-monthly privacy and policy newsletter today!
---
Author
Becky is the Senior Content Marketing Manager at TUNE. Before TUNE, she led a variety of marketing and communications projects at San Francisco startups. Becky received her bachelor's degree in English from Wake Forest University. After living nearly a decade in San Francisco and Seattle, she has returned to her home of Charleston, SC, where you can find her enjoying the sun and salt water with her family.