Mobile First. That is what comes to mind when I think of India. India is on the brink of a massive mobile revolution. In fact, many consider this region to be the next big mobile growth region in the world. According to eMarketer, India is expected to become the world's second biggest smartphone market in 2016, surpassing the U.S. with 200 million users.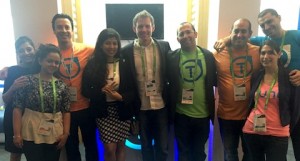 I experienced this firsthand visiting India and attending ad:tech New Delhi—the #1 digital marketing and advertising conference and exhibition in India. The TUNE team was pleased to be able to exhibit, as well as participate as as Bronze sponsor.
While we were in New Delhi, we spent as much time as we could talking to clients, partners, and industry analysts, so that we could get a better understanding of the needs of the market and the direction it is going.
There were three trends we consistently heard from this group of industry experts:
First, India has a huge appetite for mobile. With the induction of lower cost smartphones, like the Android One, we've seen India's use of mobile apps explode. India truly is a mobile-first economy. According to eMarketer, mobile phone users plan to increase 10% this year in India, while smartphone users will increase upwards of 36%.
I happened to see a quote from B. Santhanam of Saint-Gobian India where he said it perfectly, "India is the world's largest experiment in digitisation."
For mobile app downloads, communication platforms (Facebook, WhatsApp, etc.), eCommerce (FlipKart, SnapDeal, etc.), and gaming (Candy Crush, Clash of Clans, Casino, etc.) categories continue to dominate. These companies are all leading the charge—taking advantage of the growth in mobile phones and better 3G infrastructure.
Performance marketing is extremely important in this digitally evolving industry. It provides the ability for advertisers and publishers to identify successful performers so that they can focus their attention on the sources that drive the most profitable results.
The demand for quality traffic continues to move at a breakneck pace. As most advertisers will tell you, if they are able to find quality traffic (demand), their ad budgets can support the continued investment required to fulfill this demand. To fulfill this need on the demand side, companies such as vCommision, InMobi, Tyroo, Seventynine and others are ramping up their services to help meet the advertisers demand.
The day before ad:tech, we organized a half-day event called Mobile Marketing Insights, where we hosted the industry's most-influential players.
The goal was to bring together the industry and get the inside edge on how leading mobile and online networks and advertisers in India are utilizing TUNE technology to grow their global business.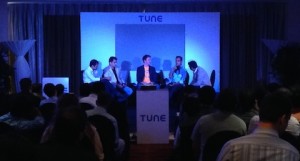 We also shared some insights from TUNE, which can be found in this press release.
I think these quotes from our customers describe TUNE's role in India best:
Vaibhav Odhekar, Co-Founder and COO, Pokkt said, "We trust in the TUNE brand. The bouquet of services is very comprehensive, providing us with all the tools we need to succeed. The support we've received from the TUNE team is superior and is a big reason why we are customers today. We've also been in impressed with the accuracy of the data; this has given us a great deal of confidence."
Sameer Parwani, CEO of CouponDunia said, "We continue to be inspired by TUNE, both as a company and through its powerful suite of solutions. CouponDunia has been a TUNE customer for the last couple of years, and we have found its products to set the standard for the industry. TUNE is truly a one-stop shop for networks and advertisers with its variety of features, prompt customer support, and universality of usage by our partners. TUNE has been hugely instrumental in helping us grow our business."
ad:tech New Delhi was a great event, and we were able to deepen our relationships with our clients, the industry and industry leaders. We are very bullish on India, as our many of our clients will attest, which is why we are investing in the ecosystem.
Many thanks to everyone who stopped by the booth to show support for TUNE! We are definitely looking forward to next year's event.
What are your thoughts on India's mobile revolution? Join the conversation below!
 Like this article? Sign up for our blog digest emails. 
Author
Becky is the Senior Content Marketing Manager at TUNE. Before TUNE, she led a variety of marketing and communications projects at San Francisco startups. Becky received her bachelor's degree in English from Wake Forest University. After living nearly a decade in San Francisco and Seattle, she has returned to her home of Charleston, SC, where you can find her enjoying the sun and salt water with her family.