I'm excited to welcome another keynote to Postback's mainstage: Jennifer (Jenny) Wise, Senior Analyst at Forrester, serving B2C Marketing Professionals.
Jenny's research focuses on emerging marketing tactics, with a primary emphasis on mobile marketing, mobile advertising, and gamification strategies. Her research examines the consumer adoption and usage of devices and features including the organizational maturity, strategic frameworks, and vendor partnerships and technologies required to successfully deploy mobile marketing tactics.
Jenny has spoken at numerous industry events on the topics of mobile marketing, mobile advertising, and cross-device marketing strategies, including CTIA, Mobile Media Upfront, AdExchanger's Industry Preview, and SM2 Innovation Summit.
Her research and analysis have also been cited frequently in publications including AdAge, Forbes, MediaPost, NPR, and TechCrunch, and she has been a contributor to Forbes, Direct Marketing News, and CMS Wire.

Additional Speakers
In addition to Jenny, these industry leaders will also be joining the mainstage for Postback:
"Mobile marketing is a fast changing landscape and as we continuously strive to be at the forefront of mobile developments and customer experience, there is a huge advantage to keeping on top of the latest tips and trends.  The collection of mobile marketers at Postback is outstanding and I am excited to share some of our learnings and discover new ways to accelerate our mobile acquisition and engagement efforts." – Dan Craig, Senior Director, Mobile at Hotels.com
"I am pleased to be speaking at the 2016 TUNE Postback this summer. TUNE Postback continuously gathers an incredible selection of thought leaders in the mobile advertising space and beyond. This year is no exception with an impressive lineup of attendees. TUNE has been a key partner for M&C Saatchi Mobile in the challenging mobile ad space, they break boundaries of mobile tracking and attribution and enables us and our clients to develop and optimize efficient acquisition models." – Eric Mugnier, SVP North America, M&C Saatchi Mobile
"At Postback the connections and conversations were more relevant to our business than any other event I've attended. The speaker line up is fantastic, and I drew real insights from their experiences. I can't wait to join the main stage this year to share new marketing insights." – Sarah Bidnick, VP of Marketing at TodayTix
Get a head start in connecting with our speakers. Follow our Postback 16 Speaker List on Twitter to learn all about what it takes to stay ahead of the curve in mobile.
Tweets from https://twitter.com/JenerationY/lists/postback-2016-speakers
At Postback, you'll experience two full days of mobile marketing insights from the very best — and networking that feels like a party. We are capping attendance at 1,000, so get your tickets soon. Our attendees from last year included: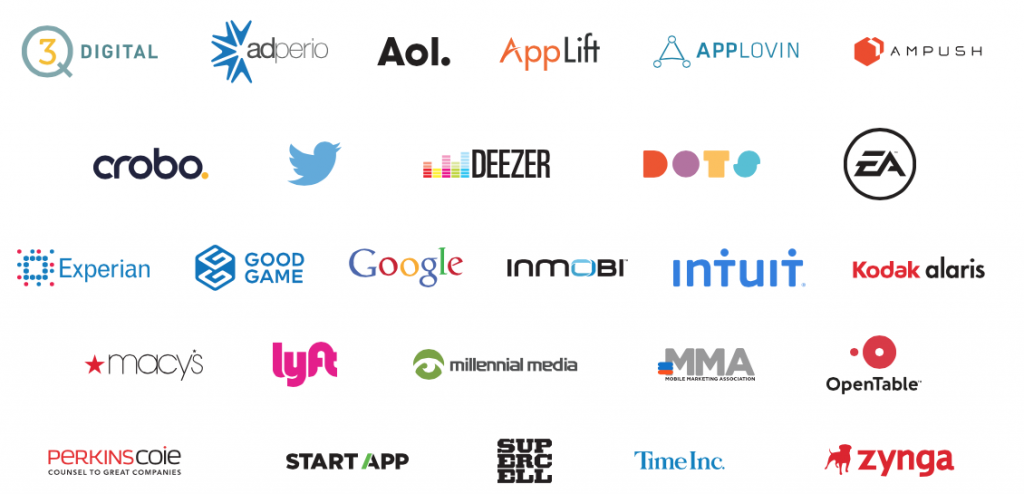 Like this article? Sign up for our blog digest emails. 
Author
Becky is the Senior Content Marketing Manager at TUNE. Before TUNE, she led a variety of marketing and communications projects at San Francisco startups. Becky received her bachelor's degree in English from Wake Forest University. After living nearly a decade in San Francisco and Seattle, she has returned to her home of Charleston, SC, where you can find her enjoying the sun and salt water with her family.