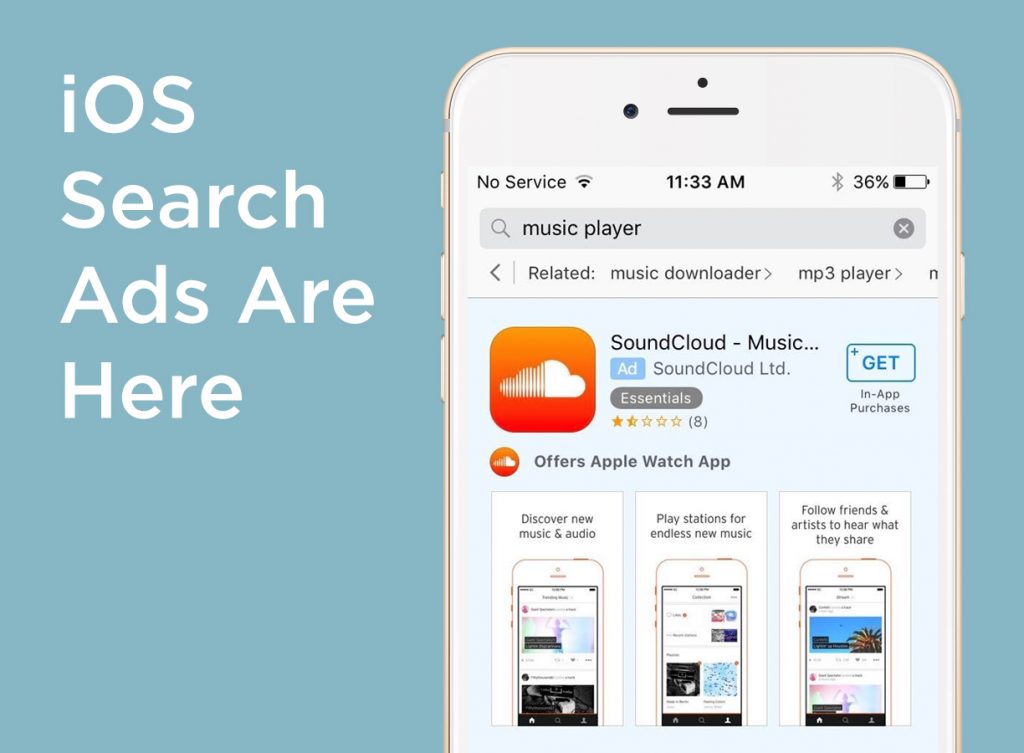 You've likely heard by now that Apple is releasing Search Ads for the App Store to deliver improved app discovery (and a new revenue stream). Apple is starting with an opt-in beta program until the full release later this coming fall.
Here's what you need to know to get in the game.
How Opt-In Beta Works
You first need to opt in to the iOS Search Ads beta. Apple handles everything for you in this beta (at least, for now). That means:
Apple will crawl through your metadata to identify keywords and search terms relevant to your app.
Apple will determine when your app should show up in the ad placement for those keywords and search terms.
Apple will decide what ad format to show consumers.
While all of that perhaps doesn't make your heart sing, remember you're (potentially) getting free downloads and free exposure through this beta.
How to Maximize Your Beta Experience
Now that you're familiar with the warm, fuzzy confines of your beta experience, let's go through what you can do to make the most of it.
Optimize Your Keywords, Title, and Description
If you have any experience with app store optimization, this one should stand out to you immediately. Apple is using your metadata to pull keywords and search terms that it will potentially use to show your app. What metadata does it consider? According to the presentation given by the Search Ads product team at Apple's Worldwide Developers Conference (WWDC), they pull from title, description, and keywords (iTunes Connect keywords). If you haven't seen the video, I highly recommend watching it.
That means whatever keywords or language included in the three pieces above are fair game. That, then, also means that you are constrained by what is included in those three pieces. If you want to ensure your app is shown for keywords/search terms you know are relevant to your users, you'll want to make sure you optimize the above for relevance (in the sense of relevance to your app and what it does).
You should be performing serious keyword research, ensuring you're including highly relevant, popular, and competitive keywords in your title, description, and keyword list. I won't go into detail into how to conduct that keyword research (there are plenty of resources out there, including the guide linked to above), but suffice to say that when you land on those terms, you should incorporate them into your description according to best ASO practices (cough, no keyword stuffing, cough), and make sure they're integrated into your title and keywords, where appropriate.
One strategy to ensure you're getting the most eyeballs from your Search Ads beta might be to target some keywords that you otherwise wouldn't rank highly for, due to high volume or extreme competitiveness.

For example, if I have a personal finance app, but haven't had any luck ranking for "budget," though I know it's a keyword with high search volume, I should start targeting it in my title, keyword list, and description. That will increase my chances of Apple crawling my metadata and plucking "budget" out of it all.
Err on the Side of Relevance
This metadata, combined with user propensity to tap on your app's ad (i.e., conversion rate), will be the determining factors as to whether your app is shown for a query. (Yes, that seems a bit like a Catch-22 initially, but it seems Apple will show your app more for a query if it converts.) That's why optimizing your metadata matters so much: if you ensure it's highly relevant, it's more likely that your app will show up for relevant queries and convert users (which reinforces Apple picking your app to show for that query).
One good way to ensure your keywords are highly relevant is to use your competitors as a barometer. You can check your tracked keywords and see which keywords that are particularly valuable (in terms of search volume and relevance) your competitors also rank for.

This not only helps you keep an eye on relevance, but also allows you to potentially edge out your higher-ranked competitors on valuable keyword real estate. In the above example, I see that I rank lower for "wealth" than two of my competitors: Acorn and Wealthfront. Aside from knowing that "wealth" is relevant to my app, seeing two major competitors ranking (highly) for it helps validate the relevance, too. I might want to incorporate "wealth" into my description and, depending on its priority, into my title, as well, to see if that can increase the odds of having my app win the placement.
Apple has been harping on relevance, and rightly so. Relevant ads equal higher conversion rates and successful endings. To ensure that it's always optimizing for the highest conversion rate on an ad placement/query combination, it's likely that Apple is using an algorithm like multi-armed bandit. Multi-armed bandit works by allocating most of the traffic (e.g., winning bids) to apps that have a history of successes (e.g., taps and installs), while building in opportunities for other apps (e.g., potentially less relevant apps with higher bids, or potentially more relevant apps with lower bids) to see how they perform. If an app begins to gain traction for a given query/ad placement combination, then it would be more likely to continue winning bids.
Align Your Screenshots and Description Copy with Your Optimized Keywords

Apple provides for two ad formats (so far):

Format is decided by Apple (surprised?), depending on what works for the specific query and (apparently) the specific user. Given the complete lack of insight of what format your placements are taking, you'll need to ensure that the above-the-fold part of your description is optimized for obvious and maximum value to the user, and your (first three) screenshots are absolutely on point, obviously and interestingly showing the user the value of your app.
Particularly when it comes to optimizing your screenshots, remember that these screenshots must match up with the query that brought the user to the ad placement. In that context, you should align what's shown in your screenshots with your optimized keywords and search terms. This will, in turn, ensure everything tells the same story and helps you get the highest conversion rate possible.
If you've done any kind of App Store A/B testing in the past, that data would be really helpful.

You can experiment with different description copy, different screenshots, and even different screenshot order to see what variations lead to higher conversion rates. If you're always optimizing these assets, it's more likely to lead to higher conversion rates when those assets find themselves in a search ad.
The Future of Search Ads
Let's fast-forward past this beta to sometime in the fall, when Apple hands (more) control over to you, the marketer. You will then have the power to create campaigns, target keywords, define your budget and bid pricing, manage your campaigns, and measure performance. To us at TUNE, the most interesting parts of this process are keyword targeting and measurement.
For the first time ever — across both major app stores — a platform is going to open up keyword-level volume data, giving marketers a glimpse at real App Store search volume. Oh. My. Word. As someone who has been in app store optimization for over four years, this is truly transcendental. While Apple isn't giving away the farm (i.e., it won't be actual monthly searches), it is releasing a relative "popularity" score, allowing marketers to get a sense of how keywords stack up against each other.

Measurement will be aggregated at the query/search term level and not broken down at the individual user level. However, using the Attribution API, Apple says marketers will be able to see whether an installed user came from a query, which query, and when the install occurred.

Likely a Good Thing for All Developers
Apple has said they're acutely aware of the discovery problem and the supreme inequality in the App Store. While some point to Search Ads not helping all developers, based on what we can infer about implementation and methodology, we think that this will provide developers with even the smallest budget an opportunity to get eyeballs.
If we look at how it's decided whether an app gets the placement, there are indications Apple has built this to fight Search Ads from becoming purely a bidding war. Remember, winning the bid is dependent on Relevance (of the query to the app and its metadata), and historical conversion rate/user response to the ad. Apple is really, really pushing its Relevance score and how that'll establish a floor on a per-query basis: if you don't meet that floor, regardless of your bid, you're not getting that placement. Also, if Apple does, indeed, employ an algorithm like multi-armed bandit, then it's unlikely one app will camp out on a keyword indefinitely, as other bids will be cycled in a percentage of the time.
This gives developers one more tool they can leverage and actually have some control over. We'll see how it goes after the beta, but developers will have all the power to manage how they spend on Search Ads, learn what keywords tend to convert and have good volume (hint: take those insights into the organic realm and implement as keywords, in your app title, etc.!), and measure every step of the way. This is an unprecedented level of transparency in the App Store that we're really excited for.
Like this article? Sign up for our blog digest emails.
Author
Becky is the Senior Content Marketing Manager at TUNE. Before TUNE, she led a variety of marketing and communications projects at San Francisco startups. Becky received her bachelor's degree in English from Wake Forest University. After living nearly a decade in San Francisco and Seattle, she has returned to her home of Charleston, SC, where you can find her enjoying the sun and salt water with her family.