In the U.S., 62% of smartphone owners install games within a week of getting a new phone, and U.S. consumers spend an average of 24 minutes per day on mobile games. But with the saturation of the app market, how do you get app users to choose your mobile game over another? Haley Patoski of Pocket Gems recently shared with us her best tips for mobile game user acquisition.
Haley is currently is on the Episode Performance Marketing Team at Pocket Gems working with a wide variety of channels to acquire users. She has been doing user acquisition in the mobile game space for two years on both casual and hardcore titles. Her favorite part of the job is to break down data sets to find patterns (or outliers!) and then figure out what the likely causes are.
It's been awesome to see Haley and her team's continued success in the mobile gaming space. In the two years I've known her I've learned a lot watching her speak at TUNE events and other industry meet-ups, and she was gracious enough to take time out of her day to contribute to our latest e-book:

Pro tips from Haley Patoski of Pocket Gems
How do you build your mobile gaming audience?
We have a young female audience for Episode so we look for users in places that are popular with that demographic. This includes social media sites like Instagram and Snapchat. We do advertise across multiple channels but we see the highest install rates and value from places where our audience spends a lot of their time.
How have you made your mobile game unique?
We let users dive deep into their entertainment experience in an active, rather than passive, way. Users can choose from thousands of stories, and they can also create their own stories, leading to an ever expanding library. We really try to emphasize the ability to join the story in both our ads and our App Store landing pages. And of course, our partnerships with celebrities and media properties definitely help.
What tactics do you apply to your advertising?
We try to tell a mini-story in each ad. The ads that perform the best are visually interesting and have funny or emotional dialogue to grab the viewers' attention.
How do you keep users engaged with your game, and how do you measure their response?
We release new content all the time so each time a user finishes one story, they have something else to immediately jump into. We also want to make sure we send users to our best stories so we will do big pushes around the launch of IP content. For example, we launched a whole new set of creatives around the launch of Mean Girls Season 2. By emphasizing recognizable characters we are able to draw the fans of the Mean Girls movie into the game and then hopefully get them interested in the thousands of other stories within Episode once they finish Mean Girls. For Episode, it is really important to get readers hooked on a story. Both retention over time and engagement with our top content give us a good idea of how captivated our users are. If a user keeps coming back to read more we know that our stories have caught their attention!
What do mobile game marketers overlook when targeting new users?
A lot of marketers don't focus enough on creative. This is the area where we see the biggest shift in performance. A new creative can make or break our campaigns, especially for networks where we are paying out on CPI. These networks back everything out to an eCPM so our click-through and install rates can have a huge effect on how competitive we are. When we launch a strong creative we see an immediate uplift in installs.
Get more mobile gaming pro tips
Haley is just one of the mobile gaming experts featured in our guide, "Acquisition and Engagement Tips from Mobile Gaming Ninjas." The e-book is chock full of interviews with the best in the industry, including: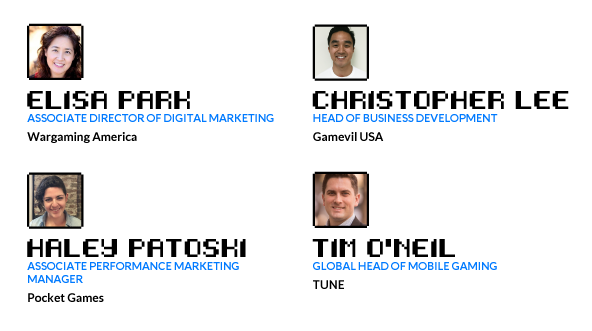 Get the e-book today, then rise to the top of the ranks in mobile game user acquisition:

Author
Becky is the Senior Content Marketing Manager at TUNE. Before TUNE, she led a variety of marketing and communications projects at San Francisco startups. Becky received her bachelor's degree in English from Wake Forest University. After living nearly a decade in San Francisco and Seattle, she has returned to her home of Charleston, SC, where you can find her enjoying the sun and salt water with her family.