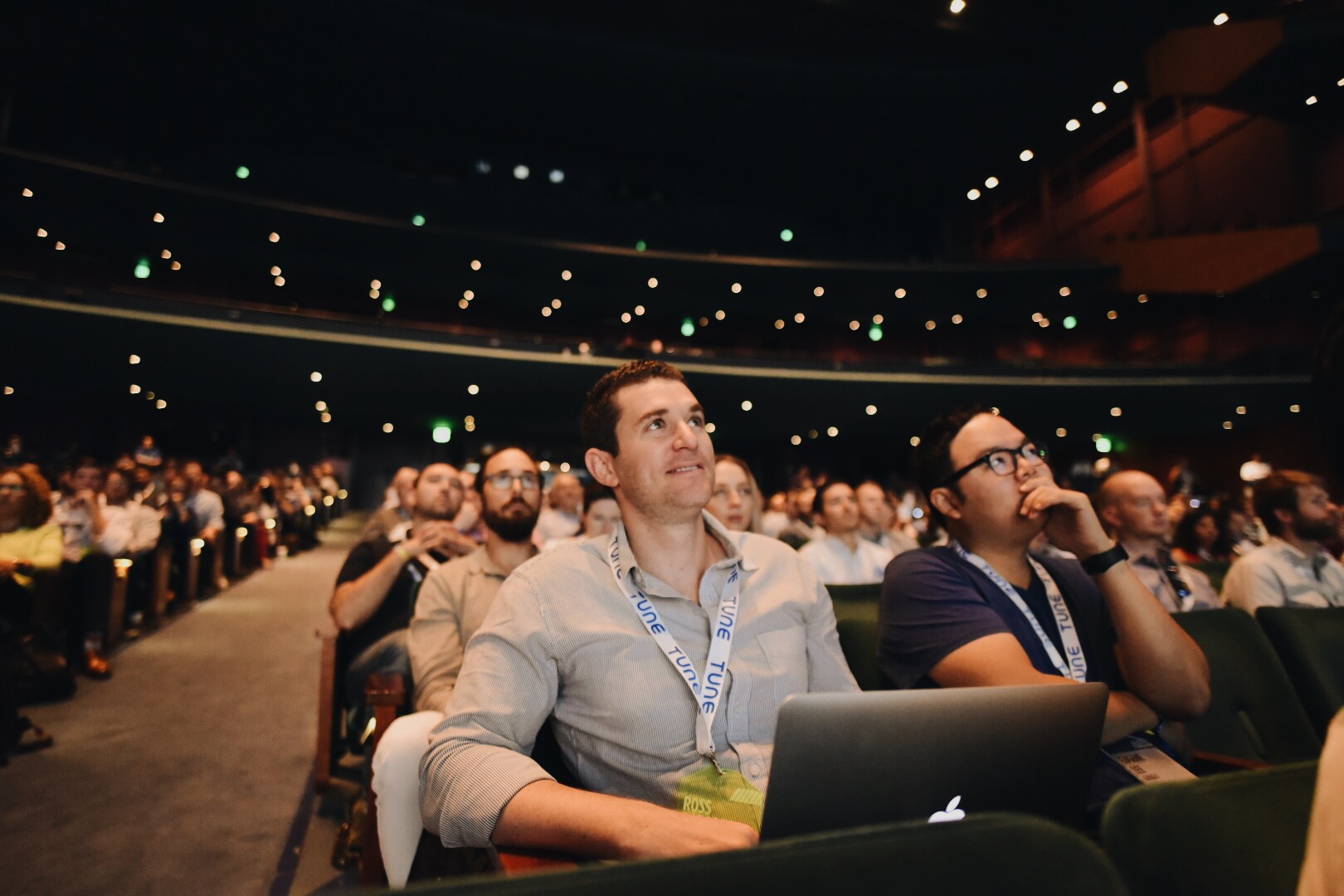 This spring, there may be a TUNE event coming near you. From Seattle to Sydney, TUNE is putting on events to connect you with fellow marketers. Whether you're new to the scene or a seasoned expert, join to hear the latest industry insights.
Ask The Analyst — presented by Forrester and TUNE
April 27 | San Francisco, CA
May 1 | Seattle, WA
May 11 | New York, NY
TUNE is partnering with Forrester for a three-city, Ask the Analyst breakfast series. Julie Ask, Jennifer Wise, and Ted Schadler will share insights to help marketers capitalize on winning mobile moments. Mobile Best means becoming a master of the buying cycle. It means creating a dominating strategy across web and app. Whether you are a mobile first marketer or an enterprise marketer, there are key strengths you can leverage to deliver the right message, to the right person, at the right time.
Space is limited; purchase your ticket to #AskTheAnalyst soon! With your ticket purchase you'll also receive a free copy of The Mobile Mind Shift. If you're joining us in San Francisco or New York City, one of the book authors will be on site to dedicate and sign your book!
Major League Performance with HasOffers by TUNE
April 18th | Los Angeles, CA
May 11 | Denver, Co
The HasOffers team is excited to take our fans in Los Angeles and Denver out to the ball game in an exclusive suite. Join us to learn the latest trends to add to your marketing playbook, root for your home team, and eat all the Cracker Jacks you can in nine exciting innings! To request an invite, please email [email protected].
Hyper Growth Funnel for App Success
April 24, 6-9pm | Google Launchpad San Francisco
Growth marketing isn't just about acquisition. Mobile marketers today must broaden their focus, think holistically and address the entire marketing funnel when investing in growth initiatives. TUNE's Partnerships Manager, Tessa Kayser, will be speaking alongside representatives from YouAppi, Walmart Global, and Fetch about how top mobile brands have engaged mobile consumers throughout the marketing funnel, optimizing the complete user journey from brand awareness to purchase to re-engagement. RSVP here.
RetMo Paris
April 27, 14:00-14:30 | The Salons of Aveyron, Salle Enterprise
RetMo Paris is gathering together the key players in mobile for a day of education and connection. The conference will teach attendees how to more effectively utilize mobile to amp up their sales. TUNE's Jean-Vincent Chardon will be leading a presentation on how Trainline has developed a mobile best strategy across web and app.
Mobile Apps Unlocked | Table #807
May 3 – 4 | Hard Rock Hotel, Las Vegas
The TUNE Marketing Console team is counting down the minutes (and their poker chips!) until MAU Las Vegas. We're proud to support this incredible show as bronze sponsors. We'll be at table #807, so stop by and say hello! Or, schedule a one on one meeting in advance.
Craft Your Performance Strategy, Sydney
May 11 | Beer Deluxe, Sydney AU
We're gathering together the best of the best in Sydney's performance marketing industry for a fun and informative event. Our panel of performance marketing experts will discuss how you can leverage the latest trends in affiliate marketing and lead-generation. After the panel, stick around to enjoy craft beers, cocktails, and engaging conversation with your fellow marketers.

Will we see you at any of these events? Let us know in the comments.
Never miss a thing!
Want the goods delivered straight to your inbox?
Sign up for our blog recap emails to stay in-the-know about digital marketing, analytics, and optimization.
Author
Hannah is the HasOffers Product Marketing Manager. Aside from her marketing role at TUNE, she is thrilled to be involved with both the TUNE Women and TUNE House programs. Outside of work you can find her exploring new places, obsessively capturing every moment of her puppy's daily life, and sampling all of the great local beers and wines Seattle has to offer.