The vast majority of apps in the app store rely heavily on both paid and organic marketing efforts in order to achieve sustained success. Although the strategies associated with these two channels vary, they do share one highly important characteristic: the final conversion takes place in one of the app stores.
As a modern mobile marketer, mastering the app store is essential.
We recently conducted a study designed to help marketers better understand user preferences and behaviors in app stores. We surveyed more than 1,000 US smartphone owners, and asked questions aimed at gaining insight into four key areas:
The individual components of the app landing page that influence a user's decision to download an app.
The correlation between search ranking and downloads.
Branded vs. non-branded search.
The role of autocomplete.
When you know what factors users actually care about and understand how they interact with key app store features, your ability to optimize that final conversion is dramatically improved.
App Store Factors That Matter
As part of the study we asked users to:
Search for an app they would like to download in an app store.
Consider five fundamental components of the app landing page (screenshots, description, rating, title, and icon).
Indicate whether the factor was important, neutral, or not important.
The graph below captures how respondents rated the importance of these five key factors: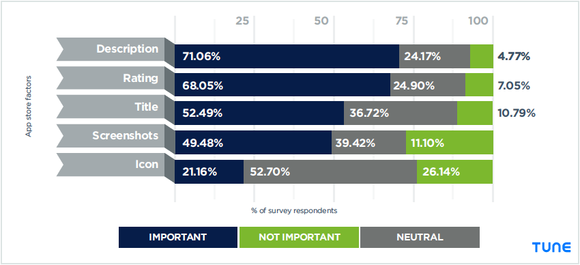 In addition to this holistic view, we asked users to identify the single most important factor that influenced the download decision, and broke things down by operating system to give you an even more granular understanding of user preferences.
The white paper also provides several actionable best practices to help ensure your paid and organic marketing efforts are optimized and delivering the results you need.
Once you're done with that one, check out our article on how top marketers boost ROI by 1000%.
Author
Becky is the Senior Content Marketing Manager at TUNE. Before TUNE, she led a variety of marketing and communications projects at San Francisco startups. Becky received her bachelor's degree in English from Wake Forest University. After living nearly a decade in San Francisco and Seattle, she has returned to her home of Charleston, SC, where you can find her enjoying the sun and salt water with her family.