It's here! The new HasOffers Network Dashboard mobile app is available for download for iPhone and Android.
The admin interface is the heart of HasOffers and our engineers have been hard at work give our Enterprise customers an easy and convenient way to manage their network on the go. The HasOffers support documentation details how to enable the app on your network and how to log in for the first time.
Key Features:
Variety of Stats 
Likely the most important numbers for every network, revenue is displayed initially. But, you can also see a snapshot of payouts, profit, conversions, and clicks—just tap on the appropriate stat at the top of the screen.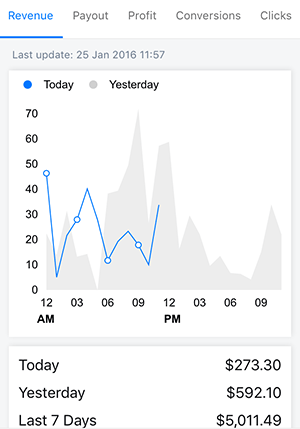 The blue line shows metrics for each hour on the current day (as defined by the network's time zone). The shaded gray area shows stats for that hour on the day before, for quick comparison.
Total stats for the current day, previous day, and last seven days are displayed below the chart.
Hourly Breakdown
For each stat, you can scroll down to see an hourly breakdown for the current day and day before.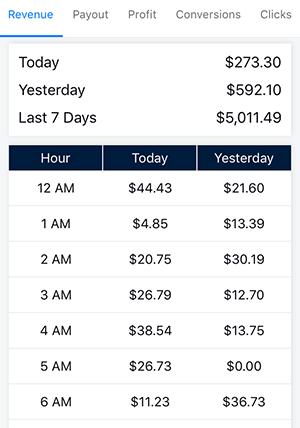 Since the app shows stats for the current day, the current hour's entry shows the data collected for that hour, and hours in the future are left blank.
More Key Features in the HasOffers Network Dashboard Mobile App:
View key performance stats for your network

View totals for revenue, clicks, conversions, payout, and profit

Compare today's totals to yesterday and the last seven days

Store logins for multiple HasOffers networks you manage

Network admins get a global view of their network's stats

Account managers see the numbers generated by their accounts
Get the App:
The HasOffers Network Dashboard mobile app is available for both iOS and Android devices. iOS device users can click here to go to the Apple Store. Android device users can get theirs at the Google Play Store.
Next Steps:
The app will continue to be a major focus for the HasOffers team in 2016. But, we need your feedback! Your input will shape and impact the next updates, so make sure to go to the feedback tab within the app and let us know what you would like to see added.

Want more info? Reach out to your Account Manager or check out the HasOffers support documentation on the HasOffers network dashboard app.
Like this article? Sign up for our blog digest emails. 
Author
Anna is a TUNE content marketer and an MBA Candidate at the Michael G. Foster School of Business. She's also the mentoring and events manager for the TUNE House: scholars.tune.com. In her spare time you can find her reading (mostly fiction and business), biking, eating the great food around Seattle and traveling.