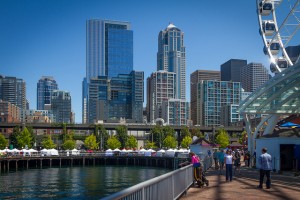 Postback, our annual client conference, is just days away in our hometown of Seattle. We hope you are as excited as we are! You may be thinking, "What should I do? Where should I eat? Where should I drink?" Relax. We got you covered! Seattle happens to have some of the best options for food and drink around. And, if you are staying through the weekend, we've even comprised a list of ideas to keep you busy. Here's our roundup of winning places to eat, drink, and play while in the Emerald City.
Belltown (Closest to Postback)
The Belltown neighborhood is at the center of Seattle's restaurant and bar scene. It also happens to be where the Postback action is taking place. Our recommendations for food and drink in the area include: El Gaucho, List, Black Bottle, Belltown Pizza, Shiro's Sushi Restaurant, Biscuit Bitch, The 5 Point Cafe, Lola, Macrina Bakery, Shorty's, Rabbit Hole, Mama's Mexican Kitchen, Local 360.
Downtown and Around Pike Place Market
If you plan to peruse Pike Place Market, you'll find plenty of artisanal food, local farmers and vendors with a variety of fare including seafood, piroshkies, donuts, bakeries, and much more. Let your nose be your guide! Our top bar and restaurant choices close to the market include: Alibi Room, Matt's in the Market, Beecher's Handmade Cheese, The Crumpet Shop, Etta's Seafood, The Pink Door, Radiator Whiskey, Purple Café and Wine Bar, Can Can, and The Tasting Room.
Capitol Hill
The eclectic neighborhood of Capitol Hill offers a wide assortment of dining, cafés, parks, and effervescent nightlife. You also can't beat the people watching. Some of our faves for dining and drinking in Capitol Hill are Café Presse, Spinasse, Liberty Bar, Knee High Stocking Company, Linda's Tavern, Poppy, and Barrio.

Other Activities to Keep on Your Radar:
Take in the view
Summer is the optimal time of year to get a clear view of Seattle and surrounding areas. Of course, the Space Needle is a tourist favorite for enjoying the sights. Or, you could check out Seattle's newest attraction, the Great Wheel. It's one of the biggest Ferris wheels in the U.S. While you are there, check out good locals eats: The Crab Pot, Elliot's Oyster House, and Six Seven.
Catch a Game
Soccer you're game? You are in good company. Seattle is crazy for soccer, especially for our MLS team, the Sounders. Check out some fùtbol this Saturday, July 19th and watch our Sounders take on the Tottenham Hotspur. Purchase tickets here.
Fremont Neighborhood
Why not take a trip to "The Center of the Universe"? The fun and quirky Fremont neighborhood offers boutique shopping, cool bars and original art. Take a stroll by the canal, and visit Theo Chocolate factory. Then, meet the Troll under the Freemont Bridge. Some places to try are Kylies Chicago Pizza, Paseo Caribbean Restaurant, Brouwer's, The Ballroom, Pie, or visit the Fremont Sunday Market.
Live Music
Perhaps, you're in the mood for live music. Seattle has a vibrant music scene. Some hot spots include: The Showbox, The Crocodile, The Triple Door, Neumos, Chop Suey and Q Nightclub.
Regardless of how you choose to experience and take in Seattle, make it a trip to remember. We are pumped to have you here, and hope you enjoy Postback!
Author
Becky is the Senior Content Marketing Manager at TUNE. Before TUNE, she led a variety of marketing and communications projects at San Francisco startups. Becky received her bachelor's degree in English from Wake Forest University. After living nearly a decade in San Francisco and Seattle, she has returned to her home of Charleston, SC, where you can find her enjoying the sun and salt water with her family.