Ever wondered what it took to get the TUNE House program up and running? Well, it all started with an idea…and the rest is told by TUNErs who made it a reality.
How it all came to be
As college freshmen investigating housing options on campus, my brother Lee and I found a special, interesting housing community for entrepreneurs. The housing was for students committed to running a current business endeavor or working on starting one. It was another intense application process of which limited spaces were available for freshmen. We were accepted and spent all four years in the dorms devoted for the entrepreneurial community.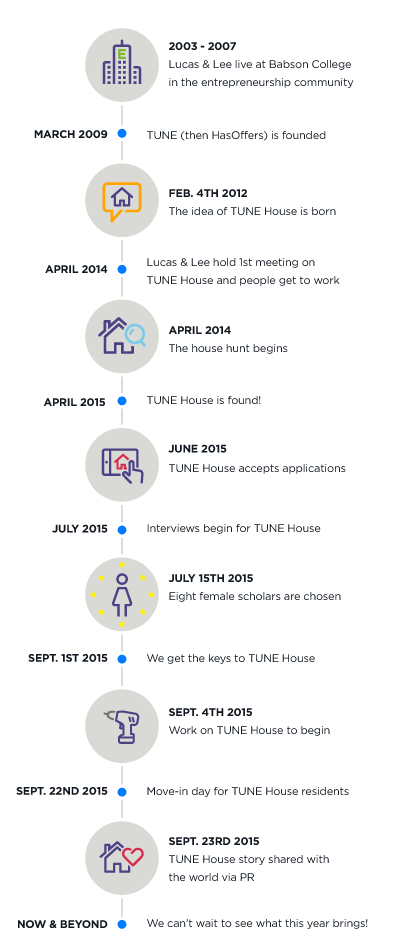 While our college course provided the framework and education on how to start and grow a business, it was the supportive housing community that motivated us to actually apply our learnings as soon as possible. The community was a place where we literally lived and breathed entrepreneurship. For the first three years, there were always upperclassmen who provided guidance and feedback. It was never a matter of being stuck, rather how to figure out the challenge together.
The idea for TUNE House was created one night by remembering our experience living in the entrepreneurship community at college mixed with our love for of our sister to inspire her to realize how she can use technology to share her passion.
Our younger sister has always looked up to us. While she enjoyed technology, her abilities and passions were rooted in her creative and artistic side. The career path her brothers took of being businessmen and computer programmers wasn't something that her passion aligned with.
Four years ago we recognized her ability to create and produce her own music. We would give her goals and support her passion, and in return help plan how we could then guide her with her next set of goals. She quickly learned that she could blend her love for music, production technology, and entrepreneurial skills to entertain and gain fans in Seattle who appreciate her music.
Empowering our sister has inspired us to leverage our own college experience to help women be supported and inspired to learn computer science.
— Lucas Brown, Founder and Chief Product Officer
Why we need the TUNE House
The TUNE house is one of many opportunities for us to support the visibility of women studying technology and help to provide a support system for them to get mentorship and camaraderie. The biggest challenges in solving the gender gap in engineering and technical positions is making sure we're inspiring the next generation helping them see the opportunities that lie ahead. We've found an incredibly passionate first group of women, and we can't wait to see all the incredible ways they decide to innovate on this initial idea and make something all their own.
— Peter Hamilton, CEO
TUNE House represents an ambitious and innovative way that small companies can make big changes in the world. While we're making a significant impact in the lives of the eight scholars that live at TUNE House—and that's a big deal—we're also communicating to our employees that they're part of a really special team that is building something meaningful. We're making a statement to the startup tech ecosystem that you don't need to be a large public company to start giving back. And we're paying forward our gratitude for the support that TUNE received when our leaders were young entrepreneurs. TUNE House is laying the foundation for a bigger vision of TUNE's industry leadership and community impact.
— Ben Golden, Director of Legal Affairs
The quest for the perfect house
Upon initially seeing the place, there was still the group of college guys living there. From seeing it that first day, I immediately knew it was going to take a major collective effort by anyone willing to help out to get this place up to "TUNE" standards. Once the guys moved out, we had roughly three weeks to complete the transformation. If that wasn't already a challenge, we had a large group of people, including myself, out of town during that time. I recall getting back to Seattle from an engineering retreat on Orcas Island at almost 10 p.m. Instead of going home, Camille and I went straight to the TUNE house and worked until past midnight joining Jeremy Calderon and Taylor Reynolds, who were already there.
All of the hard work and late nights was worth every minute to me, as I got to see a different side of my co-workers and the two founders of the company. If that wasn't rewarding enough, the looks on the faces of the parents and women who would call this accumulation of blood, sweat, tears, and absurd hours their home was enough to last for years to come.
— Aaron Christensen, Maintenance
TUNE House prep work
I was tasked with house updates, furniture, and decor for the TUNE House. It was hard to wrap my head around starting to buy furniture for a home I'd never seen before, and a large one at that. It wasn't until late August 2015 that I got my first look at it—and it wasn't a pretty sight. I realized the entire thing would need to be painted—all eight rooms plus the various common areas. This all had to happen before any furniture could arrive, and when we got the keys on September 4th, we had exactly 17 days to make it all happen.
From using a replica room visualizer to plan out the room colors and furniture, to ordering all the furniture and assembling it, the next two weeks were a blur of painting into the late hours of the night. I made countless trips to Home Depot, calling on the experts there to help me finalize colors. Overall, we bought 37 cans of paint, 23 rolls of tape, 16 paint brushes, 7 rollers, 28 roller pads, and an industrial roll of plastic to protect all the wood flooring.
Over the next two weeks we spent many hours at the house, painting well past-midnight. After Lucas and Lee got back from their business trip to Europe, they hit the ground running with us, and used their persuasion skills to drum up 2 surprisingly well-attended paint parties over Labor Day Weekend.
— Camille Sutherland, Personal/Executive Assistant to the Founders
The women who live in the TUNE House
Because this was a brand new, one-of-a-kind initiative for us, we didn't really know how many applicants to expect. When we first launched the scholarship site publically, we started to receive positive feedback from current and prospective students as well as professional women in tech who were asking how they could be involved and help mentor the selected women at TUNE House. Once the deadline to apply closed we had more than 50 applicants. The evaluation was based on academic background and short essays demonstrating passion for technology through a challenge or goal that the female students have faced and strived to solve.
The type of interview questions that were important to us during the selection process: Are they constantly seeking new knowledge outside of classroom experience? Are they working on a mobile app or volunteering to teach at organizations such as Girls Who Code and others? We wanted the house to be filled with compassionate, ambitious self-learners who love technology.
The result: We welcomed eight students of different backgrounds and at different stages in their education. While we provided mentors for each student, our biggest goal was creating a supportive community in the house and having residents at different stages in their studies help foster an environment where students push and encourage each other.
— Kristina Linova, TUNE House Program Manager and Engineering Growth
Welcome events and house communications
I first met the TUNE House residents at a meet-and-greet held at TUNE, where those of us helping with the program brainstormed fun ideas we could implement throughout the course of the year. It was evident the women were interested in making the most out of this experience by their creative suggestions on learning opportunities. Move-In Day in September came shortly after and it was such an incredible experience. Watching the excitement from both the residents and their families was truly something special. View the photos from the day including the finished house. The first Sunday in October, we visited the house (that would become a home overnight) and hosted an orientation with the female scholars. We introduced all of us from TUNE who would be involved throughout the year, went over house logistics and operations, talked about exciting programs in the works and then opened it up for discussion on how the residents wanted their home to be run.
Outside of events, communication has been the main focus of my involvement with the house and it's been really fun— utilizing social media to communicate with the ladies internally, and also to amplify the exciting PR around this amazing program and its accomplishments to our local community and industry. If you want to keep up with the latest buzz, be sure to check out the #TUNEHouse Twitter feed.
— Cortney Bigelow, Corporate Marketing Specialist
Mentorships and events
The students vocalized how interested they were in having mentors and access to tech companies around Seattle. All eight students have been paired with a mentor who will guide them in their personal and professional development. And they're off to a great start.
Karishma and Charles Gilliam are creating an iOS app, Aishu and Patrick are thinking about presenting tech talks at Seattle meetups or participating in business competitions such as the health innovation challenge, and Pooja and Talia plan to start a reading group for undergraduates to read and discuss research papers. The other pairs have cool things brewing, with more details to come throughout the school year.
We have had interactive product demos from SmartWhere Proximity Solutions and Tableau for the students, both at the TUNE House. The women have also volunteered at Teen Feed, which included preparing and serving a meal to 45 homeless youth in the University District. More company demos and volunteering opportunities are planned for the rest of the year. If you'd like to recommend an event, speaker, or volunteer opportunity, please email [email protected]
— Anna Chatilo, Content Marketing Specialist
What's in store for TUNE House in 2016 and beyond?
It's evident by all the stories from each contributor that it takes a village to get a program like this off the ground, but what's next? How do we measure its success? What does this success look like? Well, for TUNE House it comes down to student outcomes. Through set milestones such establishing a well-oiled house ops machine, the mentoring program, education sessions, communications and community support, we can strive to measure success and whether the program positively influences the next generation of female technologists graduating from UW. We're also looking at increased internal and external awareness around issue of gender diversity in tech. If the program drives the number of diverse applicants to TUNE's career portal — it's definitely an added bonus!
Learn how to get involved: TUNE House
Author
Becky is the Senior Content Marketing Manager at TUNE. Before TUNE, she led a variety of marketing and communications projects at San Francisco startups. Becky received her bachelor's degree in English from Wake Forest University. After living nearly a decade in San Francisco and Seattle, she has returned to her home of Charleston, SC, where you can find her enjoying the sun and salt water with her family.