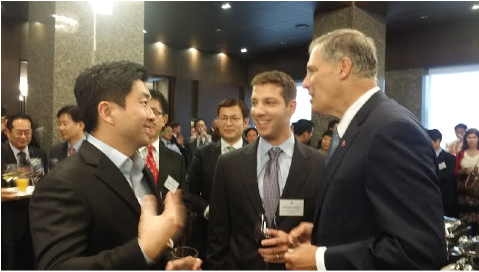 TUNE's story is a quintessential startup success story from Washington State. Founded by identical twins from Elma, WA, TUNE was the state's fastest growing company in 2014. The company has quickly blossomed from a scrappy startup in the Belltown neighborhood of Seattle to now hosting offices in eight locations worldwide. TUNE has maintained its fun-loving culture through all of this growth, and was recently recognized as providing the best employee perks and geekiest office space.
With such a phenomenal story to share, TUNE proudly accepted an invitation to participate in Governor Jay Inslee's recent trade mission to Korea and Japan.
The trade mission connected top-level business and government leaders from Washington State with their counterparts in Korea and Japan to enhance understanding of the respective markets, celebrate existing partnerships, and identify opportunities for collaboration. "There is no better way to showcase Washington's innovation and entrepreneurial spirit than meeting face-to-face with our prospective partners, customers, and collaborators," said Governor Inslee in the official press release. TUNE's engagement in Seoul and Tokyo represented the global impact of Washington State's booming tech sector.
The trade mission proved to be fruitful for both business development and brand awareness. In fact, the Governor highlighted TUNE in three prominent speeches. As a Seattle tech company reaching markets around the world, TUNE's rapid growth and international ambition were compared by the Governor to another not-so-micro Seattle-area tech company forty years ago.

TUNE also participated in conversations about the inputs and community dynamics that inspire a healthy startup ecosystem. Bryan Kim, TUNE's Managing Director of APAC, presented TUNE's story and participated on a panel at a Korea-US tech forum. I also joined a tech-focused cohort of the trade delegation in Pangyo Techno Valley (Korea's Silicon Valley) and Seoul to discuss the Seattle startup scene with local business and government leaders.
Most important, involvement on the trade mission was an opportunity to recognize the expertise and contributions of TUNE's rockstar team in Seoul. VentureBeat reported that TUNE was "killing it in Seoul" in a May 2014 article, and the team's growth in APAC since then has only accelerated.
TUNE is grateful for the support of Washington's Department of Commerce during our formative years. We made it where we are today with the help of a collaborative community, and are pleased to contribute to civic and industry events that encourage entrepreneurialism and innovation. Whether through opportunities to share our secrets to success, debates about how to cultivate a thriving startup community, or karaoke diplomacy, we're happy to pay it forward.
TUNE's participation and prominence on the Governor's trade mission was an exciting milestone for the company, and a sign of our passion and vision to bring mission control for marketers around the world.
Like this article? Sign up for our blog digest emails. 
Author
Becky is the Senior Content Marketing Manager at TUNE. Before TUNE, she led a variety of marketing and communications projects at San Francisco startups. Becky received her bachelor's degree in English from Wake Forest University. After living nearly a decade in San Francisco and Seattle, she has returned to her home of Charleston, SC, where you can find her enjoying the sun and salt water with her family.