Earlier this week VentureBeat (VB) released a mobile analytics industry report titled "Mobile App Analytics: What winning mobile developers use." The in-depth study was based on data aggregated from 230 app developers whose apps have a combined total of 250 million active users, as well as SDK, ratings, and download data for over 1.8 million Google Play and Android Apps made available through a partnership with MixRank.
This report highlights the most used mobile analytics solutions by app developers. Though each have very different feature sets and purposes, it is valuable to consider those that are top of mind for developers both big and small. It is difficult to pull direct comparisons and rankings based on the value each analytics solution provides, which is why the report also attempts to show the key reasons why each analytics solution is chosen.
The mobile ecosystem is made up of multiple types of analytics, and each type provides marketers with data that enables them to measure different app metrics. For example, TUNE is an enterprise app solution for mobile marketing – which helps our clients realize the importance of measuring user acquisition, lifetime value, and retention, and using data to react to the user experience. This is true for our clients across all verticals – from Gaming studios like Supercell and EA to Travel apps like Uber to Messaging apps like Tencent and LINE and even Finance apps like Intuit and Square.
With that in mind, the VentureBeat report included several positive findings regarding TUNE as part of a winning developer marketing tool set, and we thought we'd pass along a few of the highlights.
VB Study: TUNE Highlights
VB Insight recommends TUNE as #1 Google Play Top Pick and #2 on iOS

Global-Sized Apps Use TUNE
The study found that few companies can match TUNE's share of large-scale apps, noting that TUNE is currently utilized by:
Three apps with 100 million+ users
Nine apps with 50-100 million users
107 apps with 5-50 million users
TUNE #4 for Big App Market Share on Google Play
When isolating for big apps (those with more than 5 million users) TUNE ranked #4 on Google Play.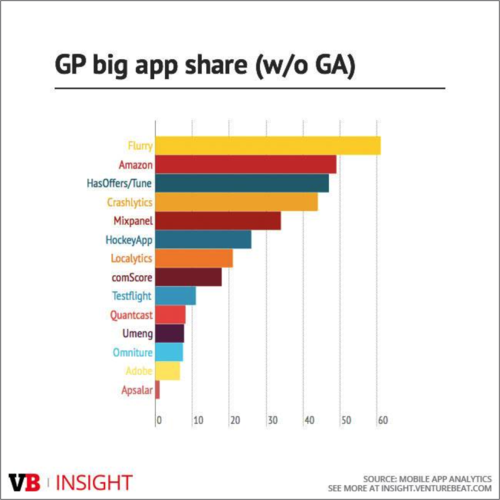 And when isolating big apps on iOS, TUNE came in at #10.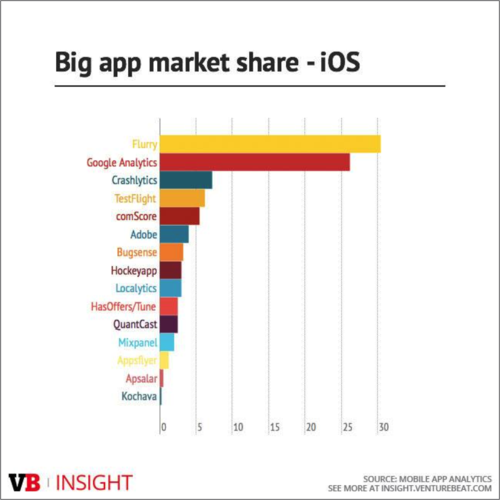 TUNE #9 for Mobile Analytics iOS Market Share
Across all iOS app developers we were excited to see TUNE well represented as a key analytics solution, especially since a large majority of app developers do not have acquisition strategies.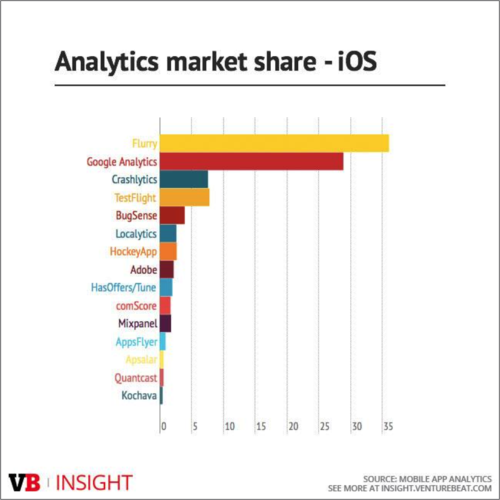 Many of the Best Monetizing Apps Use TUNE
In addition to supporting a nearly unmatched number of large-scale apps, the report found that many of the best monetizing apps on both Google Play and iOS use TUNE. Specifically:
Eight of the top 20 current top-grossing apps on iOS
Seven of the top 20 current top-grossing apps on Google Play
That means that 15 of the 40 current top-grossing Google Play and iOS apps use TUNE. That's just under 40 percent! To echo the report: "That's simply amazing."

TUNE Performs Strong on All Fronts

The VB study ranked analytics apps seven distinct ways, weighting factors in a different way each time. And in each instance, TUNE ranked near the top. To quote a brief excerpt from the report:
"On Google Play, Tune consistently ranks near the top of every measure we checked, besides market share. The company is fourth in our overall rankings, third when we prioritize market share, third when we prioritize install/uninstall ratios and ratings of apps that include the SDK, and second when we simply look at the overall ratings boosts apps that use the SDK enjoy… here's just a quick overview of where Tune/HasOffers landed:"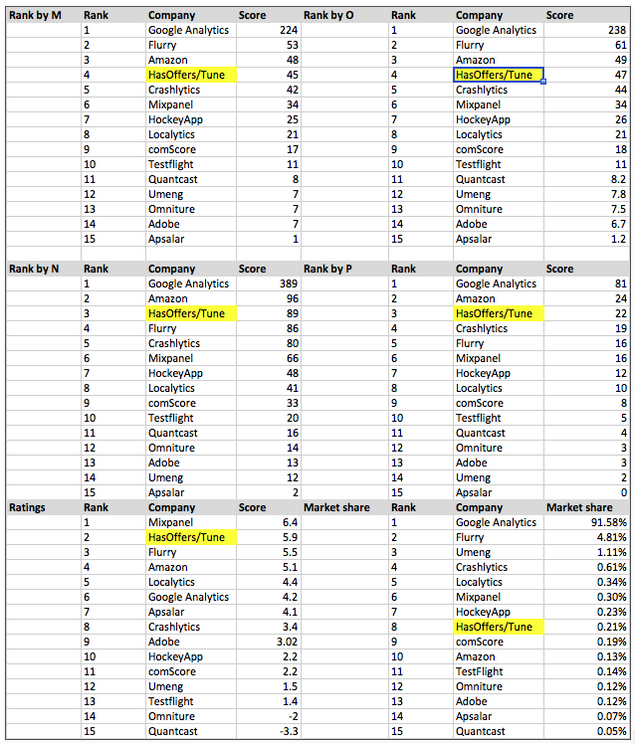 The overall strong performance resulted in VB listing TUNE as a top recommend analytics provider for both Google Play and iOS apps – particularly if you're prepping for massive user growth and monetization.
For those interested in learning more, you can purchase the full report from VentureBeat here.
Author
Becky is the Senior Content Marketing Manager at TUNE. Before TUNE, she led a variety of marketing and communications projects at San Francisco startups. Becky received her bachelor's degree in English from Wake Forest University. After living nearly a decade in San Francisco and Seattle, she has returned to her home of Charleston, SC, where you can find her enjoying the sun and salt water with her family.