Mobile programmatic has rapidly become one of the hottest buzzwords of 2015. Yet mobile programmatic, like online programmatic, depends on the availability of data in order to create audiences, and then to target those audiences. TUNE's Audience Segmentation tool enables mobile marketers to use the data you're already collecting to create audience segments for programmatic media buys.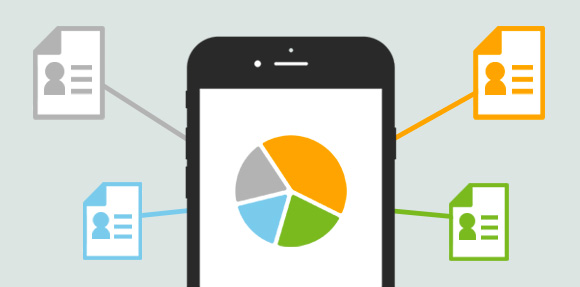 Creating audience segments
The Audience Segmentation tool, currently in beta, works with the data already collected through the MobileAppTracking (MAT) product. For example, with MAT, clients are able to collect data from campaigns, and build a record of installs, opens, and in-app events such as credit card entries and purchases.
With the Segmentation tool you can create audiences based on those measured events. Audiences are created in a step-by-step manner, and can be tailored to meet the needs of your marketing campaigns. Here are a couple different ways you can use Segmentation in your campaigns:
Re-engagement: If you're running a re-engagement campaign, you can build an audience of users who have already installed an app or set of apps but have not opened it for an extended period of time. You can select a specific date range since the app's last open, the operating system(s), or even specific device type. At the end of this process you'll have an audience that meets your desired specifications, and can then target this audience with a re-engagement campaign.
Re-acquisition: The Segmentation tool can be used in re-acquisition campaigns by enabling you to create an audience who have completed measured events in the app. These events can range from making in-app purchases, to uploading a credit card, to completing a certain level. Whatever event you identify as critical can be used to create an audience, which can then be targeted with ads designed to keep those users engaged with the app.
Here's a list of activities measured in TUNE's Audience Segmentation tool: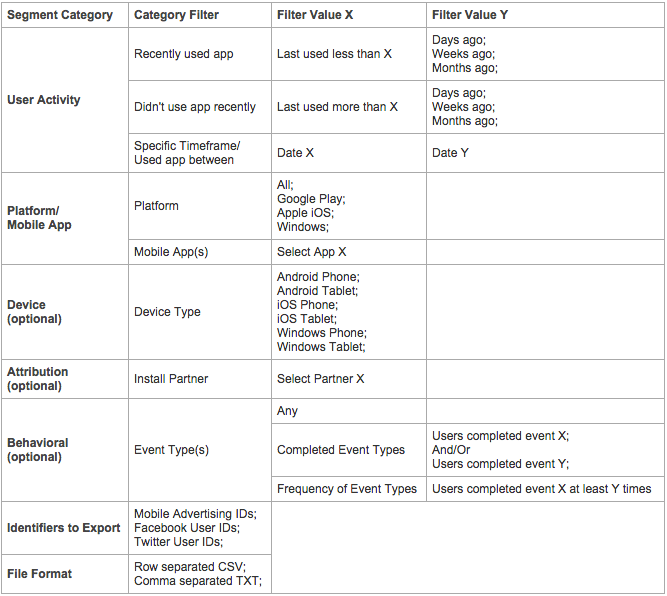 The last step of the audience building process is to generate a list of advertising device IDs (IDFA, Android Ad IDs). These IDs can then be securely shared with your chosen DSP partners.
Owning your segments
It is important to note that these audience segments are the sole property of TUNE's clients. TUNE will never re-sell the data it collects on behalf of our clients. Moreover, when a client creates an audience from their campaign data they are free to share that data with any DSP they choose. When those DSPs run programmatic ad campaigns for the client the audience segment remains the property of the client.
Visit our support resources to learn more about Audience Segmentation.
In our next programmatic blog post we'll discuss how TUNE works with DSPs to help marketers drive more efficient use of marketing dollars, and review how the Audience Segmentation tool enables marketers to retain ownership of their data.
Like this article? Sign up for our blog digest emails. 
Author
Becky is the Senior Content Marketing Manager at TUNE. Before TUNE, she led a variety of marketing and communications projects at San Francisco startups. Becky received her bachelor's degree in English from Wake Forest University. After living nearly a decade in San Francisco and Seattle, she has returned to her home of Charleston, SC, where you can find her enjoying the sun and salt water with her family.