2019 Update: HasOffers has rebranded to TUNE! TUNE is the same great technology behind HasOffers, now enhanced with new tools and features for affiliate networks and performance advertisers. Check out our new network features page, compare network pricing plans, or read the rebrand announcement.
---
If you're already leveraging HasOffers, or still just thinking about it, you know it's the leading solution to help accurately attribute and reconcile conversions generated by performance marketing campaigns. HasOffers features dozens of options to help make the most of our solution, so some of the best features are often overlooked.
Here are 10 features of the HasOffers platform to consider using (if you aren't already):
Conversion Pixel as a Container Tag
Just like investing, success in marketing requires a balanced portfolio.  Companies run traffic through external networks, direct publishers, paid search through Google and Bing, Facebook ads, email campaigns, etc.  So how do you know who sent what traffic and which publisher actually  generated the conversion? Companies have traditionally used Container tags or tag managers to help attribute the correct conversion to the correct source.  By running your various traffic channels through HasOffers in addition to your affiliate traffic, you can pinpoint the exact source of the conversion automatically.  The conversion pixel will recognize which channel to attribute the traffic to, and will automatically load that channel's corresponding conversion tracking.
Sub IDs
Sub IDs are additional parameters you can add to your tracking links, which can help you optimize your traffic and more accurately attribute your reporting.  An email marketer might use sub IDs to identify a specific campaign, or an ad agency might use sub ids to loop in their Google analytics reporting across multiple sources.  Concerned about the length of the link?  You can generate short urls directly in your account.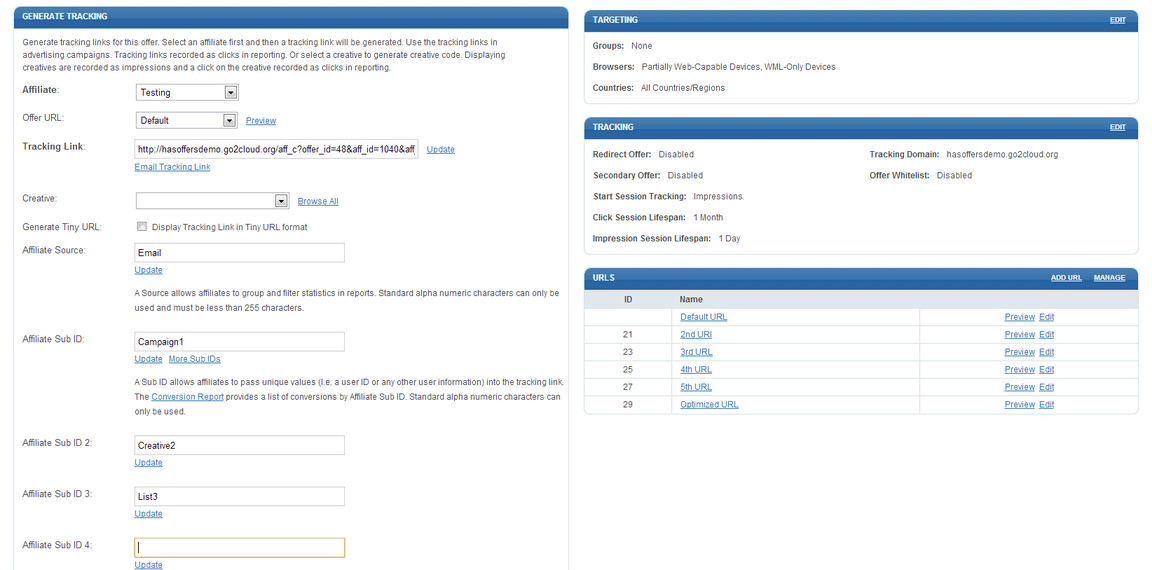 Ad Manager
The ad manager enables you to set up campaigns with various offers, landing pages, and creative files that automatically integrate with your offer tracking links.  This allows you to dynamically optimize and update creative files and landing pages based on specified weights or metrics such as conversion rate.  Low-touch affiliates can then place one piece of code, never touch the account again, and have an optimized, dynamic tag generating your revenue.  Testing landing pages?  Set up one offer, add your landing pages, and optimize these campaigns based off of conversion rates.  Just like the container tag, this is an element of our platform that can replace the use of other technologies.
Mail Room
This is a very basic functionality with a very beneficial result.  Mail room allows you to easily send out your ad tags and tracking links to all of your affiliates.  If you're migrating to HasOffers, this is a very straightforward way to send all of your affiliates their new links.  Updating a campaign?  Send out the new ad tag code dynamically.  Since you can loop in the mail room to route through your own SMTP, you will receive responses directly to your own email.
Conversion Pixel/URL Tester
We implemented this great feature for testing any third party pixels or postback URLs you add to your HasOffers account, which can be found under the Affiliates tab.  With a link from your publisher, you can test to make sure their pixel is firing when it should, and eliminate the back and forth blame game.
Custom Reports
If you're tired of checking all of those boxes for the various data points you want in your report, just save the report.  You'll be able to jump to it directly later, so that you can open the report and easily visualize the data points most important to your business.
Traffic Referrals
Do you really know where your affiliate traffic is coming from?  Tracking link referral URLs will give you the answer.  Just by enabling this feature, you will be able to see what page the user was on when they clicked your tracking link.  This is not only a great feature for optimizing your traffic, but also for preventing fraud.

Server Logs
Server logs give you the answer to the question "Why am I not seeing a conversion?" Whether you are just starting a test or midway through a campaign, you can use server logs to monitor any inaccuracies with setup or settings. You can see why you aren't getting that test conversion, if your postback URL is sending back the wrong variable, or why that affiliate's conversion didn't come through.
Goals
Offer goals enable you to have multiple points of conversion for the same offer.  These give you the ability to obtain further analytics data regarding user activity, to credit publishers for multiple points of engagement, and to further identify your best channels of traffic.  If you want the publisher to get credit for a specific action all tied back to that same offer link, just use offer goals.
Geo and Browser Targeting
More and more companies are giving users the ability to purchase product through desktop and app environments.  When running performance marketing campaigns, browser targeting allows you to direct users to the appropriate channel.  Even further, when operating a network or agency, it is vital to make sure that any user interacting with your offer links has the ability to convert, and geo and browser targeting are necessary to ensure that happens.
What other features of HasOffers have you discovered that have helped you use the platform better? Leave your thoughts in the comments. Of course, if you aren't using HasOffers yet, be sure to contact our sales team for a free demo.
Author
Becky is the Senior Content Marketing Manager at TUNE. Before TUNE, she led a variety of marketing and communications projects at San Francisco startups. Becky received her bachelor's degree in English from Wake Forest University. After living nearly a decade in San Francisco and Seattle, she has returned to her home of Charleston, SC, where you can find her enjoying the sun and salt water with her family.