This is a guest post from Charles Farina, the manager of digital analytics at Analytics Pros.
---
One month ago, Google Analytics announced the introduction of their Google Analytics 360 Suite. If you're still not sure what this is and what it means to you, you're in good company! So I'm going to break it down for you.
This suite includes the addition of brand new products including Attribution 360, Audience Center 360, Data Studio 360, Optimize 360, and Tag Manager 360, which join Google Analytics 360, formerly known as Google Analytics Premium. Google Analytics' bills the suite as "an enterprise-class solution for a multi-screen world."
The new suite will impact measurement for both the mobile web and mobile apps. Let's explore what this might mean for optimization, attribution, and analysis.
Data Studio 360
Data Studio 360 is a new data analysis and visualization product that is designed to allow users to easily integrate data across Google Products. This product is a very welcome addition to the platform. You can pull data from multiple data sources into one report such as your Google Analytics App data, Google Analytics web data, and data from Google Sheets or BigQuery.
BigQuery is a core feature as it is a cloud service Google offers where you can send and analyze massive datasets that could be sourced from your CRM, e-mail data, or anywhere else. Your Google Analytics data is no longer siloed by itself! The speed at creating reports in Data Studio is hard to capture with words. I was able to create the report below in under 15 minutes.
This Tune report showcases Data Studio's ability to apply branding, connect app and web data, and provide performance summaries.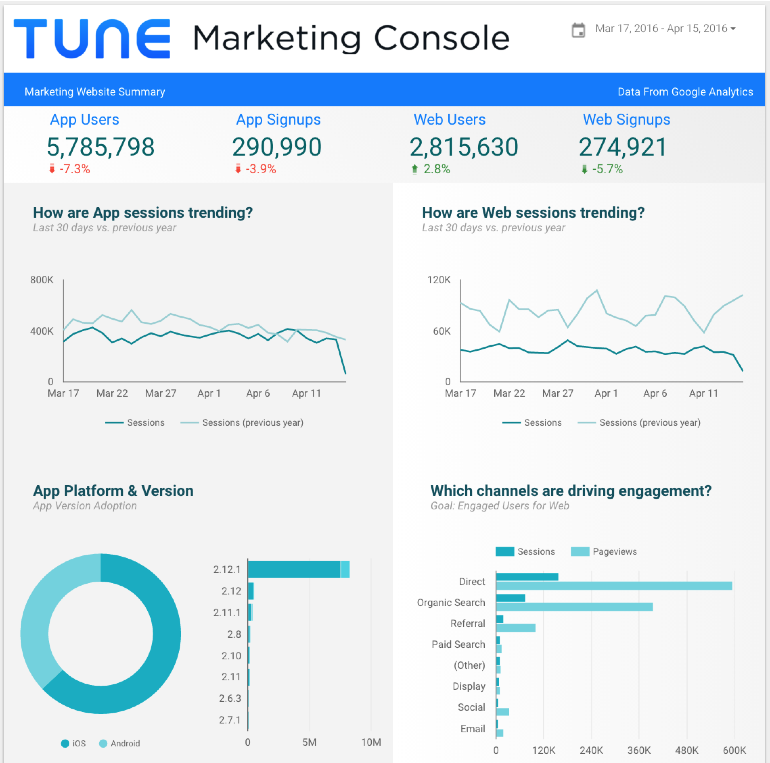 Optimize 360
Google once again has a testing product that demands attention. Optimize offers all of the core features marketers require such as a visual editor, multivariate capabilities, and solid statistical models. What makes Optimize different than existing testing tools like Optimizely or VWO is its integrations with Google Analytics.
Optimize allows you to target or even personalize the experience you are serving to your users based on audiences that you create in Google Analytics. This personalization component in other testing platforms tends to be very expensive and require complex integration processes that produce mixed results. Google is making it simple! Optimize is currently in beta and only available for web and mobile web. Mobile App support has not been announced.
Using Optimize's visual editor, changing your page is as simple as dragging elements around.
Tag Manager 360 / Attribution 360 / Audience Center 360
Tag Manager 360 is a product that is already included with Google Analytics Premium. Google Tag Manager has always existed as a free product and supports Mobile Apps and websites. For mobile app users, you can use Google Tag Manager to push updates to your marketing tags without having to go through an app store release. For Google Analytics users, there is no reason you should be hardcoding the Google Analytics SDK in your app.
Using Google Tag Manager allows you to have a central pipeline of data that all of your marketing solutions can share to ensure the highest level of accuracy in your data. Tag Manager 360 simply adds an ability for customers who require a service-level agreement to gain access to one. The free version of Google Tag Manager will be sufficient for the majority of users and those who need Tag Manager 360 features will likely acquire them through Google Analytics Premium.
Attribution 360
If you are running massive online advertising campaigns that span across digital channels and even offline channels like TV, Attribution 360 is designed for you. Attribution 360 allows marketers to unify data from across their channels to analyze performance. Google built a data-driven algorithmic approach that surfaces what's working and how your various marketing components work or do not work well together. As of now, most users of Google Analytics will never get to use Attribution 360 as it is geared towards the biggest enterprises.
Audience Center 360
The product in this suite that has the potential to make the most impact for organizations is likely Audience Center 360. Audience Center is a data management platform (DMP) that will allow you to connect all of your data sources to deliver the right messages, to the right audience, at the right time.
It is currently in beta and is actively still being developed, so much is still unknown. Like Optimize and Data Studio, Audience Center is going to differentiate by its integrations with Google Products. It is going to compete with Adobe's DMP and Kenshoo, and likely provide integrations that feed it data from Google Products and allow reaching audiences on Google Products like AdWords and DoubleClick better than anyone else. It is currently unknown what app-specific features it will offer.
TL;DR and Final Thoughts
If you are an existing Google Analytics user, the announcement of the suite is great news because each product in the suite can be purchased individually. Right now, no pricing is available for any of the new products, but those will start coming out soon. I expect the pricing to be highly competitive with other products on the market.
Google has stated that there are going to be a number of updates coming for both Google Tag Manager and Google Analytics, and with the mobile app SDKS having not received a significant update in sometime, I would expect those to get some attention. Optimize also needs to add app support!
The biggest thing is that Google is starting to really connect all of their products together, and we are just starting to see the benefits and capabilities. Much more is to come!
Author
Becky is the Senior Content Marketing Manager at TUNE. Before TUNE, she led a variety of marketing and communications projects at San Francisco startups. Becky received her bachelor's degree in English from Wake Forest University. After living nearly a decade in San Francisco and Seattle, she has returned to her home of Charleston, SC, where you can find her enjoying the sun and salt water with her family.