Boost organic discovery
with App Store Analytics
Use app store optimization to increase your organic discoverability and conversion rate.
App Store Analytics
App stores are the largest channel for organic app discovery. Our app store optimization (ASO) solution simplifies keyword research and monitors your competitors to drive higher search rankings.
Get discovered
Use keyword research, keyword tracking, and keyword suggestions to acquire high-quality organic traffic — and new customers.
Measure paid and organic
Get a more holistic view of your overall marketing strategy by measuring how paid marketing affects organic acquisition.
See how you stack up
Monitor competitors' ratings and reviews, updates, keywords, and other metadata to learn from their successes and mistakes.
Master keyword research best practices
Discover the art of the keyword and build out your app store search strategy with "The Ultimate Guide to Keyword Research."
See how paid marketing influences organic
Understand the real-time impact on your organic performance from your paid marketing using organic uplift reporting.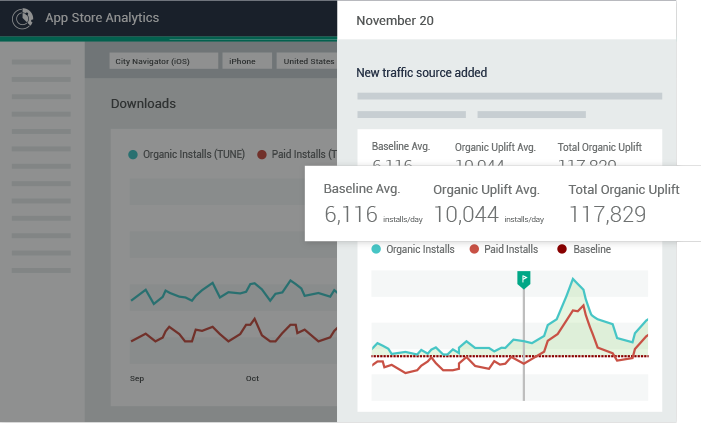 Organic uplift is a key metric in optimizing campaigns, especially for insights into resource allocation for paid campaigns.
See how your keywords perform and which ones offer the most opportunity, then track details and optimizations with ease.
Attract more organic customers
Over 65% of customers discover apps through app store search. Our keyword research and strategy tools help you uncover the best opportunities to reach those customers.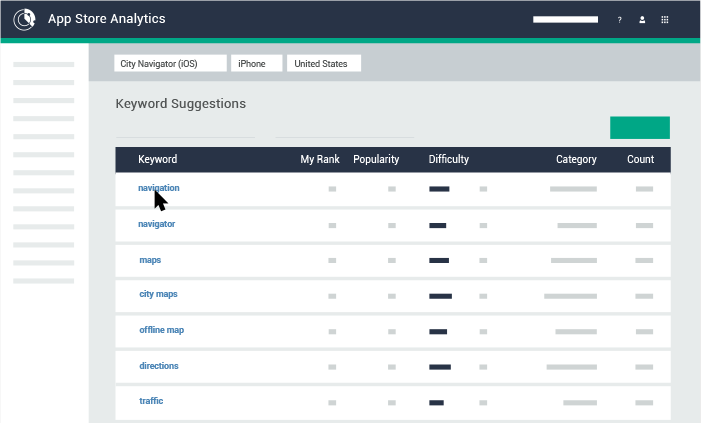 Stay on top of competitors
Track exactly what the competition is optimizing and when they do it. Get alerts for new ratings and reviews, app updates, and competitive keyword analysis to inform your own strategy.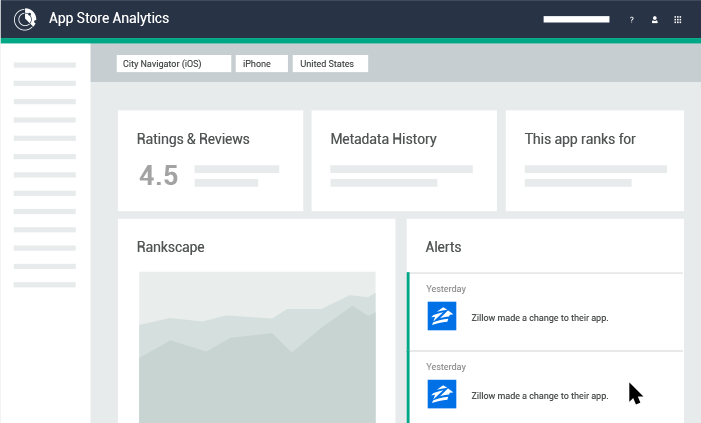 Get alerts in-platform and via email when competitor app ratings, reviews, or keywords change, plus detailed histories and change logs.
Keep track of changes with annotations. Click a point, add a description, and record a detailed history to keep your team informed.
Measure & track your optimizations
Keep a detailed history of every test and optimization in one place with annotations.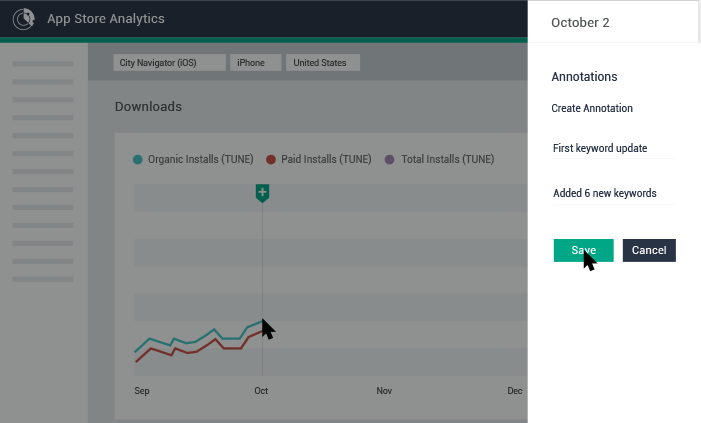 App Store Analytics key features
Aggregated app store analytics
Keyword research
Keyword suggestions
Keyword tracking: rankings, downloads by keyword
Competitor tracking: user ratings, user reviews, app updates
Competitor alerts
Competitor metadata history
Competitor keyword insight
Competitor rankings
Annotations
Integrations (TUNE Attribution Analytics, iTunes Connect, Google Play Developer Console)
Organic uplift reporting
TUNE research shows that marketers on average see 1.5 organic app installs for every paid app install. Marketers using App Store Analytics have seen their paid and organic efforts combine to produce over 300% organic uplift.
Read how paid marketing boosts organic installs
Marketers leave 50-100% of potential results on the table. Learn how to combine organic and paid marketing for higher ROI in our free e-book, "Better Together: The Elements of Paid & Organic Marketing."
A complete solution
Streamline your mobile marketing and measurement.
People-centric
Unify device, channel, and location data around people.
One source of truth
Act with confidence in your data security and privacy.
Infinite relationships
Connect to all of your partners with one integration.