Delight your best customers
with In-App Marketing
Maximize your customer lifetime value through personalized, relevant mobile app engagement.
In-App Marketing
Engaged customers bring in the most value. In-App Marketing leverages customer segmentation tools and contextual insights to help you deeply engage with your customers, maximizing their lifetime value.
Deliver personalized messaging
Keep users engaged with relevant, contextual push notifications and in-app messaging.
Build a better user experience
Optimize features and functionality to guide users through onboarding to conversion as efficiently as possible.
Make smarter decisions, faster
Take action with data-driven insight backed by real-time reporting, A/B testing, and optimization.
Incorporate push notification best practices
Ready to craft some delicious messaging? Find out how in our free guide, "The Mobile Marketing Cookbook: Whip Up the Perfect Push Notification Strategy."
Increase customer value through engagement

Send relevant, personalized messaging
Create customer segments based on device attributes, behavioral rules, or your own custom profile data. Tailor messages to be even more effective with options like location-based triggers, deep links, and automatic actions.
An international quick service restaurant uses location-based triggers to offer deals after local sporting events. Customers who visit the stadium receive a special post-game discount.
A national convenience store chains uses custom segments whenever they pilot new app features. Customers in these segments are specially chosen to rate updates and log bugs.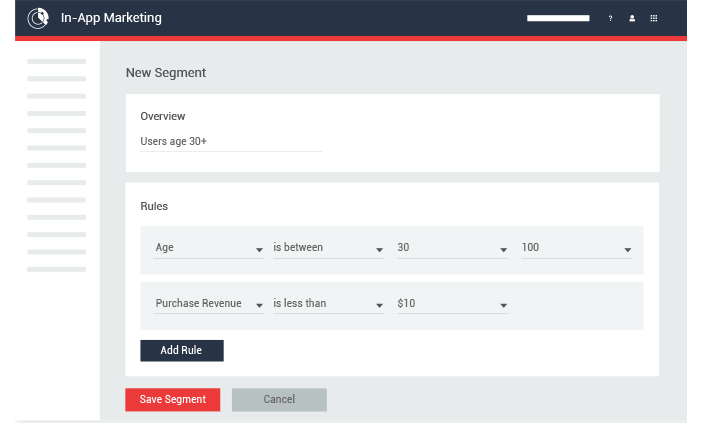 Create the exact customer segments you need in a few clicks.
Reach your audience with more personalized campaigns. Customize design, text, send schedule, and more.
Automate triggered & scheduled campaigns
Personalize nurture and onboarding campaigns to drive greater adoption and conversion.
Marketers have seen conversions jump by almost 50% after adding a combination of in-app messaging and push notifications to their mobile strategy.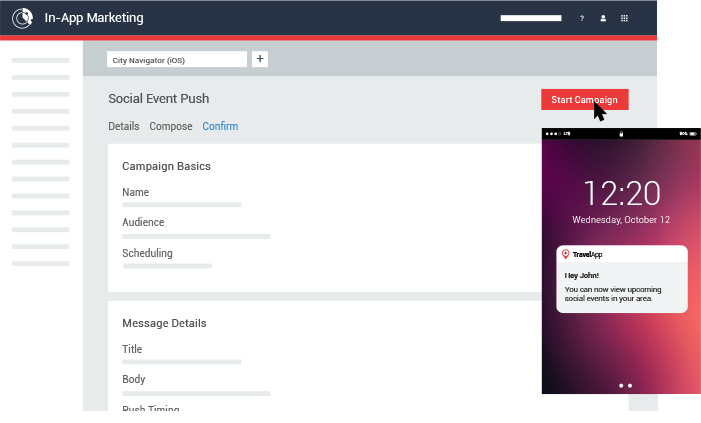 A/B test your user experience
Experiment with how customers interact with your entire app, including messaging, content, layout, behavior, features, pricing, and navigation.
An online mapping service uses A/B testing to optimize in-app ads in partnership with a national sports league. A/B tests protect their valuable partnership against wide-ranging negative impacts, like churn and usage dips.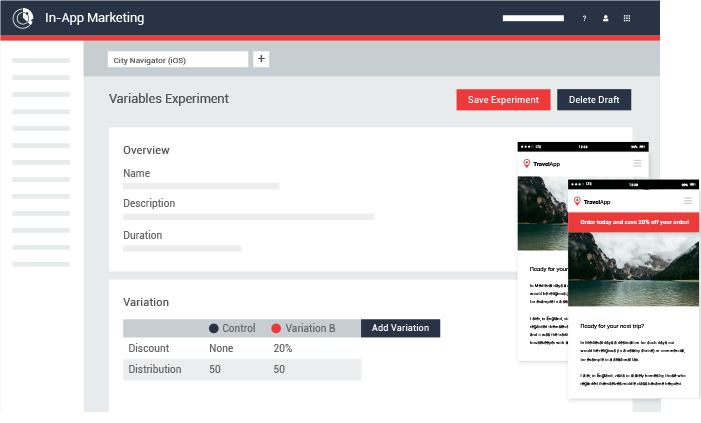 Test every aspect of your app, from messaging and design to behavior and navigation, then update without resubmitting to the app store.
Use data-driven insights into campaign performance and A/B tests to nurture your most valuable efforts.
Drive action with insight, in real time
Make decisions based on up-to-the-minute data. Feel confident launching new features backed by immediate, accurate reporting.
86% of mobile app marketers who implement a user engagement report see increased engagement, higher revenue, increased conversions, better insights, and higher retention.
A national pharmacy retailer uses real-time analytics to monitor how their feature rollouts perform. They know how customers react to each rollout in real time.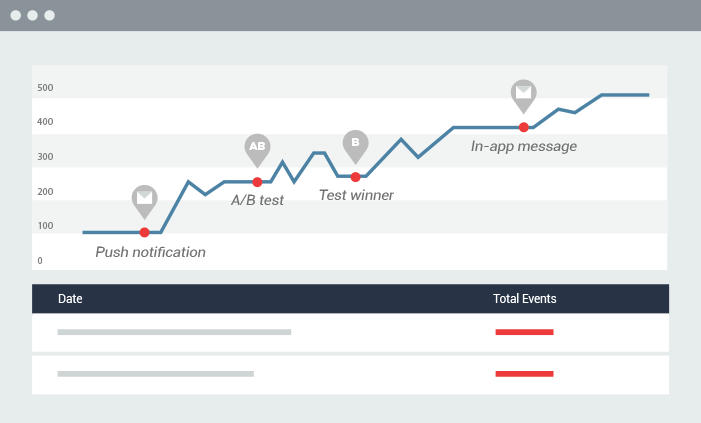 Update anything with one click
One-click configuration gives you the ability to change your app at any time with the push of a button — no developer or engineer needed.
A mobile banking startup uses one-click configuration to update their app. Their small team is able to make changes on-the-fly without having to resubmit to the app store.
An international pharmacy chain uses one-click configuration to disable broken or buggy features. They do not have to pull the app from the app store.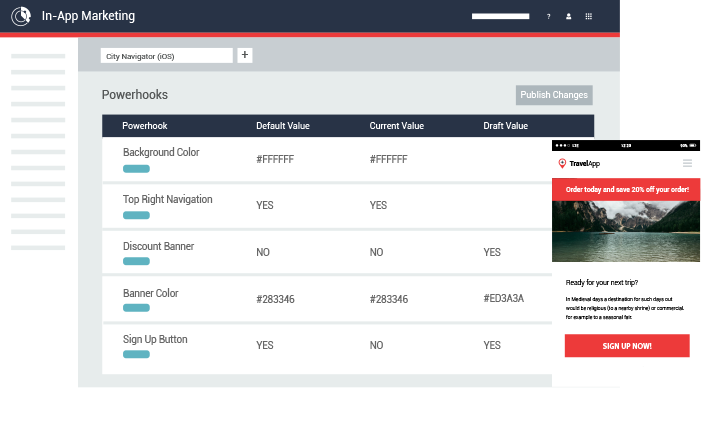 Change your app quickly and easily right from your TUNE dashboard.
In-App Messaging key features
Customer segment creation based on in-app behavior, demographics, location, custom profile data
Push notifications
In-app messaging
Proximity services
A/B testing by segment for app features and messaging
One-click remote configuration
Feature piloting by segment
Auto-event collection
Custom event tagging
Real-time reporting
Deep linking, deep actions
Conversion funnel and goal creation
Campaign uplift measurement
Watch a customer engagement webinar
Full of best practices, industry vocabulary, and strategic planning advice, "Master Mobile App Engagement: Best Practices Across the App Lifecycle" is a must-see webinar for new and veteran marketers.
A complete solution
Streamline your mobile marketing and measurement.
People-centric
Unify device, channel, and location data around people.
One source of truth
Act with confidence in your data security and privacy.
Infinite relationships
Connect to all of your partners with one integration.