Where is mobile going in 2017? Where will you search for new opportunities? And how can you best position yourself and your company to take advantage of emerging trends?
We want to help..
So, we asked 76 influencers where mobile is going.
People like Bryan Kramer, TED speaker and marketing's horse whisperer. People like Joel Comm, bestselling author, seminal app developer, and prototypical influencer. Chris Messina, who invented the hashtag, is here. Tamara McCleary, perennial denizen of top 100 marketing, data, and IoT influencer lists, weighed in. People like Sarah Austin, serial entrepreneur, AI expert, and reality TV star shared her ideas. Podcaster, speaker, and marketing technologist Travis Wright added his thoughts. Robert Scoble, futurist, speaker, and tech insider is here. PR queen Ayelet Noff added her thoughts, as did analysts from Forrester, VentureBeat, IHS Markit, PCMag, BusinessWire, and other research organizations. CMO and tech blogger Hillel Fuld added his predictions, and so did Douglas Karr, founder, CEO, speaker, and author.
We're listing these super-influencers up front, but asked another 50 or so industry insiders for their opinions. Hint: keep reading until the end … there's good stuff there!
Oh, and one quick thing before we get started: If you're interested in mobile, you might also be interested in winning Google Play and App Store search, since 65-80% of all app installs result from app store searches. Here's a free report that tells you how.
Mobile predictions 2017: Super Influencers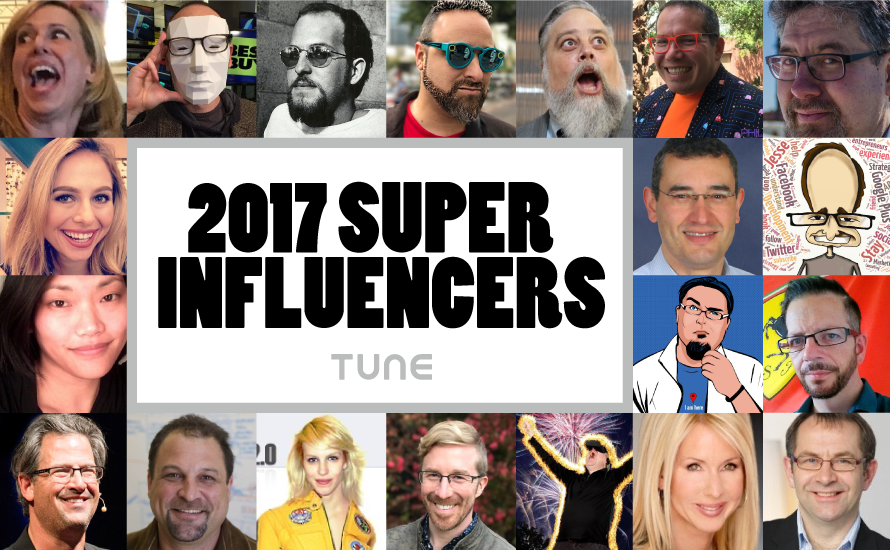 These super-influencers have tens or hundreds of thousands of social followers and significant experience in new technology. Each answered one simple question:
Where is mobile going in 2017?
Ayelet Noff

Founder and CEO of Blonde 2.0

The apps game has been won by Google, Microsoft, Facebook, and some additional players such as Slack, Snapchat, Twitter, Uber, etc. This is the apps economy that we will all be utilizing in 2017. No changes there.

Folks will be uploading more short videos rather than photos in 2017 – Instagram's 'Your Story' will be one of the igniters of that.

Voice activated AI tools will take a more dominant role in our day to day lives. Our mobile will slowly but surely become not only a utility to make calls and send messages through, but also a 'friend' to ask questions and consult with.

Bryan Kramer

Bestselling Author, Keynote & TED speaker and CEO

Our desktop experience is truly shifting to mobile-first.

Chris Messina

Developer Experience Lead at @Uber; invented the hashtag; former Googler

Blurry.

As physical computing devices proliferate, we'll be spending more time in between devices than on a single device. This means we're going to move between interface modalities as well: chat, voice, screen, touch, augmented reality, VR.

Screens won't be the only way we compute — but one of an array of interfaces.

Chris O'Brien

European Correspondent for VentureBeat, based in France after 15 years in Silicon Valley.

Sales of devices will remain flat, apps will continue to be challenged to connect with audiences, and Apple's subscription model will get more traction with developers.

Douglas Karr

Founder of the Marketing Technology Blog, CEO, Speaker, Author

As computing power, cloud and connectivity increase in our mobile devices, we're moving away from desktops and laptops. Our device will move from pocket to desktop as we interact with them more from our primary display. The future is closer – when we will only have mobile devices and parked or shared displays to use them with.

Hillel Fuld

Cofounder of ZCast, tech blogger, startup advisor

The mobile web will improve and more time will be spent there as opposed to in app. We can expect to see lots of consolidation in mobile and much more video content, with the leader being Snapchat as it continues to grow.

Jesse Stay

Futurist, Author, Founder and Principal of Stay N Alive

2017 will lean more and more towards the smart home, and control of the smart home through the phone and "microphones," like Google Home and Amazon Echo, throughout the house. Apple will also enter the VR race through mobile, and VR/mixed reality will become a mainstream tool.

Joel Comm

New York Times Best-Selling Author, Social Influencer, Keynote Speaker and Futurist

We are more connected to our devices than ever. Mobile transactions will continue to increase and creation and consumption of live video content will hit new highs.

Josh Bernoff


Thinker; author of Writing Without Bullshit

The focus of mobile will be on moments, not devices and apps. Mobile will be defined by utility that it delivers (e.g. payments), not the apps you have.

Marc Canter

I start companies – ever hear of Macromedia?

Apple losing market share …

App store declining …

ChatBots rising …

Phil Gerbyshak

Phil Gerbyshak helps leaders increase impact

More mobile, in more ways, with abandonment of outdated laptops and desktops being completely replaced by mobile devices. Bigger screens, the ability to project easier onto other screens, and third party peripherals will continue to make mobile the force to be reckoned with.

Robert Scoble

I'm a futurist at Upload VR and one of the world's authorities on mixed reality.

A major new iPhone is coming in 2017 that does mixed reality.

Sarah Austin

AI expert and entrepreneur

Chatbots!

Chatbots!

Chatbots!

Sarah Wallace

Research Director at IHS Markit covering artificial intelligence in the communications industry.

Peoples' phones will be used as part of a larger intelligent ecosystem. For example, for Amazon's Go shops (where consumers buy groceries without lines or cashiers) a user's smartphone will be used to trigger machine learning, sensors, and video monitoring to track purchases.

Sascha Segan

Lead Analyst at PCMag.com

The phone is still at the center. Wearables and tablets have retreated. We're preparing for big AR shifts in 2019/2020 which require new displays, batteries and 5G.

Serena Ehrlich

Director of Social and Evolving Media for Business Wire

People are going deeper with more consumption (news, video, games) and more shares (multimedia, content). This may finally be the year of the mobile wallet.

Stewart Rogers

Journalist, analyst, and speaker for VentureBeat and VB Insight

My latest research shows an ever-increasing dependence on smartphones for everything – messaging, entertainment, content, sharing, networking, payments, purchases, research, work, play, and more.

In 2016, mobile has directly influenced $500 billion in retail sales in the U.S. alone. New data tells us that 80% of consumers now turn to a smartphone before they turn to a human for assistance. 70% use a smartphone for research before visiting a store (real, or online). And none of this is slowing down in 2017. Only 12% of consumers will spend less using their smartphones in the next year.

Tamara McCleary

International branding expert and Thulium CEO, Tamara McCleary is ranked by Klear in the Top 1% of global Social Media Influencers and is Top 50 Social Influencer of 2016 by Onalytica, ranking Top 10 AR, Top 25 AI/Machine Language, Top 50 Big Data, Top 100 IoT Influencer in 2016.

Statistics show that we sleep next to our mobile devices more often than our significant other. Machines are so interwoven into the fabric of our lives that we no longer can extricate our existence from theirs. When was the last time you spent one day without your mobile device (by choice)? Mobile is personal, and mobile devices will continue to become an even deeper part of our lives. Not only will mobile be instrumental in bringing information to us, but it delivers information away from us. Think shopping without having to check out, and mobile WIFI being built into virtually everything from trains to rental cars. Through the Internet of Things mobile will deliver information to retailers and others that require our information to process transactions, eliminating wait lines, and physical barriers to transactions. Ready to jump off into the abyss? It doesn't matter, we already have.

Thomas Husson

Vice-President, Principal Analyst at Forrester

Consumers' expectations to be served in context at their moments of need will continue to raise and put pressure on brands to deliver new experiences. Brands needs to move away from siloed apps to reinvent the mobile Web and innovate via new conversational interfaces.

Travis Wright

Marketing technologist, author, keynote speaker, VentureBeat podcast host, and mediocre stand-up comedian

To me, it depends on what Huawei and Apple releases in 2017. If the rumors are true, there will be a big push into VR/AR, which could be very interesting.

There needs to be something big happening. The apps are getting boring. We only use a handful typically. The battery still only lasts a day. That could change with Huawei's advancements in graphene with batteries.

Plus, there's a great chance that Samsung slips to number three in mobile device sales behind Huawei.
Mobile predictions 2017: Industry Influencers
These industry influencers may have significant numbers of social followers, but they certainly have deep industry experience in mobile, mobile technologies, mobile marketing, and mobile commerce.
Don't forget to grab that free report that tells you how to win Google Play and the App Store.
Here's what they have to say about the future of mobile in 2017:
Aaron Strout

CMO of W2O Group. Writer in his spare time for Marketingland and Waze Blog.

More video for sure (fueled by more and more live video). This includes more cord cutting as Millennials and even younger GenX-ers cut the cord and opt to watch content on their phone or stream via hardware like AppleTV, Roku, Chromecast or Amazon Fire TV.

At the same time, mobile advertising will get smarter as north of $100B is spent there (heavy emphasis on paid social). Lastly, companies will start moving away from responsive design to responsive experiences that take context and location into greater consideration.

Aaron Weiche

I'm the CMO of GetFiveStars, entrepreneur, digital marketer and speaker.

Mobile is deeper and deeper into our personal and business lives in 2017. We'll move closer to the mobile-only world, it's our go-to for news, friends, commerce, answers and more. We'll continue to remove friction from mobile utility to make actions even easier with mobile.

Albert Einstein Renshaw, Ph.D.

22y/o; I've been in business longer than I haven't.

Content creation apps and content curation apps

Ashwiny Thapliyal

Seeing ad-tech evolve in Asia over the past 10 years

The developing world's data usage is going to skyrocket due to falling costs, telco competition, and better and affordable hardware. Mobiles are going to be even more integrated into the daily life going beyond just communication and entertainment to being what the consumer uses to pay both in the offline and online world.

Ayaz Nanji

Digital strategist, data nerd, and co-founder of ICW Content

Mobile devices, specifically smartphones, will continue to account for an increasingly larger share of everything: web traffic, email opens, video streams, eCommerce purchases, etc. Also, the number of mobile-only adult internet users (i.e., those who don't own desktop computers at all) will continue to grow.

Bill Oates

Bill Oates is the Vice-President of Perkins Solutions at Perkins School for the Blind and former CIO for both the commonwealth of Massachusetts and the city of Boston.

Mobile apps now account for 60 percent of all time spent online and there are over 2 billion smartphones users worldwide. There are also 285 million people globally who are visually impaired, according to World Health Organization estimates. Many are smartphone users.

As apps become more integrated into daily life, ensuring accessibility for all users is not a luxury. It's a necessity. From a business perspective, app developers and brands can tap into an all-inclusive customer base by building accessibility right into new products. Since the early days of digital access – I'm thinking of closed captioning as an example – we've seen that every time a new accessible technology is introduced, the general population adopts it, embraces it and uses it in new, novel ways.

That's just one great reason to make accessibility-first a standard in app development, and I see that as a natural progression in 2017.

Chetan Sharma

22 years in Mobile. Strategy Consultant 4 major brands WW. Author. Advisor.

Mobile is everywhere and in everything to a point we will stop using the word mobile.

Colin Crook

I help startups tell people why customers use their products.

Voice. Think about AI for devices through voice control. I think this manifests in really intelligent wireless earbuds, or hearables.

Think AR for the ear, solving a real sensory problem. Not just biometric or fitness tracking which is where wearables are having a tough time sustaining adoption (Fitbit, Apple).

Colin Wong

Colin Wong specialises in digital branding and market research technology innovation.

Mobile will become key device with the help of AI. We could see more advanced automation in everyday usage.

Danan Margason

VP of Operations, General Counsel at TUNE

People will continue to seek high-quality mobile experiences. Overall time spent on mobile devices will not significantly increase, but the expectation for quality will.

Daniel Japiassu

Innovation entrepreneur, CEO of YDreams Global

Not only in 2017 but more each year, we believe that mobile will act more and more like a personal assistant. Smartphones will actually get smarter, helping you in chores, errands, understanding your habits and helping you monitoring objects around you, needing fewer commands and being more useful.

Dulce Baerga

Tech blogger, full stack dev, augmented reality & virtual reality dev. Pioneer of new realities.

Mixed reality mobile experiences will gain mainstream traction in 2017. Google Pixel and Zappar's mixed reality box will spark more consumer innovation around mobile, giving users untethered freedom. I've also heard rumors that Apple is preparing to make a huge impact in the AR/VR space with the next iPhone. Mixed reality will have its mainstream debut in 2017 and the mobile will be at the center of that explosion.

Bots, AI, machine learning, big data, and IoT will make mobile push notifications more prominent. App makers will start to use personal data, location data and mobile sensors sell more products, alert users to deals, events and people around them. Personal AI agents, bots and assistants will enable mobile apps to give users more tools and control of their world. Mobile devices used as remote controllers for other smart devices will also become more mainstream in 2017.

Dylan Tweney

Founder of content agency Tweney Media and former VentureBeat/Wired journalist.

Mobile's not going away. Smartphones are here to stay, and usage will probably increase, if that's possible.

Eric Seufert

Owner, Mobile Dev Memo, Heracles

More of the same. I expect to see an increased level of friction between Facebook and the big platform operators, and I suspect that Apple will continue to try to build walls around its own services.

Esteban Contreras

VP of Product, HYP3R

Mobile needs to be the main experience or a fantastic complementary experience – this requires parity in terms of functionality and ux. Users are starting to realize the inconsistencies across platforms and this is no longer going to be acceptable. Apps are taking too many shortcuts and this becomes evident when you try to use them across different platforms. An app like Audible, for example, limits basic functionality on iOS – despite it being a better looking and performing app.

Beyond elevating the experience, mobile users will expect seamless integrations. An app like Audible should seamlessly integrate with products like Sonos and messaging apps. Beyond parity and integrations, a continuous focus on machine learning and AI will make our mobile OS better interconnected and at the ready to give us answers and propose solutions when we need them.

Flavio Piccioni

PR + Product Marketing @HuaweiMobileIT + @Honor_IT, and a big passion for all Mobile Tech, the outdoors and Traveling.

More and more use of mobile apps versus desktop, and growth of services making use of mobile (sharing economy, food delivery, and so on …)

Garry Tan

Managing Partner, Initialized Capital

Google Glass failed, but 2017 will be the year the real version emerges.

Heike Scholz

Founder of mobile zeitgeist and FUTURE OF SHOPPING

(Chat)Bots will develop fast but will still have much room for improvement.

Users will be ready but AI still has a long way to go. People will increase usage of mobile devices for shopping, directly on their devices, and while paying at the point of sale.

Helen Keegan

Specialist consultant & event organiser in mobile advertising & media

Mobile usage is ubiquitous in Western markets. The big platforms will get bigger. Out of the big four – GAFA (Google, Apple, Facebook and Amazon), Apple may suffer, but only a little.

Henry Helgeson

CEO and Co-Founder of Cayan, a Boston-based payment technology company

2017 will be the year of mobile payments – more specifically the year Apple Pay (finally) takes off. I have no doubt.

Apple should emphasize that Apple Pay replaces your whole wallet, not just your credit card, in order to tap into the power of the entire iPhone.

Ian Sefferman

General Manager of TMC for TUNE

"Mobile first" will transition to "mobile only." More and more people will get rid of their desktop computers for 90%+ of personal use.

James Cameron

CEO of Masterclassing

Content. Pictures. An absurd amount of pictures. More and more and more video. And more video.

Ultimately visual content is where mobile is right now. It defines how we use mobile, has enabled the massive growth of influencer marketing and is determining how brands and advertisers need to adapt in order to reach their customers.

There are some very compelling tech solutions for visual content intelligence on the market – the likes of GumGum and Olapic – as well as an explosive amount of influencer marketing platforms connecting brands with those content creators that have found their niche and are able to consistently create content that resonates with their audience.

Jed Schneiderman

Jed is a marketing + mobile + media guy who runs a mobile company that is trying to connect online and offline. And he likes to help people.

More and more social – Snapchat and Instagram. I think we may see commerce pick up on mobile – within social (Facebook) and also with large payment processors – VISA, Mastercard, Amex, Paypal. And maybe better options on phones – Apple Pay etc

Jessica Higgins

Creator of Culture Science LLC

Integrated seamless human and tech design

Jonahkai Hancock

I am a Director of Marketing at TUNE – I manage our paid, customer, and nurture marketing teams.

I think it will stay the same – use of mobile will continue to grow. I think tablets will continue to grow.

In all honesty, I think part of the problem is the influx of so many NEW technologies people don't know what to use. VR, AR, Bots …

Mobile is just starting to really take off, so whenever these technologies can integrate into the mobile phone, they will succeed fastest. Because, we still always have our phones with us …

Josh Todd

As CMO, Josh oversees global marketing, branding and advertising strategy for Localytics.

As 2017 bears down on us, there's one major trend in mobile that I see taking shape: individualization. Individualization builds on the pieces of personalization that consumers love, taking everything a brand knows about a user and adapting the experience in the moment. Advances in geolocation, granular behavior tracking and the connection of customer profile data is making this possible.

The promise of bringing massive user data sets together in real time is now being fulfilled, making it possible to create an app experience that is engaging enough to keep users coming back again and again. With 23% of apps only being used once, we need to move beyond basic "Hi name" personalization, and 2017 is the year it's going to take off.

Justin Bougher

VP of Product at SiteSpect, Inc.

1) The need to test the entire experience, especially if it's a new type of experience like in-store mobile assistance and VR, is critical
2) The ability to test AI and machine learning algorithms will become more important because they dictate the experience on a per customer basis
3) Omnichannel is the core to everything if mobile is a factor

Kelly Mullins

Been around the media block more than once.

Not to hedge my bet, but more of the same in terms of usage. The model for apps is well defined. We'll see more interaction between apps and mobile web. Those are improvements around the margins.

The market is fairly well tapped in the developed world. Smart phone adoption has got to be near 100%. Not only is adoption near 100%, but multi-tasking means that eyeballs and attention are fully leveraged. Now a person's attention is being sold three or four times (ads sold to people watching tv, while ads are also sold to those same people on their phone, with ads also sold to those same people who are browsing on their laptops.) So we are in a situation similar to mortgage-backed securities in the 1990s. There were no more mortgages, so the financial industry started selling bets against the securities rather than the mortgages. Long story short, the fight in the media world will be over attention as the pie is no longer growing – everyone has a phone and everyone has already at the limit of multi-tasking. We are out of screens. We are going to start to see incentivized usage of apps as a hail mary to capture attention.

Manish Patel

Patel is the founder and CEO of Brandify, a local marketing technology platform that helps over 500 multi-location brands connect with local customers.

Mobile is the standard. In 2017, we can anticipate that mobile will not only be used to satisfy the day-to-day needs of people as a personal assistant, but become the single confidante that holds an individual's life story. With all of this data being created, brands will need to find simple, contextual and strategic ways of utilizing to build loyal customers.

Martha M

Marketing Consultant

Mobile will evolve, continually making life more efficient. It will blur the lines between life offline and online.

Martin Wilson

Specialist in: Digital strategy, Performance marketing, Mobile and Commercial development.

We will see: a continued rise of mobile as the primary device for online activity, more brands penalized by consumers for a poor mobile experience, worse advertising performance as poor targeting and execution continues, increase in social media usage (increasing used as a communication platform), and further decline of voice usage.

Matt Kojalo

At Skyhook, Matt serves as the VP of Adtech where he is driving product development and strategic partnerships for the company's mobile advertising solutions.

Location services in mobile devices are going to be increasingly more important in 2017. More apps will be asking to keep location permission on, even when the user isn't in the app – Uber is just one example of this new trend. As a result, it's likely that this will eventually lead to less stringent regulations around using location for advertising – however, it remains to be seen whether or not all that data will improve user experiences. This depends on how advertisers choose to leverage the data.

Micah Gantman

VP of Strategy and BD at TUNE

We are in a tech lull. The trend is still imitation over innovation moving from 2016 into 2017 and it will take a new player to drive change in peoples mobile behavior. I would look to Snapchat which plans on going public as a camera company, not a social media sharing platform. They don't get enough credit for driving mainstream use of augmented reality in their lens product, but they were first, and show sustainability unlike Pokemon Go of everyday use cases for AR.

Michael Della Penna

Entrepreneur, Mobile/Marketing Advisor, Investor

Google's recent announcement that Google Assistant will be open to all developers by the end of 2016 is a signal of things to come. 2017 will be the year of the "Intelligent assistant" as they get more fully integrated into apps, smart phones/watches and IOT devices. This will enable users to do more via voice commands including play music, manage home automation functions, make reservations, engage customer service, and re-order products quickly and easily.

Mikael Cho

Founder/CEO at Unsplash (Unsplash.com) and Crew (crew.co)

The future of work is clearly mobile. 90% of my day-to-day tasks are not only possible on my phone today but they're pleasurable. I'm confident the majority of people will be working fully mobile within a few years.

Nick Fajt

CEO of Against Gravity, maker of Rec Room for the HTC Vive & Oculus Rift

Larger screens, lower costs, longer lasting batteries. High end phones continue to expand through BRIC. I think we've come to the end of the hardware innovation cycle in mobile. Most hardware experimentation/innovation is happening outside of the mobile space, and the industrial design of phones has stabilized (everything looks like an iPhone).

Ofir Brill

Father, husband, builder

Browsers are the new apps. This means the death of the app economy.

Oliver Schonschek

Technology Journalist and Analyst, Germany

Not every user will become a mobile user, but most users will be hybrid users, using the internet whereever they are, on PCs and notebooks, on tablets and smartphones. Not all devices are mobile, but the internet is.

Pascal Clarysse

Pascal Clarysse has been in marketing for almost two decades, he is presently CMO at large for Eden Games and he consults for a bunch of successful mobile game publishers.

Chat apps become the new default entry point to everything else mobile, unseating the more traditional social media from these positions.

Pek Pongpaet

Founder of Impekable, app design and development studio in Silicon Valley

People will interface with businesses via chat more. They will deal with issues like support and various client touch points via bots whether or not they realize it.

Peter Fodor

Mobile marketer who is always seeking to change the status quo and improve things to perfection.

As a central digital hub, mobile will finally start leveraging the data collected in the favor of users. Google Maps and real-time traffic is a great example: a timely notification with actual traffic conditions on my way to the office is a perfect assistance making my life easier. Other apps should follow, offering me "hacks" of everyday life based on the data. Then mobile becomes an extended sensor which enriches our lives rather than consuming time and attention.

Peter Hamilton

Digital education veteran. Founder of EdTech Ventures

Always connected 4G in the west, and access continues to increase rapidly in rest of world with good low cost devices and connections

Randi Priluck

Author of Social Media & Mobile Marketing Strategy from Oxford University Press

More total interactions. Mobile allows marketers to interact with customers in many places throughout the day and purchase journey. The challenge is how to be available and present when needed or wanted without becoming annoying and irrelevant so people tune you out.

Ray Walia

Managing Partner at Victory Square/CEO of Launch Academy

More connectivity with AI. People using mobile to connect to IoT, homes, cars, AI driven personal assistants, chatbots, etc. More AI, less people.

Rick Mathieson

Creative Director, Copywriter, and Author of THE ON-DEMAND BRAND and BRANDING UNBOUND

Adoption of mobile search and payment will accelerate, but some things will be transformed forever—including social, where mobile will be the primary interface for most people. In 2017, I'm hoping brands will move beyond viewing social as a great way for the brand to connect with consumers, to start seeing social, enabled by mobile, to be a new way for the brand to connect consumers to one another. And not just in a digital environment, but the real world.

Rob La Gesse

VP of Social Strategy, ten years in Social Media. Ex-coder.

Manufacturers will add more security (both hardware and software) into devices to protect user data.

Sean Patterson

Thunderbird MBA, startup funder, CMO for Worldcore

We are looking to enable a user experience that allows payments to be made and received with total security anywhere in the world, whether on a junk in Hong Kong, or sitting on a beach on Côte d'Azur. No longer does business need to be conducted behind a desk in a dreary office in Slough.

Sylvain Gauchet

Co-founder of Apptamin, creative agency for app videos. Obsessed with mobile marketing.

Mobile usage will keep growing. I don't see "app fatigue" or the end of native apps happening next year.

Tim Banks

MD of giant PR, specializing in media and marketing for technology companies.

Consumers will understand the value of their personal data and will trade that value with companies, brands and so forth. You want my data? What will you give me in return? The Personal Data Economy is going to take off in a big way.

Todd Haselton

Executive Editor of TechnoBuffalo

I think we're going to see a bigger priority on virtual reality than before. We're already seeing a consolidation of the wearable market, with Android Wear seemingly on hold and Pebble gone, and I think that will continue.

Tom Heiser

CEO of ClickSoftware, the leader in field service management solutions

Communicating with customers in real time has become table stakes for any service provider. Businesses will have to shift more of their service communication to mobile devices to provide the immediacy and transparency customers now expect. For example, a cable company will be able to share live updates on a technician's location and progress, and survey the customer post visit to increase engagement, satisfaction, and retention.

Tomi T Ahonen

Author of 13 books and consultant in tech focusing on mobile

Different people have different levels of experience. 1 in 4 humans isn't mobile yet, they mostly are illiterate, they join via basic voice. The rich world is shifting from pictures (selfies) to video. The cutting edge is going to AR & VR. Meanwhile, money shifts to mobile at breathtaking speed.

Tony Long

I am known as "Geek Whisperer"

Mobile becomes the middleman between a voice command and its path through the "web" to completion. The screen will be a convenience but not the primary point of entry, as it were.

Wendy McClelland

Internet early adopter, social media strategist, business coach, author and professional speaker

People will rely on mobile devices for more and more information, life hacks, and shortcuts for efficiency.
Made it all the way down to the bottom? You're a champ!
Remember: here's that free report on winning Google Play and App Store search. 65-80% of all app installs result from app store searches. You need to get in the game.
Back to the influencer predictions:
If you'd prefer to view all of these in one deck, or even download it for your future reference, we've built all of these into a single slideshare.
Enjoy and share!
Author
Before acting as a mobile economist for TUNE, John built the VB Insight research team at VentureBeat and managed teams creating software for partners like Intel and Disney. In addition, he led technical teams, built social sites and mobile apps, and consulted on mobile, social, and IoT. In 2014, he was named to Folio's top 100 of the media industry's "most innovative entrepreneurs and market shaker-uppers." John lives in British Columbia, Canada with his family, where he coaches baseball and hockey, though not at the same time.