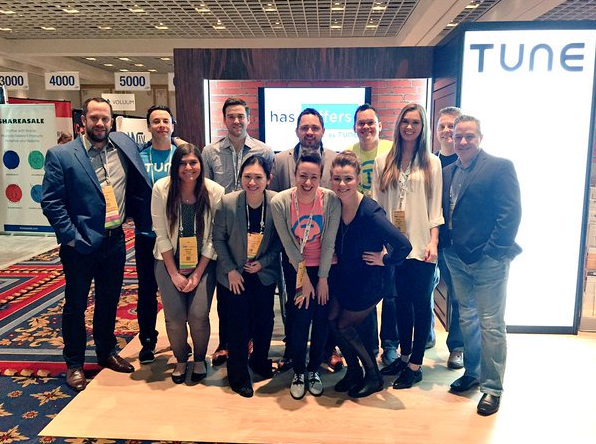 Every January, several thousand people head to Las Vegas to attend Affiliate Summit West #ASW16 and kick off their year in performance marketing with a bang. TUNE was well represented with a crew of a dozen representatives from our HasOffers sales, marketing, and product departments. While networking with existing and future clients is always the primary focus of a convention, it's also a good time to check out some of the trends poised to shape our industry in the year ahead.
One Link to Rule Them All
It didn't take very long for us to hear a lot of buzz about "smart links," or "single links." The concept is fairly simple, in fact it's something that we've made possible in the HasOffers platform for several years now using our ad manager. It involves setting up multiple offers in a single vertical or geo and then giving your publisher a single link to send traffic to. The network software (such as HasOffers) does all the optimizing in the background in an effort to get the highest return on each click. While the concept isn't new, there was certainly a lot more focus on it during this show. Clickbooth even announced they are shutting down their traditional affiliate network to focus on this model.
Influencers Are the New Affiliates
While the term "affiliate" is being used less and less, a new crop of names for the people who refer sales to other people is surfacing. We've heard them called publishers in some cases, and media partners in others. But the most interesting new name to gain prominence is influencer. Granted, influencers are little bit different than your traditional affiliate. Most of them don't have a website, instead they get traffic by creating high quality content on social media sites like YouTube and Instagram. Their reach can be massive, with the largest influencers commanding millions of views and hundreds of thousands of subscribers or followers. And how do they monetize those eyeballs? With offers from performance marketing networks, of course! It's a lot like the explosion of new content generators we saw in the early aughts when blogging became mainstream.
Massive Opportunity in China

The largest smartphone market in the world right now is China. Millions and millions of people are coming online for the first time, and they are doing it from a mobile device. Our VP of Global Sales, Patrick Hearron, gave a talk at the conference titled "Scaling the Great Wall: Performance Marketing in China." The session was based on market research as well as insight from our own experience marketing a B2B SaaS product in the Chinese market. If you weren't able to make it, you can check out the slide deck to see what Patrick had to say.
Summary

Overall, Affiliate Summit West 2016 was a fantastic show that gave us reason to believe this will be a banner year for the industry (pun intended). Mobile growth continues to funnel new users onto the Internet in droves while new channels such as Influencer marketing and virtual reality give us the ability to meet those consumers in interesting new ways. As a technology provider, we are also excited about the opportunities for us and our peers to make it easier for more people to get into this industry. We are making it our mission to make marketing easier for networks, publishers, and advertisers alike. It was fantastic to talk to so many other people this year that are passionate about the same thing.
What was your favorite part of #ASW16? Let us know in the comments below!
Like this article? Sign up for our blog digest emails. 
Author
Josh Todd, TUNE's VP of Product, is an innovative product management leader with 12 years of experience in the partner marketing industry. Prior to TUNE, Josh ran an early mobile-focused affiliate network, wrote a marketing blog, and generated thousands of leads for advertisers via targeted media buys.