Artificial intelligence is likely going to change our world like no other technology ever has. AI might steal our jobs. And AI might even power sex robots — yes, one of our experts went there …
But what we know for sure is that 2017 is the year artificial intelligence is hitting the mainstream. Smart assistants like Alexa, Cortana, Siri, and Google Assistant live on our phones and in our homes. AI is influencing what we find in Google search results and what we see in the Facebook news feed. And marketers know that AI is just on the cusp of providing insights and optimizations that they could only dream of years ago.
But what will all the changes look like? And what will happen with our software, our apps, and our tools?
That's what we asked 50 influencers and experts … people like Bryan Kramer, Joel Comm, and Tamara McCleary. We asked industry analysts from Forrester, Business Wire, and PC Mag. And we asked hard-core in-the-trenches developers and entrepreneurs, like Sarah Austin, Albert yes-my-middle-name-is-Einstein Renshaw (a 22-year-old PHD who's been in business for 12 years), and Dulce Baerga, a full-stack VR and AR developer.
And yes, one of them had to go and say that AI was going to kill us all. But author, speaker, and marketing technologist Travis Wright did offer some reassurance: that's like five years away.
So there's no point getting worried just yet!
Shameless plug: Do you have an app? Does it really, really, really need more downloads. (Of course!) Here's why you need a great app video to help make that happen. Don't trust us … check the data. Grab the report and decide for yourself.
AI predictions 2017: Super Influencers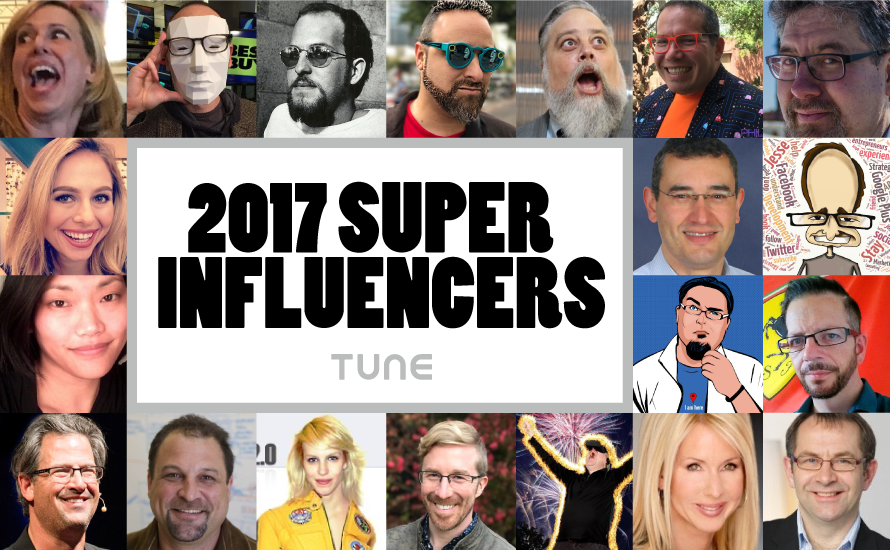 These super-influencers have tens or hundreds of thousands of social followers and significant experience in new technology. Each answered one simple question:
Artificial intelligence: what will change about our software, apps, and tools?
Ayelet Noff

Founder and CEO of Blonde 2.0

Machines are lacking an emotional understanding that enables them the emotional capacity to interact with us as humans.

Thousands of new 'smart' apps and devices are being launched every day. However, no matter how smart they are, they lack the ability to interact and engage with us on an emotional level.

For example, imagine that your wearable could not only track your running stats but could also detect in your voice whether the run was hard or easy for you and offer suggestions. This is the necessary next step in AI.

Bryan Kramer

Bestselling Author, Keynote & TED speaker and CEO

Computers in our hands and on our heads will start to shift via true AI and voice recognition to provide a higher level of digital assistance that truly understands our contextual experiences.

In other words, we need to be better understood by technology and receive better experiences based on things like location and  timing. Software will have to adapt in order to deliver these experiences.

 

Chris Messina

Developer Experience Lead at @Uber; invented the hashtag; former Googler

Rather than foisting all kinds of complex interface tasks on users (i.e. in the form of complex forms), AI can help make software experiences more forgiving and flexible.

Like games that offer different levels of complexity and difficulty to appeal to different user types, AI can help brands and companies also be more adaptable to the level of sophistication of each customer, making onboarding funnels smoother and more personalized.

Chris O'Brien

European Correspondent for VentureBeat, based in France after 15 years in Silicon Valley.

Everything 🙂

Though in the short-term, areas like health and medicine are going to benefit the most from these advances.

And that's where the VC dollars seem to be going in terms of AI.

Douglas Karr

Founder of the Marketing Technology Blog, CEO, Speaker, Author

Most of our time is spent configuring and moving data.

The API of the future will be a drag and drop, intuitive user interaction that will move us away from working on the programming problem and closer to simply working on the business problem.

Hillel Fuld

Cofounder of ZCast, tech blogger, startup advisor

AI has already made its way into our living rooms via Amazon Echo, Google Home, and the like.

We can expect our apps, platforms, and tools to leverage AI and enhance our daily lives and productivity throughout 2017 and beyond.

Jesse Stay

Futurist, Author, Founder and Principal of Stay N Alive

AI will seriously progress in 2017. Voice control of the home will be much more mainstream by the end of the year, and this will get smarter and smarter.

Controls like Google Home and Amazon Echo will be able to recognize not just what people say, but who's saying it and tie that to individual accounts and preferences.

Brands need to be looking at APIs for platforms like Smartthings, and the bigger players in this industry and building integrations so each brand can be top of mind, in a natural way, in each household.

Joel Comm

New York Times Best-Selling Author, Social Influencer, Keynote Speaker and Futurist

We want our smartphones to be even smarter! The more intuitive our apps get, the faster and more efficient we will become. The trick is finding the balance between privacy and convenience.

Josh Bernoff


Thinker; author of Writing Without Bullshit

AI that works will focus on anticipation. You'll get used to companies knowing what you want and getting it for you . . . and frustrated with those that don't.

Marc Canter

I start companies – ever hear of Macromedia?

Creating tools to enable normal people to get their arms around AI, metadata, and chatbots is the new black.

Phil Gerbyshak

Phil Gerbyshak helps leaders increase impact

I'd change software to help make even more decisions instead of just collecting data. We have enough data. We need to know what to do with it.

Software and apps should also be able to surface the right information at the right time, integrating with our calendars and our emails to show us what we need, when we need it, whether we realize we need it or not.

Making it even easier to create useful reports and presentations is a must, and they should stop us from giving people information overload by never allowing a full data set to be displayed on a PowerPoint or Keynote slide again.

Robert Scoble

I'm a futurist at Upload VR and one of the world's authorities on mixed reality.

That question is over my pay grade, but from what innovators tell me they are struggling against the constraints of optics, bandwidth, polygon count (er data sizes), and other things.

The bleeding edge is about detecting objects and then doing fun stuff with that. So AI still needs to get easier for humans to use to assist them.

Sarah Austin

AI expert and entrepreneur

Personalization requires emotional intelligence

Sarah Wallace

Research Director at IHS Markit covering artificial intelligence in the communications industry.

All retail associates must be trained in artificial intelligence software, apps, and tools. If a retailer is selling the products, they have to be able to help consumers.

First time buyers may not be aware that they have to buy a bridge… to enable their smart bulbs … through the app … that links to their Amazon Echo …

Sascha Segan

Lead Analyst at PCMag.com

Computer vision is the part of AI which will grow quickly by leaps and bounds.

Tools will be able to identify, classify, and track objects and people.

Serena Ehrlich

Director of Social and Evolving Media for Business Wire

More reliance on machine learning. 2017 is the year people learn how to engage with bots and automated communication tools.

Stewart Rogers

Journalist, analyst, and speaker for VentureBeat and VB Insight

AI will change a lot of things in the future, but in 2017 it is going to change the face of customer service and on-boarding. Consumers will come to expect immediate responses to questions, problems, and other calls for assistance thanks to AI assistants.

Because AI can deal with hundreds of repetitive, menial tasks and requests with ease, only pushing more complex calls for help to humans (which means support staff are more challenged in their roles, retention is likely to go up, and the volume of calls can be increased without increasing staff levels), there will be a knock-on effect for service in those companies that don't employ AI within software, apps, and tools. If you're not considering AI for customer service right now, you're going to be left behind.

Tamara McCleary

International branding expert and Thulium CEO, Tamara McCleary is ranked by Klear in the Top 1% of global Social Media Influencers and is Top 50 Social Influencer of 2016 by Onalytica, ranking Top 10 AR, Top 25 AI/Machine Language, Top 50 Big Data, Top 100 IoT Influencer in 2016.

Artificial Intelligence offers a unique opportunity for brands to harness machines to build a more seamless, engaged, personalized relationship with customers.

Whether we are talking machines that learn and can offer dynamic pricing or the integration of chatbots to deliver unprecedented customer service and faster response times, AI can facilitate a brand's understanding of their customer, the market, as well as, the identification of areas of opportunity not currently being served.

AI facilitates human beings to be better human beings and positions brands through efficient delivery of services and increased reliability of response time to be the trusted advisor in the mind of the prospect.

Thomas Husson

Vice-President, Principal Analyst at Forrester

First and foremost, the question is how can AI help my brand deliver automated tasks, acting on consumer insights while delivering a personalized experience?

The challenge will be to deliver automated messages while maintaining a human touch.

Travis Wright

Marketing technologist, author, keynote speaker, VentureBeat podcast host, and mediocre stand-up comedian

It's going to impact our software, apps, and tools in many ways, as menial, repetitive tasks get replaced with AI and machine learning … freeing up workers to spend time on tasks with the most value.

Chatbots and voice assistants like Siri and Alexa are becoming part of our daily lives already. Zuckerberg spent the last year using AI to create a "Jarvis" for his home.

Soon artificial intelligence will be part of all aspects of our lives. That is until the become sentient and then realize that they no longer need humans and kill us all, but that's like five years away, so no big deal.
AI predictions 2017: Industry Influencers
These industry influencers may have significant numbers of social followers, but they certainly have deep industry experience in technology, marketing, mobile technologies, and mobile marketing.
Don't forget to grab that free report that shows you how to massively boost organic app installs.
Here's what they have to say about the future of artificial intelligence in 2017:
Aaron Strout

CMO of W2O Group. Writer in his spare time for Marketingland and Waze Blog.

The biggest AI advancement needed for mobile in my mind is with voice to text. As mobile computing becomes increasingly more prevalent/complex, the need to interact with applications — especially AR/VR — makes voice commands that much more important.

This is doubly true for any applications that are used while walking or driving.

Albert Einstein Renshaw, Ph.D.

22y/o; I've been in business longer than I haven't.

AI is going to revolutionize UX. Possibly even customize the "X" to each individual "U."

It's also going to impact marketing and advertising in a profound way, possibly to the point where people won't want to use ad blockers because the ad is just as appealing as the content it's interrupting.

Daniel Japiassu

Innovation entrepreneur, CEO of YDreams Global

More connection between apps by using a central intelligence that will know the user and connect the dots.

Mobile and computer operating systems should step up and be the AI assistant we deserve. It´s about time that the OS fixes itself, adapts better to the user, and is more proactive.

Dulce Baerga

Tech blogger, full stack dev, augmented reality & virtual reality dev. Pioneer of new realities.

Chatbots are good for certain functions but Cognitive AI will be good for everything.

Google just recently open sourced their Deepmind AI, so I'm expecting to see more applications utilizing Cognitive AI agents at the core of the experience.

With each new source release from one of the major AI players we'll start to see mobile apps on devices, such as Google Pixel, gain more cognition and serve users on deeper and more personal levels.

Dylan Tweney

Founder of content agency Tweney Media and former VentureBeat/Wired journalist.

AI is here to stay but it's highly overhyped. Essentially people are using it as shorthand for "advanced mathematics." If you don't have the time to study math and (for instance) how neural networks work, fine, you can call this artificial intelligence.

But keep in mind that it's not magic.

It's essentially a way of pushing data through recursive algorithms to discover new patterns. It works very well for some things, particularly enormous sets of reasonably good data (images, inbound email, traffic patterns) but terribly poorly for other things (automated interactive responses on Twitter). Pay attention, hire experts, but don't freak out about it.

If you make your living as a driver, however, you should be nervous — and society should be thinking about how to help people like this whose jobs will be displaced or radically changed by "AI."

Eric Seufert

Owner, Mobile Dev Memo, Heracles

Better personalization and more intuitive suggestions for service-based apps, but I think there will be general public pushback in 2017 to the opacity with which many apps collect data from users.

Esteban Contreras

VP of Product, HYP3R

AI is going to be huge for automating the kinds of things that humans simply cannot do efficiently – and do not want to do.

We are far from sci-fi AI but the things we can do today – with things like computer vision – are enabling us to add layers of context to every digital experience. Big players will certainly become AI infrastructure providers and new startups will accelerate innovation – and this means our apps and tools will get smarter faster.

It is amazing how the web has evolved in a couple of decades. Now that the platforms are mature and widely adopted, and we have a seamless interconnection across technologies, the entire web and the tools we use every day will empower us to do more in less time.

Gary Tan

Founder of mobile zeitgeist and FUTURE OF SHOPPING

All horizontal AI tools will end up being open source.

All of the money will be made in vertical AI applications, with the bulk of it being simple software-eats-industries as the main narrative, and AI being a big multiplier at the "run" stage after initial versions of the software first crawl, then walk.

Heike Scholz

Founder of mobile zeitgeist and FUTURE OF SHOPPING

AI will bring us completely new services, companies and data analytics that will lead to new services and companies. We will see predictive apps that will help us.

But also a big jump in automation, leaner processes and a loss of jobs. Where the light is there will also be shadow.

Helen Keegan

Specialist consultant & event organiser in mobile advertising & media

AI and ML are already a big part of our advertising, media and app experience.

Automation will increase. There's big investment of time and money into chatbots (although, it's still very early days for speed or sophistication).

I'd like to see more discussion in the industry around the ethics of algorithms and what the unintended consequences might be.

Jed Schneiderman

Jed is a marketing + mobile + media guy who runs a mobile company that is trying to connect online and offline. And he likes to help people.

I think we may see more bots though they are same tech as 15 years ago except you can now use them on your phone.

Jessica Higgins

CEO of Masterclassing

Sex robots are disgusting.

Human simulated design integrations like those created by Apple should be universal.

James Cameron

CEO of Masterclassing

Chatbots will be a huge growth area in 2017 and move beyond the test and learn phase.

But they must deliver utility and avoid the pitfalls of annoying in-app alerts and promotional messaging. I can see the beginnings of a paradigm shift in terms of how consumers navigate through sites, particularly in terms of e-commerce retailers, where chatbots become a tool for site navigation – "I want size 12 adidas sneakers in orange."

The first retailer to nail chatbot navigation will win big.

Manish Patel

Patel is the founder and CEO of Brandify, a local marketing technology platform that helps over 500 multi-location brands connect with local customers.

We're moving past "on demand" into "always on."  

Software, apps and tools will increasingly need to anticipate the needs of people based on their location and habits.

Through artificial intelligence and the data collected, it will be essential for these user-facing technologies to not only anticipate user needs accurately, but provide them in the most personalized and localized way.

Martha M

Marketing Consultant

The next frontier will be figuring out how to make the tools sticky and to consistently offer value without being annoying or intrusive in a seamless way.

(In order to communicate more effectively AI will one day need to figure out how to understand that we are multidimensional beings whose online and offline personalities may differ!)

Micah Gantman

VP of strategy and BD at TUNE

Everything. AI software itself, and the apps and tools it works with, all need to change to work better together.

The biggest issue is that AI today is dumb and fragmented, and so your first experience is subpar. This creates a lack of trust and belief that AI will be practical to the average person anytime soon.

Michael Della Penna

Entrepreneur, Mobile/Marketing Advisor, Investor

AI will enable marketers to better sense and respond to customer needs in real-time based on a deeper more comprehensive understanding of their interests and needs.  

Integrating AI powered chatbots into apps will become increasingly popular as brands look to better support customers and drive lifetime value.  Intelligent assistants like Google Assistant and Alexa will be smart enough to tell you your car insurance is expiring in a month and then go out and find you a better deal.

Nick Fajt

CEO of Against Gravity, maker of Rec Room for the HTC Vive & Oculus Rift

AI systems we can talk to will continue to disappoint (see Tay).

AI systems that synthesize large amounts of data to take fast, accurate and meaningful actions will revolutionize our daily lives (see self-driving cars).

We need to spend more time on the latter, less on the former.  

Oliver Schonschek

Technology Journalist and Analyst, Germany

AI must be understood as a great assistant to the user, so the interface between AI and user must become easier.

Pek Pongpaet

Founder of Impekable, app design and development studio in Silicon Valley

Interfaces will be more audio or chat driven, simplifying the user interface.

Pascal Clarysse

Pascal Clarysse has been in marketing for almost two decades, he is presently CMO at large for Eden Games and he consults for a bunch of successful mobile game publishers.

I see a huge untapped potential in what I'd call "incentivized crowdsourcing."

One good example of this is what Machine Zone did with their multi-lingual live chat in Game of War.

Peter Hamilton

Digital education veteran. Founder of EdTech Ventures

We are already being helped and monitored more than we believe by those nice people at Google and Amazon.

Society and government need to regulate ASAP as the bots become more powerful and accountable only to the market.

Randi Priluck

Author of Social Media & Mobile Marketing Strategy from Oxford University Press

More efficient interactions.

AI allows firms to spend time and money on the most valuable customers by leaving the lower level customer service issues to a virtual assistant.

Marketers can also use AI to identify and qualify best prospects.

Ray Walia

Managing Partner at Victory Square/CEO of Launch Academy

Deeper humanization of the experiences. As experiences evolve, they will feel less robotic and more fluid. New mind-bending applications will be revealed.

Services like Watson from IBM and Einstein from SalesForce will lower the barrier to entry for startups looking to deploy AI in new ways.

Rick Mathieson

VP of Social Strategy, ten years in Social Media. Ex-coder.

It's such early days.

One of my favorite expressions is "You win some, you learn some." I think there will be a lot of really good learning in 2017. You look at chatbots learning and spewing profanity after engaging with consumers and it's easy to see there's still work to be done. But it's a hugely exciting field, and I can see brands starting to build scalable digital platforms with it through value added services for non-digital goods.

We're in discussions with clients in non-digital categories looking to AI in this way. 2017 will see some exciting innovation in the space—and it will only be scratching the surface.

Rob La Gesse

VP of Social Strategy, ten years in Social Media. Ex-coder.

AI will help improve the software needed to create immersive experiences.

AI will continue to improve back-end processes and will vastly improve "suggested" items for online buyers.

Sylvain Gauchet

Co-founder of Apptamin, creative agency for app videos. Obsessed with mobile marketing

I think we'll see more and more AI integrated into apps.

Tools like Snips.ai already offer an AI assistant SDK, and more will come.

If the user experience provided is good enough, customers will get use to getting personalized help from bots and customized experiences.

Todd Haselton

Executive Editor of TechnoBuffalo

Microphones need to be more sensitive so we're not yelling at Amazon Echo and Google Home. Interactions need to feel less robotic, more conversational, but I think we're getting there.

AI needs to function the same everywhere. Siri on phone doesn't operate the same as Siri on TV; Google Assistant still different than Google Now.

Tony Long

I am known as "Geek Whisperer"

Greater emphasis on audio access and elimination of the need for keyboards will ease the integration – and therefore the benefits – of AI into everyday life.

The laggard in the scenario is not AI, but rather humans and the way we interface with technology. This is why the notion of "voice" is so important.
Made it all the way down to the bottom? You're a champ!
Remember: here's that free report on how app videos impact organic installs. You'll be happy you read it.
Back to the influencer predictions:
If you'd prefer to view all of these in one deck, or even download it for your future reference, we've built all of these into a single slideshare.
Enjoy and share!
Author
Becky is the Senior Content Marketing Manager at TUNE. Before TUNE, she led a variety of marketing and communications projects at San Francisco startups. Becky received her bachelor's degree in English from Wake Forest University. After living nearly a decade in San Francisco and Seattle, she has returned to her home of Charleston, SC, where you can find her enjoying the sun and salt water with her family.