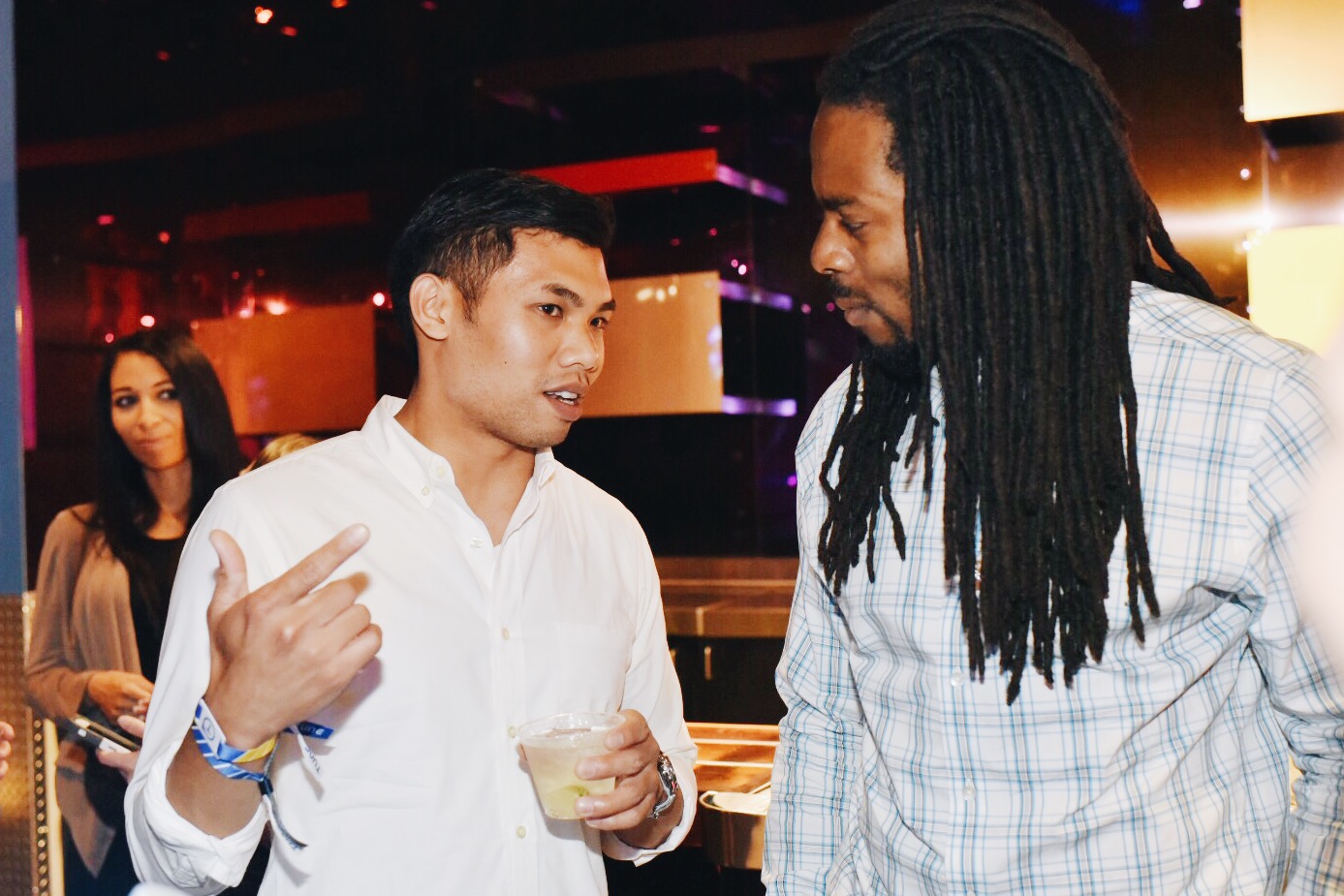 A conference that is referenced as "the mobile event of the summer" can't live up to the hype without a few surprises. And surprises did we deliver! Check out photos of the all-star speakers, surprise musical guests RÜFÜS DU SOL, Seahawks cornerback Richard Sherman, a keynote from Ray Kurzweil, and more from Postback '16.

Welcome to Postback! TUNE letters decorate the entrance of Postback on the promenade at the Seattle Center.

Rise and shine for the conference; yoga takes place early on the first day.

TUNE CEO Peter Hamilton belts a surprise parody rendition of Alexander Hamilton to open Postback.

A packed auditorium listens as TUNE CEO Peter Hamilton kicks off Postback with several surprise announcements, including the launch of Multiverse.

TUNE Mobile Economist John Koetsier starts the main stage sessions as the moderator of Postback.

Doug Zanger, North America Editor At Large at The Drum, interviews Scott Stanchak, Managing Director of Mobile Marketing Strategy for Beta & Emerging Platforms at The New York Times; Aashir Shroff, Vice President of Mobile and App Strategy at Wells Fargo; and Ian Sefferman, General Manager, TUNE Marketing Console, about "The New Marketing Frontier: The Convergence of Web and App."

Attendees in a main stage session at McCaw Hall.

Dan Koch, Director of Marketing Automation at TUNE, interviews Sarah Bidnick, Vice President of Marketing at TodayTix, and Loren Husson, Director of Marketing Communications at Starz Entertainment, about "The Keys to a Successful Mobile Strategy."

The promenade outside McCaw Hall, where attendees enjoyed the Seattle sun, happy hour, and networking with the world's best mobile marketers.

Christian Calderon, Chief Revenue Officer at Ketchapp, has lunch outside during Postback.

Attendees take a selfie with their TUNE-ified sunglasses on.

TUNE CEO Peter Hamilton and futurist Ray Kurzweil during a fireside chat after Kurzweil's keynote speech.

Postback keynote speaker Ray Kurzweil talks about the future of technology.

RÜFÜS DU SOL, the surprise musical guest, performs at the Experience Music Project.

Tam Phan, organic growth expert at TUNE, talks with surprise guest, Seattle Seahawks cornerback Richard Sherman.

Day two of Postback starts with breakfast at the Starbucks Reserve Roastery and Tasting Room in Capitol Hill.

The conference closed out with a lawn party at the Museum of History and Industry. Inflatable pool swans served as additional seating while guests played lawn games and went on a boat tour around South Lake Union.

Giant Jenga was one of the attractions at the lawn party.

Attendees snap photos of the Seattle skyline from the boat tour — and possibly also search for elusive Pokemon during the conference-wide competition.

Postback was full of surprise guests, musical performances, boat tours, lawn parties, big announcements, and the best mobile marketers all in one epic weekend. Make sure you subscribe to our mobile marketing blog to be the first to know about next year's conference!
P.S. Can't wait for more? Check out our video recap or check out the other clips on our Postback YouTube channel.
Sign up for our blog digest emails!
Author
Becky is the Senior Content Marketing Manager at TUNE. Before TUNE, she led a variety of marketing and communications projects at San Francisco startups. Becky received her bachelor's degree in English from Wake Forest University. After living nearly a decade in San Francisco and Seattle, she has returned to her home of Charleston, SC, where you can find her enjoying the sun and salt water with her family.