We just wrapped up Casual Connect Europe in Hamburg, and it was a great show for HasOffers and the MobileAppTracking team.
One of our favorite sessions at Casual Connect was "Ecosystems & Platform Patterns", presented by Jan Beckers, CEO & Founder of HitFox Group. Beckers compared the similarities between how platforms and governments function. Primarily, both have patterns, cycles, regulations, and dominance. Beckers explains that these are also the basic rules when building a platform.
Beckers broke these "rules" down a bit more during this presentation, and explained that when the platform is young, it's critical to focus your resources on educating your your audience first. Then, as the platform matures, shift your focus to build a great product for the long-term.
Second, Beckers explained there are really three cycles of a platform. When the platform is young, the audience has really high expectations. Then, when their really high expectations are not met, the audience may become negative and sets their expectations of the platform really low. Finally, as the platform matures and issues are resolved, the audience's expectations normalize.
Beckers' final point of advice to developers it that they should be the first to a a new platform so they can dominate it. Beckers advised that by focusing on the audience as the most important aspect of development, you will have already built your competitive advantage.
We also enjoyed other sessions, including the "Hype vs Real Deal" lunch session featuring speakers from Facebook, Free Lunch Design, Kerosene Games, PlayJam and gemini Hive. One of the most interesting takeaways from this session was whether Facebook will be good for games. While Jasper Smith, CEO of PlayJam, and Brett Seyler, Chairman & Founder of Kerosene Games, are unsure if Facebook will regain its dominance as the platform for gaming (since Google Play and Apple iTunes are the dominant portals now,) Andreas Van De Castel, Manager Gaming Partnerships of Facebook, believes otherwise.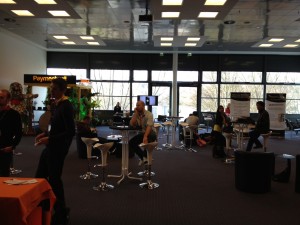 Another great takeaway from Casual Connect was from the "Emerging Strategies to User Acquisition" session. During this session, Bill Shipp, Vice President of Growth of Iddiction, made the point that discovery apps are great distribution point for paid apps. By giving away free in-app goods for new apps, users are inclined to download apps they might not have downloaded otherwise. When the user downloads the new app, they already have some free credits which also makes them more likely to engage and potentially grow and healthy addiction.
Erlend Christoffersen, Director of Customer Acquisition of Supercell, also suggested during this session that engaging with new users via video and interstitials converts extremely well. Erlend explained that these types of ad formats interact with the user and as a result, they provide the app developer a platform to deliver a more engaging message. When asked how to cost-effectively acquire users, Erlend said that it shouldn't be about cost, but instead the expected value of the users acquired from the publisher. He added developers should focus on acquiring users from publishers with unique user groups so you can easily determine the value of the publisher's traffic. He also advised to stay away from blind ad networks and blind aggregators.
Overall, we thought that Casual Connect's exhibition wasn't as formal as a GDC or AdTech, as there were were only about 50 commercial exhibitors and another 40 indie game developers showing off their mobile apps. However, our friends at Big Fish Games sponsored the lunch and it was some of the best conference food we've ever had!
HitFox sponsored a dinner for about 100 of the leading thought leaders and speakers at Casual Connect. We were humbled to be invited to such an event as it seemed every attendee had something to bring to the table. Other than their appetite! We got a hands on demo of the Blackberry 10, which is promising and seems to have enough traction to give WindowsPhone a run for their money. We will see but its certainly worth checking out. A big thank you to Jan Beckers and the HitFox team for putting together such a fantastic evening. Class act.
Casual Connect Hamburg was an awesome show for MobileAppTracking and we look forward to seeing everyone next year!
Author
Becky is the Senior Content Marketing Manager at TUNE. Before TUNE, she led a variety of marketing and communications projects at San Francisco startups. Becky received her bachelor's degree in English from Wake Forest University. After living nearly a decade in San Francisco and Seattle, she has returned to her home of Charleston, SC, where you can find her enjoying the sun and salt water with her family.