If you're a Chief Marketing Officer or a marketer wanting to stay ahead of the curve in mobile, you won't want to miss this. We're hosting a CMO Connect panel in New York City on May 10 with four Chief Marketing Officers at the top of their fields, who will be dishing on everything mobile within their companies. You'll hear how they foster mobile talent and expertise among their staff, integrate and embrace new and changing technology platforms, optimize their media spend, and build deeper relationships with their connected consumers.
You'll hear from a group of panelists that you won't be able to catch together anywhere else: Refinery29, Belkin, Keep, Sling Television, and of course, TUNE.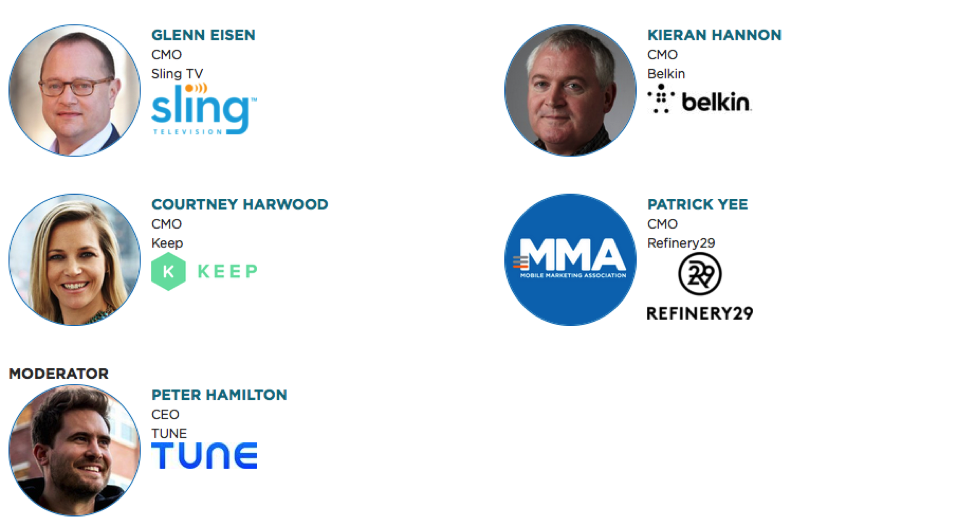 Register Today
This MMA Mobile Marketing Leadership Forum event is nearly sold out, so claim your spot today. Use this code to purchase a ticket with a 25% discount – LeadershipTune_25.
Your registration will also give you a first-class ticket to other mobile marketing sessions, networking opportunities, and keynote speakers. It's your chance join our CMO Connect series and hear from speakers in the most connected city in the world.
Register before tickets sell out. We can't wait to see you there!
P.S. Interested in TUNE events but can't make it to New York City? We're presenting this series of CMO Connect panels at several events this year. Each panel brings together a different set of CMOs to share different perspectives of the impact of mobile and future of marketing from the C-level perspective.
Keep these dates in mind as we host this conversation with CMOs around the world:
Appnation CES – Las Vegas, January 6-9
Mobile Marketing Association Leadership Forum – New York, May 10-11
M1 Summit – New York, May 17
Mobile Marketing Association Forum – London, June 6
Postback – Seattle, July 21-22
AdvertisingWeek – New York, September 26-30
Mobile Media Summit – San Francisco, October 18
VentureBeat Marketing FWD Summit – San Francisco, November TBD
Like this article? Sign up for our blog digest emails.
Author
Becky is the Senior Content Marketing Manager at TUNE. Before TUNE, she led a variety of marketing and communications projects at San Francisco startups. Becky received her bachelor's degree in English from Wake Forest University. After living nearly a decade in San Francisco and Seattle, she has returned to her home of Charleston, SC, where you can find her enjoying the sun and salt water with her family.