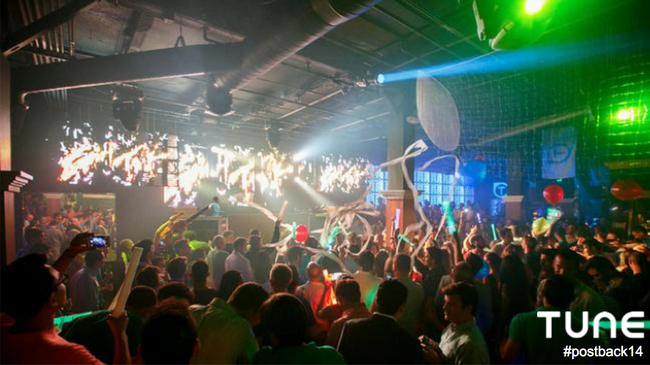 Dear TUNE,
You did the impossible this year. I could never imagine one company or group of people evolving so much in one short year, but you did. From 100 employees to a team of 250, from $19 million in revenue in 2013 to over $40m in 2014, from three offices to seven offices around the world, and from HasOffers to a new identity as TUNE, you did it all while tackling the best ways to work together and create something so unique. I couldn't be more amazed by 2014.
Coming into this year was daunting.
We had incredible growth in 2013 which is always hard to sustain. We were on probation with Facebook, and the mobile marketing industry wasn't really sure what to think about that yet. We had just experienced our first big burst of growth from 45 to 100 employees and now we needed to learn about management and execution in different ways than we had before. On top of that we had been working on a rebrand for quite a while, trying to find a name that would really pave the way for our future. And we had no idea what that future would be… STILL!
But you took on your goals with ownership, and you moved forward with rapid innovation and development.
On the MobileAppTracking team, you were the first to do app attribution for iAd and YouTube as channels. You are the only ones to provide multi-touch attribution in mobile. You launched reports and connected data to BI systems and Tableau in ways that have never been done for mobile. You launched a complete interface for integrated partners, and built the TUNE Agency Center. Even in the last month you produced three new major features that our clients will love.
On the HasOffers team? Wow. You delivered so much more than any of us predicted this year, both in product and in revenue. You launched into the mobile world with an explosion of new clients, and you began supporting many of the most sophisticated ad networks in the world. You are a backbone that much of the ad network world depends on to do business, from managing publishers and invoicing, to bringing SaaS and flexibility to performance marketing. You help to foster growth for the supply builders of the mobile ecosystem, and you do it through listening to customers and meeting the new and unique needs they have on mobile.
Across all our teams and products, probably one of the most valuable things you did at TUNE this year was experience and push through adversity as an organization. When you were removed from the Facebook MMP program it was shocking. You worked hard to meet the needs of Facebook and support the program, so the disappointment was not futile. You took a pause, thought about how to actually help customers during this time, and you made sure that their needs were first priority. Through fierce dedication to solving their problems and pushing the envelope on innovation, you continued to win the faith of customers, educate the ecosystem, and bring on the world's brightest mobile marketers. To be really honest, this might have killed most companies, but you knew that you had more to offer. Today, you are the most adopted measurement partner for mobile apps, especially enterprise, and you've created true standards of reliability and accuracy. You found new ways to support over 600 ad partners around the world and you did the work of making those integrations smooth for marketers.
You stayed focused on building technology that would make mobile marketing better for everyone. Not just through development, but also through adding to the team with acquisitions and recruiting. The way you welcomed MobileDevHQ into your team to provide insight into the organic side of app marketing was nothing short of inspiring. I have to give a major shout out to Ian Sefferman and his amazing team at MDHQ for coming onboard ready to crush it. Your team answered to customer needs for features, scaled dramatically, integrated MobileDevHQ with MAT and the broader TUNE organization, and made a significant impact on our future. I can't wait for the world to sees what else you've been up to 😉
I have to mention that TUNE brought on two more teams that we did not announce publicly, but you've done an equally outstanding job connecting with them quickly and setting them on a fast path to providing more for TUNE customers. One is already supporting the future of MAT reporting and the second is set for BETA this quarter! With these and still more development, you are building something mobile marketers are really going to love.
Changing our name to TUNE was one of your major accomplishments this year. After flying under the same banner since 2009, you took a major leap of faith on me, leadership, and the marketing team to step into a new identity, and man did you pull it off. Our conference, Postback, was the most incredible party of my life, and I imagine it was the same for many of our guests. To be able to tell the mobile industry, all in one room, where we are heading together was a major milestone, and to carry on into the night celebrating with all our friends, partners, and customers was priceless. There is no way my New Year's Eve will be able to compete with that, ha.
You're growing up. You've reached the size of organization where you are solving really complex problems. You know what it means to scale your teams, keeping a tight hold on your personal accountability and ownership, and with that impressive growth you stayed extremely efficient with operations and finances. This discipline you've developed will be a major reason that you stand out in the future.
I want to say thank you for letting me grow up with you. You've called me out when I needed to listen, you challenged my methods while supporting my leadership, and you profoundly changed me. I'm a part of something so much bigger than myself, and I feel more prepared than ever to face whatever comes our way.
2015 will be a year of massive execution. Let's make it even better than the last.
Author
A digital marketer by background, Peter is the former CEO of TUNE, the enterprise platform for partner marketing. In 2018, he sold TUNE's mobile measurement product to Branch, unifying measurement and user experience. He led TUNE's efforts to bring better management technology and automation to marketing partnerships, across affiliates, influencers, networks, and business development relationships. Follow @peterhamilton