Remember Draw Something? At its peak back in 2012, Draw Something had over 20 million downloads just in its first five weeks on the app store.
Now it's back … sort of.
On January 10th, 2016 Zynga released a new app for Facebook's Messenger app, Draw Something. To play the game, you still need to download a separate app, but now it is fully integrated with FB Messenger to easily send and share drawings in Messenger chats. It's interesting to see this app release since it's basically the same as the first game to launch on Facebook Messenger — Doodle Draw — which was released on July 10th, 2015.
It appears the original Draw Something by OMGPOP page is still live (and recently updated) in the iTunes App Store in addition to the new version for Messenger.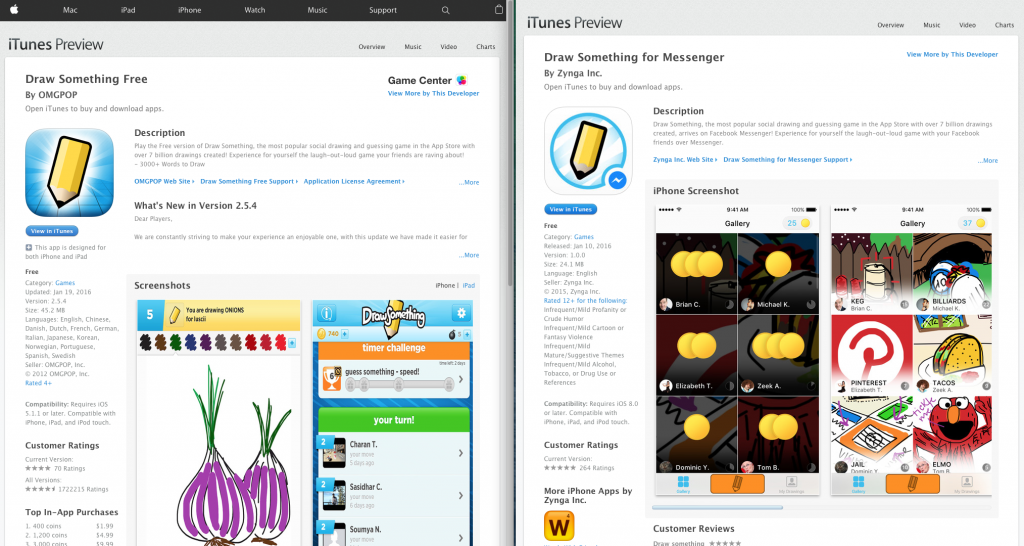 The new app has a similar age play as the first Draw Something app but with scaled down functionality. The main difference: how easy it is to send and receive drawings with Facebook friends on Messenger.
Messaging Apps: The New Platforms?
The rise of messaging apps has been a closely watched vertical over the past year.
Sophisticated functionality in messaging apps have been a core part of the most popular social apps in Asia for a while. It's not surprising to see Facebook Messenger starting to add more functionality to keep people using the app. We all know great games are highly addictive engaging and can keep a person playing in an app for hours.
Top messaging apps have evolved into mini-platforms, incorporating a wide set of features like web browsing, photo sharing, shopping, video, purchasing and on-demand communication. It's no surprise that messaging apps are popular as they are a cost effective way to send messages and media in real-time from sender to receiver on a mobile device. Who cares about the number of SMS messages that are included in a phone plan anymore? It's all about wifi access and data caps.
Adweek predicts global messaging apps like WeChat, Line, Kik, and Viber are "beginning to quietly capture the attention of brand marketers via sponsored stickers and chat bots reaching millions of millennials and teens". Most of these mobile messaging apps have similar features, but each offer different ways in which businesses can engage with users on these platforms.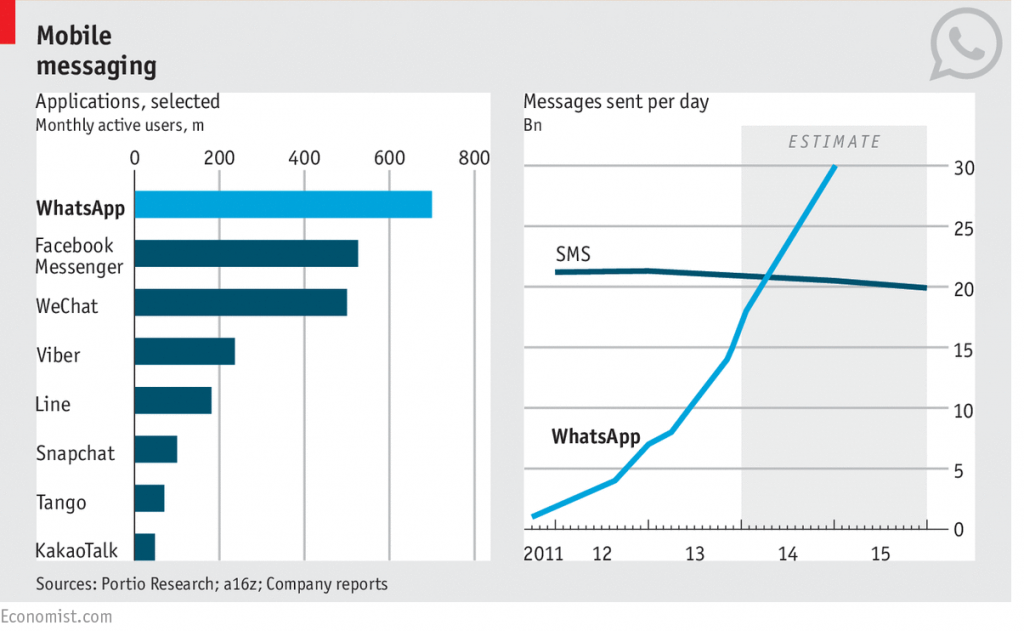 But what about Google? and Apple?
A notable platform that is missing from this list is Google.
Have no fear, as reported by the Wall Street Journal, Google recently announced plans to "build a new mobile-messaging service that taps its artificial intelligence know-how and so-called chatbot technology to try to catch up with rivals including Facebook Inc. in the fast-growing arena." Chatbots could provide information to a person without them having to exit the app to search for answers.
Apple, as per usual, has not released any plans, but you have to think that Cupertino is noticing the rise of messaging apps on iOS as well as Google Play … and thinking about how Siri could be a very useful AI-light bot helping both people and companies.
How does this affect Marketers?
More than 1.6 billion people will use mobile messaging apps in 2016 – a 14.8% increase from the previous year – according to a recent industry report from eMarketer.
According to eMarketer, 75% of smartphone users will use an OTT mobile messaging app such as Facebook Messenger, WhatsApp or Snapchat at least once a month.
While messaging apps have functional purposes — providing personal support, eliminating phone calls, and creating two way communication between businesses and their customers — there are additional benefits for marketers.
People expect brands to meet their needs on-demand, instantly. The chat functionality in messaging apps creates a platform for that real-time communication. In addition, marketers can now start to reach out to consumers while they are making purchasing decisions – in the store, in the aisle, in front of your product. And, marketers can tailor their marketing strategies in way that will naturally insert themselves into conversations happening on the messaging platforms.
Like this article? Sign up for our blog digest emails. 
Author
Becky is the Senior Content Marketing Manager at TUNE. Before TUNE, she led a variety of marketing and communications projects at San Francisco startups. Becky received her bachelor's degree in English from Wake Forest University. After living nearly a decade in San Francisco and Seattle, she has returned to her home of Charleston, SC, where you can find her enjoying the sun and salt water with her family.