While the tech press started covering the new Facebook Promoted Posts feature last week, it wasn't available on the HasOffers Facebook page until today. We haven't promoted any posts yet (though we may try this one), so I don't have stats on how it works just yet, but I can tell you we're seeing something really strange in the pricing.
As soon as I saw the Promote button at the bottom of the post interface, I went to check out the pricing. When I'm signed in, I currently see pricing similar to the screenshot below, which says we can reach about 400 people for $5.00, 800 for $10, 1200 for $15, all the way up to 2300 for $30.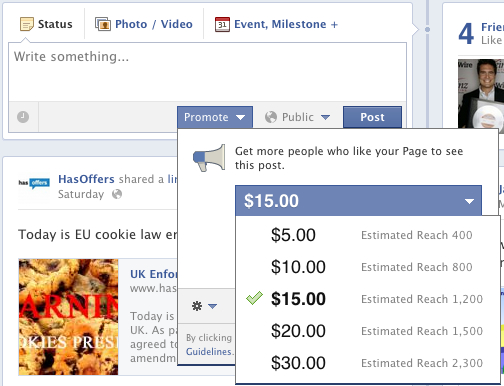 Promoted post pricing from my Facebook account is different than what Marketing Land shows in the screenshot they posted last week when writing about the service. Marketing Land can apparently reach 1200 people for $5. We have different pricing on the Facebook page for our MobileAppTracking product as well. I speculate the variation in pricing between pages has something to do with the location of the people the post reaches, but that's not what's strange.
When Todd Martini went to the HasOffers page to check out the feature, the pricing was different. Todd reaches about 300 people for $5, 600 for $10, 900 for $15, and caps out at a maximum reach of 1800 people for $30. You can see Todd's screen capture below.
When I switch from administering the HasOffers page with my own account to using Facebook as the page, the pricing changes yet again. You can see the pricing I get when using Facebook as the HasOffers page below.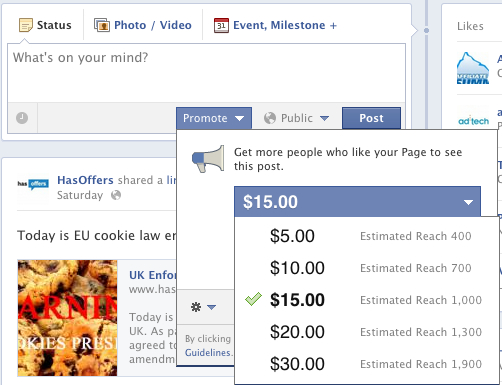 I'm not sure if the pricing difference between different admins is part of a test during rollout, but you should definitely see which Facebook page admin gets the best deal before you post. Maximizing your reach for the minimum spend seems like a great deal no matter how you slice it.
Anybody else seeing a difference in pricing between multiple admins of the same page?
Author
Becky is the Senior Content Marketing Manager at TUNE. Before TUNE, she led a variety of marketing and communications projects at San Francisco startups. Becky received her bachelor's degree in English from Wake Forest University. After living nearly a decade in San Francisco and Seattle, she has returned to her home of Charleston, SC, where you can find her enjoying the sun and salt water with her family.