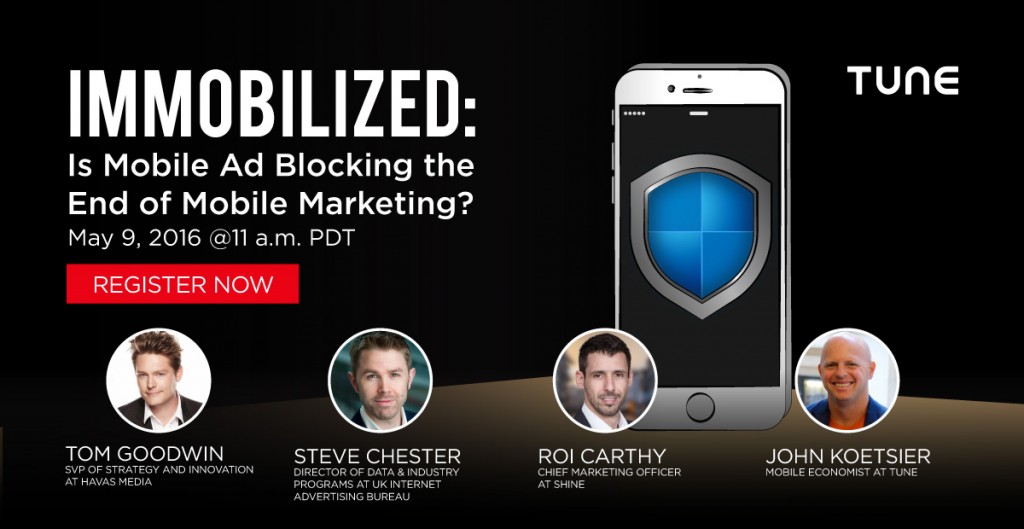 As an in-the-know marketer, you've likely seen the headlines: ad blocking spiked three times in the last three months. The Guardian called it the tiny plugin that's threatening the internet's business model. But Advertising Age says it might actually be good news for everyone. What's the truth?
We'd like to invite you to a free webinar with a panel of experts in the ad blocking space: "Immobilized: Is Mobile Ad Blocking the End of Mobile Marketing?" Join us on May 9 at 11 a.m. (PDT) for a lively discussion with Tom Goodwin, SVP of Strategy and Innovation at Havas Media; Roi Carthy, Chief Marketing Officer at ad-blocking maker Shine; Steve Chester, Director of Data & Industry Programs at UK Internet Advertising Bureau; and John Koetsier, Mobile Economist at TUNE.
Free Webinar: Register Today
If you're a marketer curious how this trend will impact your campaigns, or just looking to learn a little bit more about the difference between ad blocking and ad limiting, register today to attend the webinar, or to view the on-demand recording and slides at your convenience.
Sounds cool — sign me up!
Like this article? Sign up for our blog digest emails. 
Author
Becky is the Senior Content Marketing Manager at TUNE. Before TUNE, she led a variety of marketing and communications projects at San Francisco startups. Becky received her bachelor's degree in English from Wake Forest University. After living nearly a decade in San Francisco and Seattle, she has returned to her home of Charleston, SC, where you can find her enjoying the sun and salt water with her family.