The number of smartphone owners using mobile ad blockers is growing, and growing fast. In fact, according to brand-new data from almost 4,000 American and European consumers, the growth rate of ad blocking mobile users more than tripled in the last three months alone.
Even so, marketers shouldn't panic just yet. [Get the report Ad Blocking App Installs Just Spiked 3x (Here's What Marketers Need to Know) for free now.]
That doesn't mean there isn't any cause for concern. In fact, based on the current growth rate of mobile ad blocking app installs, the reality is that if today's behavior remains unchanged, 80% of mobile users could have installed ad blocking technology as early as late 2017. That's potentially scary news for those who rely on the advertising industry.
What's Going On?
While ad blocking has been around for years, it's been a particularly big explosive topic on mobile over the past six months.
Apple kicked the wasp's nest by opening the door toad blocking apps late last year, and already, there are more than 33 browsers and apps on the iOS App Store that enable ad blocking. Google stirred the pot a bit more by first booting some ad blocking apps from Google Play last month, and then reinstating them.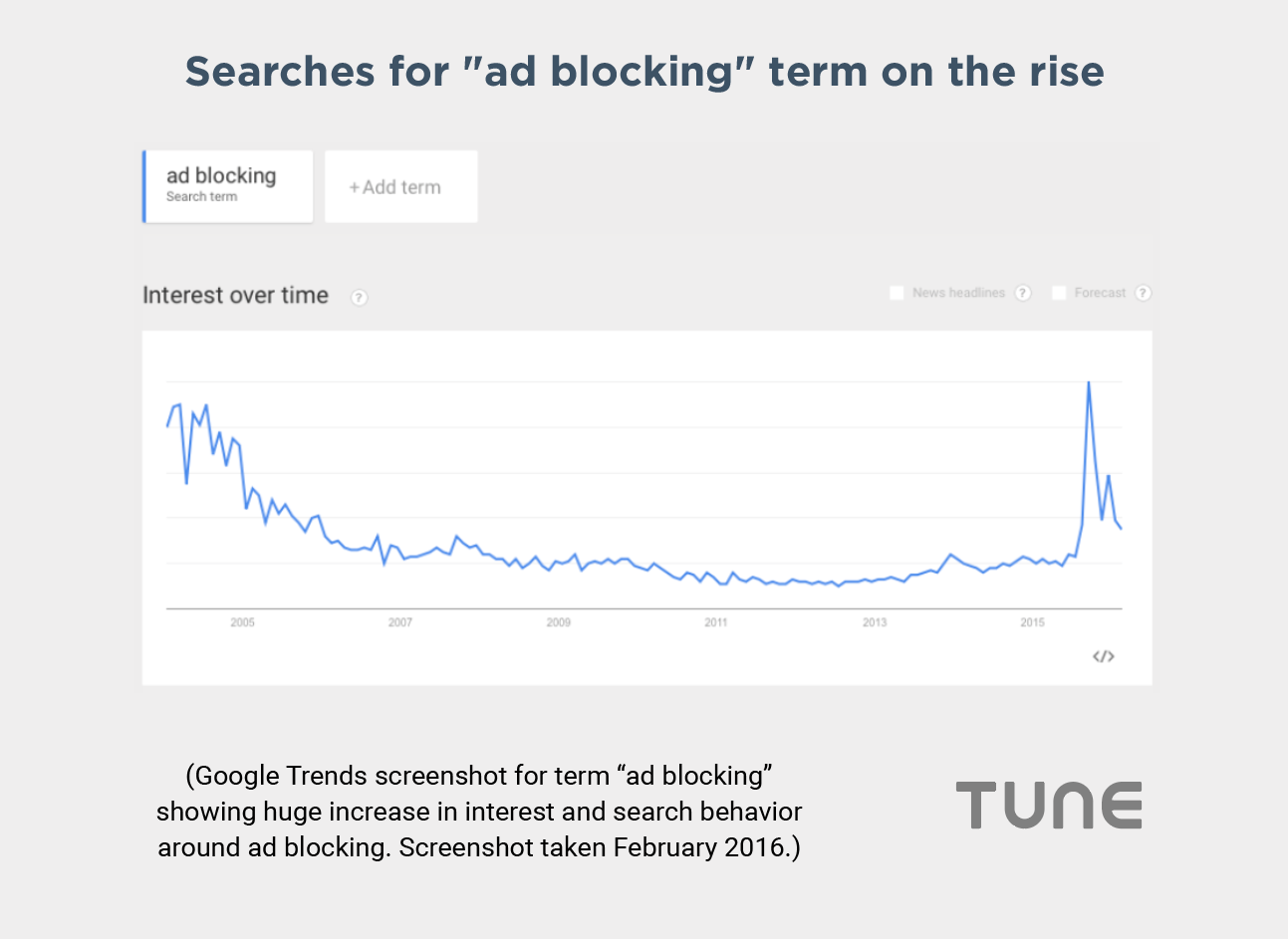 Unsurprisingly, consumer interest in ad blocking has skyrocketed. That explosion of interest has had an impact on consumer behavior.
In January of this year, when we asked 3,939 smartphone owners whether they'd installed an app or browser that can block ads, a quarter of them said that yes, they had. That might even be under-representing the data because technically, Apple's default browser counts (although obviously it requires a companion ad blocking app in order to actually block ads).
While only 2.4% of respondents said that they had installed an ad blocking app or browser in the previous 4-6 months, 7.8% said they had done so very recently (in either November or December 2015, or in January 2016). That's a more than three-fold jump.
Publishers, who largely depend on advertising revenue for their existence, have been understandably concerned about the growth of ad blocking.
So have advertisers and marketers. None other than the CEO of the International Advertising Bureau, Randall Rothenberg, recently called Adblock Plus, a leading ad blocking solution, "immoral," "mendacious," and "unethical." The battle has heated up as publishers such as Wired and Forbes recently implemented anti-adblocking technology.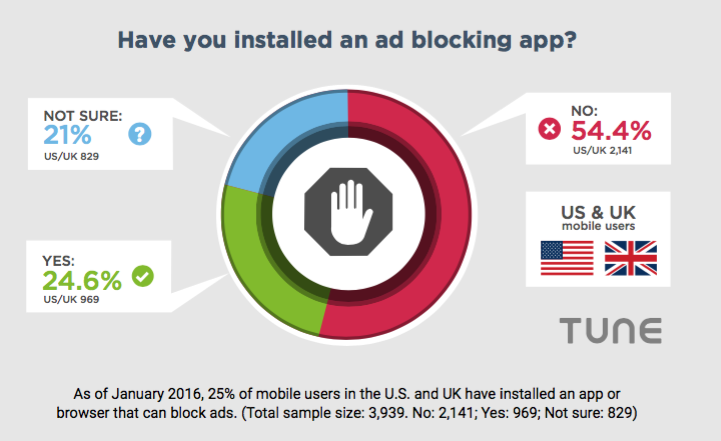 Is the Sky Falling on Advertising?
No, not quite yet. The big reason? The very nature of mobile itself, and the fact that we're all moving to mobile.
Mobile is an incredibly fast-moving ecosystem, which is one reason why we're seeing such quick growth in ad blocking app installs. But it turns out to also a very challenging world in which to block ads, because blocking ads on mobile is mostly just about the mobile web … and we all know who won the war between mobile web and mobile apps.
In other words, publishers and advertisers should be very, very thankful that we are all moving to mobile. Because in spite of its fast growth and potential for near-ubiquitous coverage, ad blocking is much less of a problem than it could become on desktop.
We spend 80-90% of our phone time in apps, and blocking ads in apps requires fairly extreme measuresto function (such as routing all app communications through a VPN). So extreme that those measures are a significant security risk, which is why we're not blocking ads in Facebook or Snapchat or Twitter. Or our favorite mobile games.
And while the mobile web — where mobile ad blocking is easiest to implement — is important for a lot of different reasons, it currently takes up only a fraction of our smartphone time. That said, there's clearly something major happening here in consumer attitudes and behavior, and it's something that advertisers, publishers, and marketers need to pay attention to. Other data suggests that up to 70% of mobile users either already are or are interesting in blocking mobile ads in the future, and this is not a healthy situation for either publishers or advertisers.
Ultimately, given how content is funded today, it's probably not a healthy situation for readers either. Fixing this situation will take some significant effort by all parties. Download the full report to learn more: Ad Blocking App Installs Just Spiked 3x (Here's What Marketers Need to Know).
Author
Before acting as a mobile economist for TUNE, John built the VB Insight research team at VentureBeat and managed teams creating software for partners like Intel and Disney. In addition, he led technical teams, built social sites and mobile apps, and consulted on mobile, social, and IoT. In 2014, he was named to Folio's top 100 of the media industry's "most innovative entrepreneurs and market shaker-uppers." John lives in British Columbia, Canada with his family, where he coaches baseball and hockey, though not at the same time.