2019 Update: HasOffers has rebranded to TUNE! TUNE is the same great technology behind HasOffers, now enhanced with new tools and features for affiliate networks and performance advertisers. Check out our new network features page, compare network pricing plans, or read the rebrand announcement.
---
In February, I had the pleasure of returning to my native homeland of Australia to host Global Insights: Getting the Edge on Mobile Performance Marketing, an informational luncheon and networking session attended by over 60 HasOffers clients, partners, and friends. Australia has always been an important area of focus for HasOffers. The market was early to adopt our platform, and HasOffers is truly seen as the industry standard for performance marketing.

Marc Carr, CRO of LeadBolt said, "As a leading global mobile advertising network, LeadBolt works very closely with TUNE. We specialize in advanced ad formats enhancing returns for our clients of both advertisers and publishers (including many of the Top 100 Apps Devs in the iOS and Android app stores and leading brands). Our team found the HasOffers' Global Insights lunch to be very beneficial—it was a good networking event and delivered strong content. It's great to see HasOffers supporting the Australian scene."
With smartphone penetration exceeding 50% of the population in Australia since 2013, marketers have been harnessing the mobile channel for a number of years. Digital advertising  in Australia has grown at a rapid pace, accounting for 34% of all advertising spend in 2014 (up from 30% in 2013). This segment now outperforms both magazine and outdoor advertising sectors.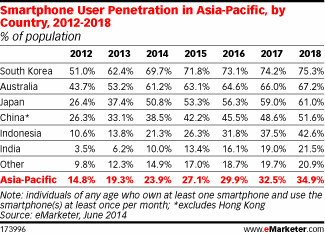 The Australian digital ad market enjoys a $4.4 billion online expenditure each year, and it is third-ranked in the world for total media ad spend per person, making this region an extremely  competitive consumer market. With that level of competition and a fairly constrained internet population, businesses have been able to successfully use HasOffers' technology to track and manage their media campaigns across lead generation, eCommerce, mobile web, and mobile apps.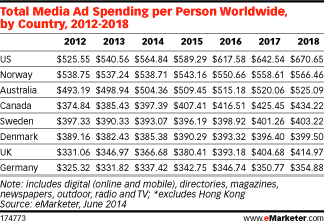 My trip underscores the importance of Australia to TUNE—we are dedicated to this region and supporting the growth of our customers. Our luncheon gave us the opportunity to meet face to face with our clients to hear about their needs, learn how we can help them grow their businesses globally, and also thank them for their loyalty.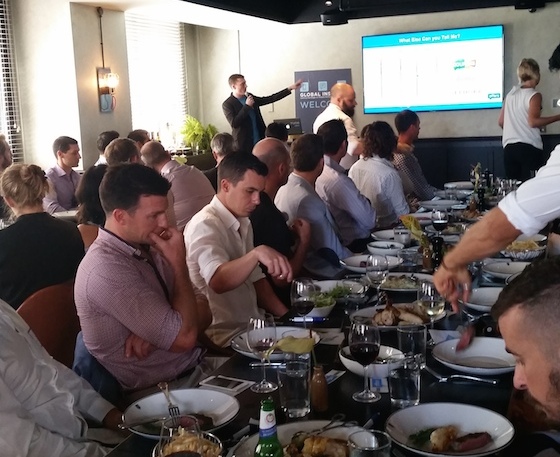 The Global Insights event was held in Sydney CBD at the illustrious QT Hotel and featured a veritable who's who of Australia's performance marketing industry. In attendance were representatives from leading networks including inMobi, Leadbolt, mi9, Grays eCommerce Group, SpotXchange, Cohort, Mobile Embrace and many others who have been long-time clients of HasOffers.

This event was very well received by those in attendance. Matt Paine, Group Business Manager at Mi9 said, "The insights provided into global mobile performance marketing trends were truly eye opening to how massive the opportunity is within this market. Not to my surprise, I'm working with an increasing number of brands who are leveraging HasOffers to manage their performance media. The knowledge and expertise they offer to Australian clients is unmatched."
The purpose of the Global Insights event was to provide clients and partners of HasOffers with awareness of the ever increasing opportunities within mobile performance marketing. TUNE's deep understanding of mobile performance marketing, as well as our impressive client base—which includes some of the largest and most successful mobile networks in the world—makes HasOffers uniquely qualified to speak on this subject. We feel that mobile is the next frontier for advertisers and saw this as the perfect setting to share some of our data findings.

Regarding the success of the event, Andrew Kilday, Founder of The Performance Factory said, "I really enjoyed the Global Insights luncheon and learned a lot. It was great to attend a gathering with other innovative thinkers in the Australian performance marketing industry. As a pioneer in the industry, The Performance Factory has worked with HasOffers for over five years and considers them a valued partner for our business. Thanks again HasOffers for hosting a great event!"

Australia was one of the fastest adopters of HasOffers in 2010, and many people continue to implement our platform in their new businesses as their career has progressed. Matt Berriman, CEO of Unlockd Media said, "I started using HasOffers early on—back in 2010—to build the ad network for CC Media. Recently, I've had the opportunity to be involved with the team again across two early stage mobile-based ventures. HasOffers' exceptional technology stack, coupled with their knowledge and understanding that early-stage businesses can't afford large SaaS-based fees has significantly helped both Shout for Good and now my own venture, Unlockd, get greater insights into our consumers and mobile channel attribution. I'm a big fan of their work and am enjoying watching their success, as its very well deserved."
As our Australian clients and partners continue to grow locally and into Asia, HasOffers is here to support. Thanks to all who attended to make this a hugely successful event. I had a great time connecting with you and hope to continue the conversation. I look forward to seeing our clients and friends in Australia again soon. Please reach out to me directly at [email protected] should you have any questions or just want to catch up!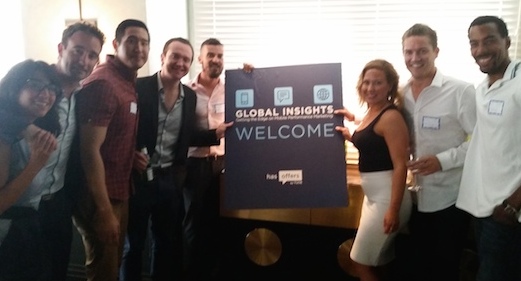 Author
Becky is the Senior Content Marketing Manager at TUNE. Before TUNE, she led a variety of marketing and communications projects at San Francisco startups. Becky received her bachelor's degree in English from Wake Forest University. After living nearly a decade in San Francisco and Seattle, she has returned to her home of Charleston, SC, where you can find her enjoying the sun and salt water with her family.