Making the decision to start your own performance marketing program is a smart business idea and an extremely effective way to increase sales with very little risk and minimal upfront cost. You make money by having a group of people (publishers) promote your business and only pay for complete sales.
Unfortunately, performance marketing may seem like a daunting task to those who are unfamiliar with the world of server postbacks and cookie tracking. That's where TUNE comes in—we're here to tell you performance marketing is not nearly as scary or difficult as it sounds. In fact, with the right business model and tracking software, performance marketing is really quite simple.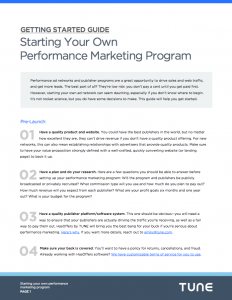 In this info sheet, we define the key steps in getting started with your own performance marketing program.
Key Takeaways:
You need a plan. Don't just jump into it and assume that publishers will flock to a link on your website and sales will come flooding in. Run your performance marketing program like a business, because it is one.
Not all publishers are the same. Let's face it, the performance marketing industry comes with it's fair share of fraud. You'll want to make sure you're recruiting trustworthy, high-performing publishers, and that you have tools in place to prevent fraud.
Stand out. Most publishers are working with several advertisers simultaneously, and it can be difficult to distinguish yourself in the crowd as a performance network. This paper will explain how.
Not sure what performance marketing is? We have resources for you, too.
Author
Becky is the Senior Content Marketing Manager at TUNE. Before TUNE, she led a variety of marketing and communications projects at San Francisco startups. Becky received her bachelor's degree in English from Wake Forest University. After living nearly a decade in San Francisco and Seattle, she has returned to her home of Charleston, SC, where you can find her enjoying the sun and salt water with her family.