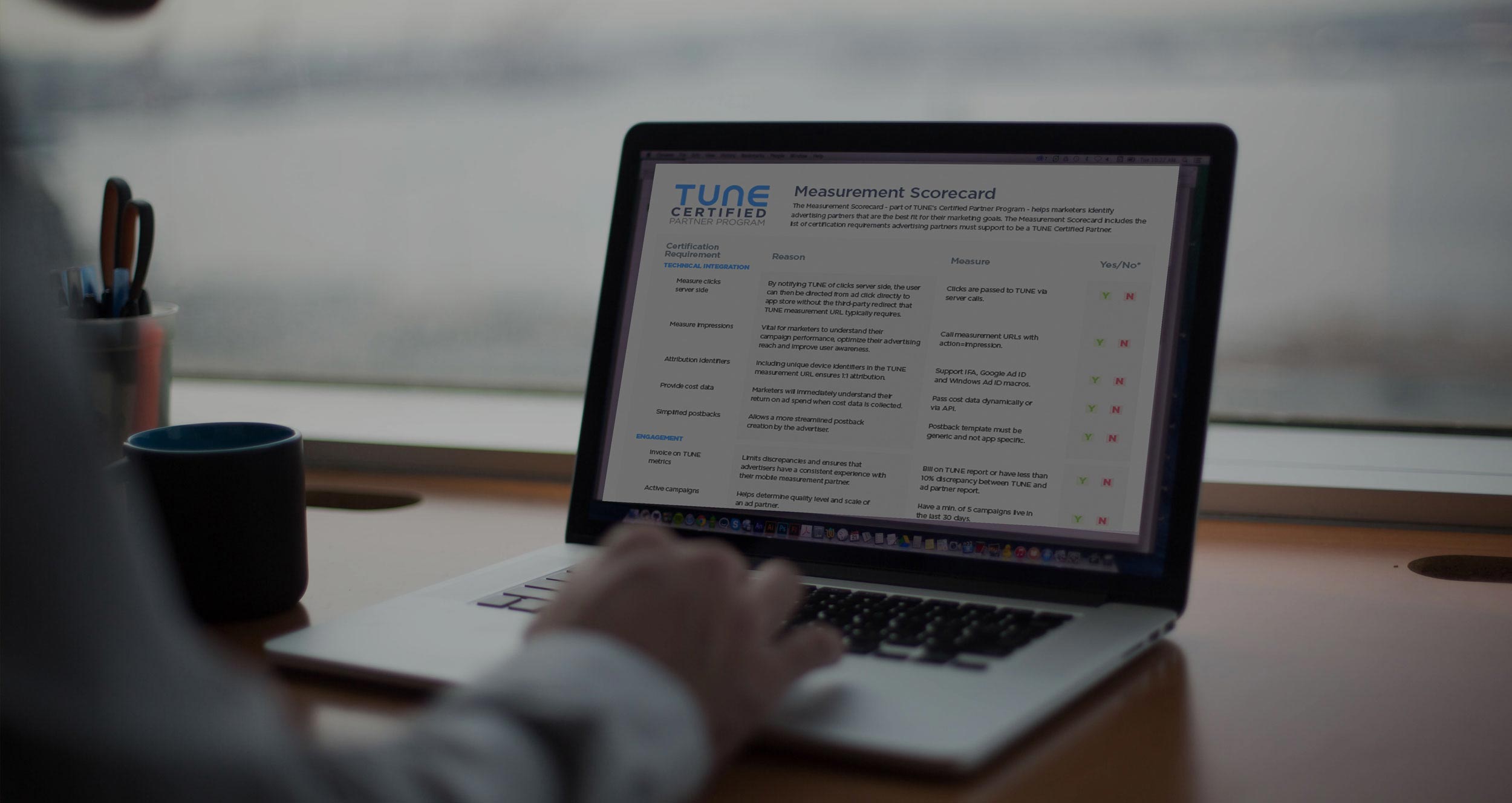 Today, we are excited to officially launch the TUNE Certified Partner Program and announce the first 10 certified partners. The TUNE Certified Partner Program was designed to give marketers more visibility into advertising partners that best meet their needs. It stands alone as the first program to formally establish, communicate, and report on best practices for the mobile advertising industry.
Marketers lack reliable industry standards that give them confidence in the advertising partners they work with. We've seen it first-hand working with our marketers to help them achieve their campaign goals. And as a third-party technology provider, TUNE plays an important role in making our industry more transparent by connecting marketers and advertising partners. Under this new program, marketers can trust that the TUNE Certified Partners they work with adhere to certification standards spanning technical integration, engagement, and compliance. Even better: they will have a seamless working experience.
Christian Calderon, Head of Marketing at Playdots, explained, "As a data-minded marketer, working with multiple marketing sources, I need to be able to make immediate data-driven decisions to meet my ROI goals. The TUNE Certified Partner Program helps provide unbiased mobile marketing standards that I can use to ensure I'm always working with quality advertising partners."
Not only do marketers benefit from having a strong set of industry best practices, advertising partners that become TUNE Certified Partners also profit. When an advertising partner becomes certified they are identified throughout the TUNE Marketing Console with a certified partner badge, exposure to TUNE marketers within the product, enhanced customer support and troubleshooting, and recognition throughout our digital properties and events.
"Marketers need trusted mobile industry standards to efficiently work with various marketing sources," said Anuj Chadha, Senior Program Manager at Amazon. "The TUNE Certified Partner Program provides transparency into which advertising partners adhere to mobile marketing best practices. As a market leader, Amazon is a strong supporter of this program and we're excited to be among the first TUNE Certified Partners."
Working together with the top marketers and advertising partners in the industry, we developed a baseline set of best practices these companies require when working together. For the initial launch, we selected a short list of market leaders as our certified pilot partners. Moving forward, marketers can be confident that these partners meet TUNE Certified Partner Program requirements such as measuring impressions and passing cost data. And while these requirements establish a starting point for the industry, we will continue to evolve and strengthen them as we (marketers, advertising partners, and TUNE together) further define diamond industry standards.
The first wave of certified partners include:
AdColony
Amazon
Aol
AppLift
AppLovin
Fiksu
InMobi
Motive
Supersonic
Vungle
Congratulations to the first members of the TUNE Certified Partner Program. Together, we're making our industry stronger.
Become a TUNE Certified Partner
The program is now accepting applications from all TUNE-integrated advertising partners. For more information and to learn about the benefits of the TUNE Certified Partner Program for both marketers and partners, go to https://www.tune.com/certified-partner-program/.
Author
Becky is the Senior Content Marketing Manager at TUNE. Before TUNE, she led a variety of marketing and communications projects at San Francisco startups. Becky received her bachelor's degree in English from Wake Forest University. After living nearly a decade in San Francisco and Seattle, she has returned to her home of Charleston, SC, where you can find her enjoying the sun and salt water with her family.