Mobile advertising company Millennial Media released its latest Mobile Mix report on the state of the mobile device market. Each quarter Millennial measures a number of aspects of the mobile market based on total impressions delivered. The smartphone market in Q2 2012 increased by 8% over Q2 2011 in terms of total impressions served. What isn't clear is how much the overall market for mobile advertising grew during that same time. As you can see from the chart here, feature phones are now just 7% of the impressions served by Millennial.
Some of the data in the Millennial report is to be expected. Apple remains the top single manufacturer in terms of both overall impressions and impressions from a single device. While Android has a greater overall marketshare, the iPad and iPhone are still the top devices in their respective categories. For advertisers, they are both far more interesting platforms at this point, because of established in-app purchase processes and unified market.
What was a little more surprising is how few people are using tablet computers on the go. According to the report, 95% of tablet users are connected to a WiFi network when surfing, which suggests that most tablet usage is occurring either in the office or at home. Another interesting data point is the split between women and men in Kindle Fire usage. While tablets overall have a fairly even gender split, the Kindle Fire is strongly skewed toward female users. It could be this is because the 7-inch form factor fits better in a purse, so it will be interesting to see if these numbers grow together as the larger Kindle Fire HD hits the market this fall.
Mobile App Opportunities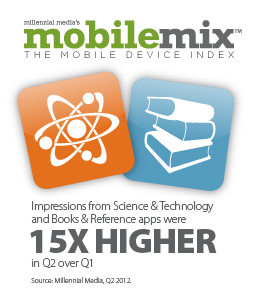 While I tend to think of Games and Music as being consistent top performers in the mobile app space, there are a few surprises in Q2 that may carry over when they run their next report. Science & Technology, Books & Reference, and Automotive are all categories absent in Q1 2012, but cracked the top 10 for Q2. Science & Technology and Books & Reference apps were both 15x higher than the previous quarter. I suspect Science & Tech will continue to perform well with things like the Curiosity landing on Mars during Q3. Automotive seems like another area where there's plenty of opportunity for growth as more people move to smartphone ownership.
Is it time to look at more mobile promotions that tie into these segments?
Other Data Points
The biggest surprise for me in this study might be RIM hanging on to 3rd place in device manufacturers. With no real prospects of continuing to compete, RIM should be down for the count.
Nokia is nowhere to be found in the top 20 devices. Windows Phone is still such a small slice of the market that it's barely interesting from a marketing perspective, unless you have a product specific to that market.
Be sure to download the Mobile Mix study and let me know if you spot any interesting trends in the Millennial Media data.
Author
Becky is the Senior Content Marketing Manager at TUNE. Before TUNE, she led a variety of marketing and communications projects at San Francisco startups. Becky received her bachelor's degree in English from Wake Forest University. After living nearly a decade in San Francisco and Seattle, she has returned to her home of Charleston, SC, where you can find her enjoying the sun and salt water with her family.