Jim Edwards over at Business Insider jumped to the conclusion that mobile ad networks don't make money based on Q1 2012 disclosures for four publicly traded ad networks. The article seems to imply that they can't possibly make money.
Writing off an entire industry based on any three month period is short term thinking. Writing off an industry while excluding the single largest player, Google, is like saying the 2012 American League East sucks by excluding the Yankees from your evaluation. While mobile ad spending is, as Edwards puts it, a gold rush, it isn't the toxic wasteland he'd like it to be.
Public Companies in Mobile Advertising
In his analysis of the financial future of mobile advertising, Edwards conveniently ignores the largest publicly traded mobile ad network, AdMob by Google. Ad properties owned by Google combined for roughly $750 million in mobile ad revenue in 2011, according to eMarketer. That's more than half the market, for anyone keeping score. The figure includes mobile search ads, so it isn't all AdMob, but everyone else in the mobile ad market likely has their eye on chipping away at Google's dominance.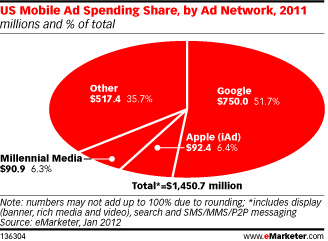 AdMob revenue is estimated to contribute $127.5 million to the mobile advertising pie, which translates to 24.8% of display ad spending. Apple's iAd display network is estimated at $92.4 million, which is also larger than any of the networks mentioned in Edwards article.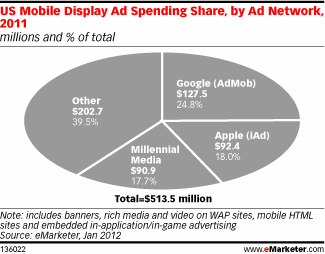 From everything I've seen, Google and Apple haven't written off the mobile ad market yet, so I'm not sure why anyone else would. Of course, the biggest players are only part of the mobile ad story.
Mobile Advertising is an Emerging Market
Mobile Ad Networks exist in an emerging market. Ad Networks are losing money in the short term with an eye toward longer term profitability. For the publicly traded companies listed in Edwards article, a significant portion of losses can be attributed to customer acquisition efforts. For example, Millennial Media spent $4.6 million on sales and marketing efforts in Q1 2012, while losing $5.3 million over the same period. Presumably they expect those efforts to translate to advertising campaigns with a positive ROI in the coming months.
In the case of Velti, Q1 2012 included expenses for acquiring China's largest mobile ad network. Sure they lost money in the first quarter, but that's a big bet on one of the largest ad markets in the world. Velti also positions itself as primarily a SaaS company, so it may not be fair to measure the performance of mobile ad networks against their performance.
Mobile Advertising Presents New Challenges
The formulaic approach to advertising on PC devices that comes from things like standardized screen sizes and a fairly uniform availability of visitor data don't apply on mobile. Many of the data points available for desktops aren't available from mobile devices because cookies are treated differently and data can't be shared between apps.
The rules in mobile advertising are subject to change, as evidenced by Apple's policy on UDID usage. This means mobile ad networks need to invest heavily in new methods for ad targeting and new approaches to delivering qualified traffic.
Ad creatives also don't perform consistently in every context, which means ad networks are investing more in helping customers create marketing campaigns, this may explain why so many of the mobile ad networks also act as mobile marketing companies as well.
All of those challenges (as well as many others) mean mobile ad networks will be pouring money back into R&D to identify winning solutions.
Most Mobile Ad Networks Aren't Public
Any analysis of mobile advertising focused solely on public companies is missing a large slice of the pie. Depending on which portion of the mobile ad market you're looking at, between 35-40% of all spending goes to numerous smaller players. Most of these smaller companies aren't public, but they cannot be ignored. Jumptap is growing quickly with an eye toward IPO. Tapjoy's focus on performance makes it different than traditional display networks, but the mobile ad space presents different opportunities than the traditional desktop space. When you start looking outside the U.S., Inmobi is a significant global player, which brings up another point.
Mobile Ads Are Global
The $1.25 billion Edwards quotes (or $1.45 billion by eMarketer's estimate) is U.S. ad spending. There's an enormous mobile ad market outside the U.S. Most of the the companies servicing the global market are not traded on any U.S. exchange yet. As I pointed out earlier, Velti recognizes the global opportunity in their acquisition of CASEE.
Do Mobile Ad Networks Have a Future?
Obviously, HasOffers is heavily invested in the potential of mobile app marketing. Our MobileAppTracking product is helping both app publishers and ad networks get the data they need for more informed campaign planning. So in that sense, we have skin in the game. Even if we didn't I can't imagine a scenario where mobile ad networks don't play a key role in the evolution of what's still a very early stage industry that continues to evolve. Will some mobile ad networks fail? Certainly. Every market has winners and losers. But I wouldn't bet against many companies finding success in a billion dollar market.
Author
Becky is the Senior Content Marketing Manager at TUNE. Before TUNE, she led a variety of marketing and communications projects at San Francisco startups. Becky received her bachelor's degree in English from Wake Forest University. After living nearly a decade in San Francisco and Seattle, she has returned to her home of Charleston, SC, where you can find her enjoying the sun and salt water with her family.