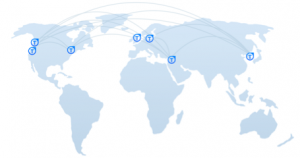 Performance marketing has exploded over the last few years in Asia. In 2014 alone, we've seen over 200% growth from our Asian customer base, primarily from China. Witnessing this dramatic increase first hand only reinforces our commitment to the region.
Recognizing the remarkable growth potential in Asia for performance advertising, we want to be proactive to ensure click-through latency remains low. To that end, we are excited to announce that we have added a new tracking region in Tokyo, Japan.
What is the result of adding this new data center in Japan? Asian clients will experience reduced impression and click-through latencies. Because latency affects conversion rate, we understand how essential it is to keep this as low a possible.
The addition of more server capacity in Japan not only improves the experience of networks serving ads in Asia, but for all of our ad-serving customers. The new server means that the load is distributed more evenly, decreasing the demand on our existing tracking regions. Thus, latency rates for all servers will decrease!
The server in Japan is already making a difference. We've seen a 25% reduction in latency in Japanese and Chinese traffic. With latency rates on the decline, we can ultimately provide a better user experience. Having less redirects allows us to disappear from the user experience, which is exactly how it should be.
If you have any questions, contact your HasOffers Account Manager.
Author
Becky is the Senior Content Marketing Manager at TUNE. Before TUNE, she led a variety of marketing and communications projects at San Francisco startups. Becky received her bachelor's degree in English from Wake Forest University. After living nearly a decade in San Francisco and Seattle, she has returned to her home of Charleston, SC, where you can find her enjoying the sun and salt water with her family.