Over the past year the world of performance marketing has seen a few seismic shifts that may result in more clarity and more opportunities for people who are paying attention. The overall themes of 2015 have been about improving quality and increasing engagement, while discarding the cheap gimmicks and poor user experiences of the past.
2015 marked the birth of several hot new trends, and, we're happy to say, the death of several unpopular ones. Here's our recap: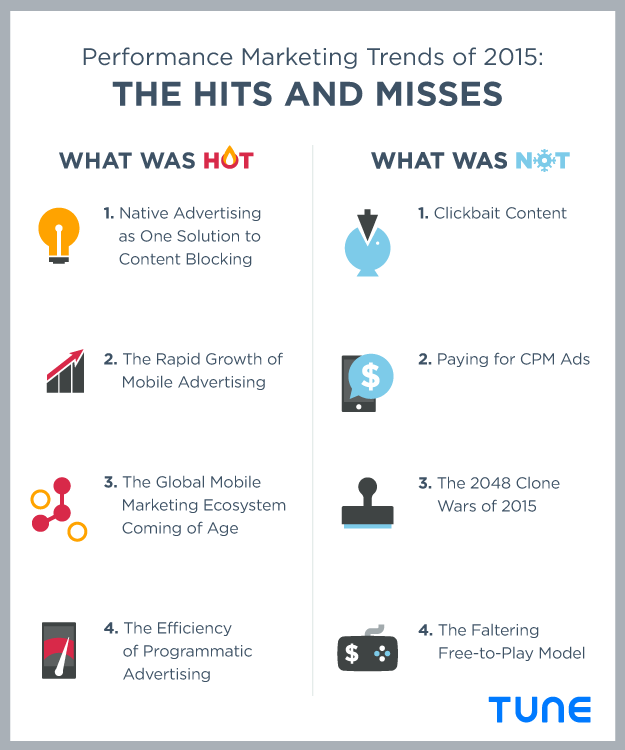 Things That Trended
Native Advertising as One Solution to Content Blocking
Apple's announcement in September that iOS would support content blocking underlined an ongoing shift in digital marketing: Consumers now have more control in blocking ads on both desktop and mobile devices.
While this means the death of banner ads, ad blocking could also be extended to the interstitials that monetize mobile games.
What are publishers to do?
One solution to evading pop-up blockers and connecting with consumers is native advertising, a new digital advertising concept focused on integrated, informative, and enjoyable brand messages published in the form of content itself.
Unlike traditional banner ads served by an ad network, native content is intended to closely match the aesthetic and function of its platform.
The takeaway
To deal with the seismic shift presented by content blocking, advertising should be relevant and engaging—viewers should never want to reach for the block controls to blacklist your ad. Understand what your customers are seeking, and craft your message to address their needs.
The Rapid Growth of Mobile Advertising
In 2015 mobile advertising continued to grow faster than all other digital advertising formats. In some regions, mobile ad spending increased by nearly 50 percent in 2015 compared with the same period in 2014.
How marketers can take advantage
For mobile marketers, not only should you be focusing more on mobile, you should be analyzing user behavior from device to device and from region to region in order to effectively optimize mobile campaigns.
Analytics tools now provide more sophisticated insights such as post click and impression event tracking as well as cart and product tracking. Performance marketers that invest the time to optimize campaigns will win in 2016.
The Global Mobile Marketing Ecosystem Coming of Age
Widespread adoption of mobile devices around the world, combined with an explosion of ad tech and performance marketing hubs, has created more lucrative opportunities for performance marketers.
While mobile marketers have traditionally focused on countries and regions such as the U.S. and Europe, the growth of mobile usage in other countries means there are new markets to explore.
For example, Brazil was one of just four countries with double-digit growth in mobile adoption. Fifty percent of Brazilian households currently use mobile devices as their primary means of communication.
What to keep in mind
While other countries around the world are presenting similar opportunities, not every region is the same. It's important to work with trusted local partners help you create relevant campaigns that engage local audiences.
The Efficiency of Programmatic Advertising
As TUNE predicted earlier this year, 2015 became the year mobile programmatic moved beyond the confines of a few media properties to become an industry norm.
What is programmatic advertising? It's an automation of digital ad purchasing, using software in place of salespeople and ad buyers to make transactions. Due to the complex nature of buying programmatic, among other reasons, programmatic advertising has been difficult to implement competitively on mobile platforms. But 2015 saw the emergence of programmatic mobile apps that incorporate specific tracking and segmenting in order to reach a desired audience.
The takeaway
Online advertising in 2015 is quickly clamping down on fraud. Thanks to better tools and attribution it's much easier for marketers to determine click sources and their true value. By analyzing traffic sources and visitor behavior, you can create more targeted and efficient campaigns.
Things That Fell Flat
The Death of Clickbait Content
While 2015 marked an acceptance of content marketing, the past year also sounded the death knell for "clickbaity" headlines.
Pioneered by media properties such as Upworthy, clickbait used provocative headlines to "bait" readers to click to their site. The purpose was to generate outrage and shares, and increase traffic volume. But increased traffic did not necessarily mean more engagement. Readers rarely stayed on the page for long, and a multiplicity of knock-off sites came on the scene to capitalize on the trend. Readers became bored and began to ignore these headlines outright.
The lesson for performance marketers?
In an era of almost unlimited content, the only way to stand out and engage visitors is to focus on quality, and not instant results. Creating informative, not infuriating, headlines is more effective in drawing readers to articles of substance.
Paying for CPM Ads
Many advertisers pay for ads on a "CPM" basis, and pay for every thousand times their display ads or video ads are shown. The problem with this is that spammers have come up with ways to manipulate page views and ad impressions in order to commit fraud. While advertisers may think they are paying less for higher volume, they're really paying for fake traffic.
The solution?
Shift from CPM-based ad impressions to CPC-based search ads where performance can be measured. Also monitor your analytics to observe visitor behavior. For example, fraudulent traffic rarely sticks around on your site for long and doesn't travel to other pages of your site.
The 2048 Clone Wars of 2015
Popular puzzle game 2048 was one of the hottest mobile apps of 2014, but a year later, the excitement had fizzled out.
The massive but brief success of 2048 serves as a case study about the perils of Internet hype. 2048 itself was a clone of a paid puzzle game that had achieved success earlier in 2014. Once 2048 was launched as a free app, multiple copycats of the clone soon appeared.
By early 2015 the hype had faded and mobile users had moved on to something else. Any performance marketer who had tried to capitalize on the popularity of 2048 was left searching for the next big thing.
The takeaway for mobile marketers and publishers?
It's always better to identify quality experiences to find advertising opportunities, which will likely result in quality leads and longer campaigns. Instead of following the biggest fad, focus on the needs of your targeted audience. That way, you can earn a longer retention rate when your customers are fully engaged with your product.You won't have to constantly start from scratch as you scramble to take advantage of the next trendy thing.
Angry Birds and the Faltering Free-to-Play Model
At one time Rovio's Angry Birds was the hottest mobile game on the planet, inspiring toys and other merchandising kitsch as well as an upcoming movie. However, as the Angry Birds juggernaut finally faltered and revenues tanked in 2015, Rovio was forced to lay off staff this past August. The CEO stepped down in early December after just a year at the company.
While the decline in revenues has been blamed on a corresponding slump in merchandise sales, the real problem for Rovio is how difficult it can be to monetize a fairly simple casual game. Under the typical free-to-play model, users can play the game for free, but progressing from level to level can be a total grind. To escape the slog players can instead purchase upgrades.
The consideration for marketers?
There are a lot of free-to-play games out there, and unless a game is particularly engaging and compelling, players will get bored and move on to something else without upgrading. And the upgrades themselves often compete for attention with interstitial advertising where performance marketers make their money on mobile games in the first place. As mentioned before, quality is key.
Key Takeaways for Mobile Marketers from 2015
Based on these trends the three points for performance marketers to succeed are focusing on quality, taking the time to carefully observe audience needs and responses, and both monitoring and optimizing your data to establish efficient, effective workflows. By keeping these ideas in mind, progressive performance marketers can improve their marketing efforts and reap the benefits in 2016.
Like this article? Sign up for our blog digest emails. 
Author
As COO, Cameron oversees operations at TUNE, including human resources, global office operations, IT and customer service teams. Previously, Cameron was GM leading TUNE's flagship product, HasOffers, actively contributing to business development and product strategies. Before joining the company in 2009, Cameron worked with Robert Half International for Fortune 500 clients, developing and maintaining relationships by consulting corporations on their organizational development and staffing needs. Since joining TUNE in 2009, Cameron has combined his business development and leadership experience with customer-centric views to deliver an experience that revolutionizes customer care standards in the industry. Cameron graduated from Washington State University with a Bachelor's in Finance and Economics.