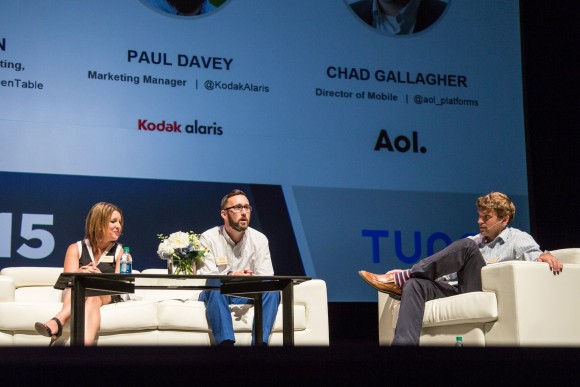 As the intro speaker, TUNE CEO Peter Hamilton took advantage of being in the Seattle opera house and kicked #Postback15 off with an amazing performance of "Apps":
Now here's a quick recap of the mobile marketing panels from #Postback15 day one:
---
Session: Staying Ahead of the Curve
Speakers:
Craig Weinberg, 3Q Digital, VP of Mobile Strategy
Dre Madden, OpenTable, Director of Global Marketing, Display & Mobile
Paul Davey, Kodak Alaris, Marketing Manager
Chad Gallagher, AOL, Director of Mobile
At a glance: Three top brands discussed their current marketing focus, programmatic media buying, and the role of creative.
Quotable
"First question we ask? How does that get bought in a programmatic channel." – Chad Gallagher

"AOL is on the forefront of understanding privacy. The first people our product team talks to is our privacy team. It's a great measuring stick to tell us if we should move forward." – Chad Gallagher

"The one problem with programmatic? The trust factor." – Dre Madden

"How do you measure attribution in a world where there's a closed ecosystem?" – Chad Gallagher

"We're just dipping our toe into programmatic. Our brand is so strong that it's driving our downloads for us. Location is what's important for us—the majority of our downloads happen in person in front of a Kodak Picture Kiosk. " – Paul Davey

"We're spending a lot of time thinking about mobile video. We haven't seen a lot of iteration in mobile video ads. What should those look like?" – Chad Gallagher
Key takeaways: It's important to consider the individual user and how they move across devices. Programmatic buying is here to stay. Multi-device and multi-touch is the most important thing going across the field right now. A more transparent and open ecosystem is essential.
---
Session: Discovering the Perfect Marketing Mix
Speakers:
Eric Seufert, Rovio, VP of User Acquisition and Network Engagement
Raquel Basso, EA, Head of Mobile User Acquisition
John Dionisio, Zynga, Senior Director Performance Marketing
At a glance: Panelists discussed how to acquire and re-engage resurrect users, the value of partnering with finance to establish meaningful KPIs, and shared insight into how to approach a portfolio of apps.
Quotable
"We want to hone in on more than just the mobile ecosystem, get more personalized with our messaging and really understand our customer." – John Dionisio

"It's not about business plans and the quarter, it's about the consumer experience." – Raquel Basso

"One of the major trends in the industry is traditional marketers are moving into performance marketing, and vice versa. There's an interesting hybrid: How do you become a branded performance marketer?" – John Dionisio

"Understand how your consumers interact with your product, and react with marketing." – Raquel Basso

"Our most-engaged, highest-valued users come through video." – John Dionisio
Key takeaways: Marketers need to set specific goals for every dollar of ad spend. These goals should be different for each app based on the life cycle and genre. Don't get locked into short-term ROI performance, alternatively, take a long-term, holistic approach to your KPIs.
---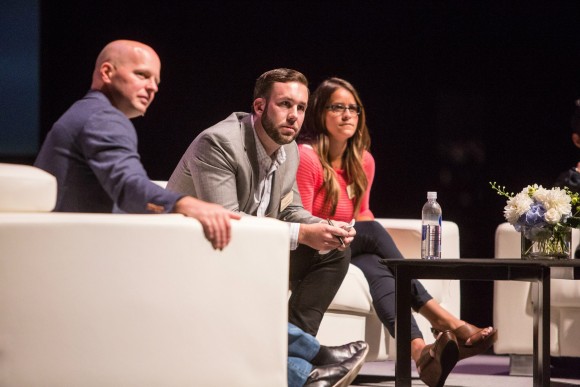 Mobile Commerce
Speakers:
John Koetsier, VentureBeat, VP of Research at VentureBeat
Tom Sullivan, Sephora, Senior Manager, Digital Marketing
Jessie Morris, REI, Mobile Programs Manager
Sho Masuda, Postmark, VP of Growth
At a glance: Panelists discussed why 2015 is the year of mobile commerce (or is it?), the trends and challenges of mobile commerce, and the essential role of attribution.
Quotable
"60% of digital shopping is done on mobile, but only 15% of the spending." – Sho Masuda

"Year over year we see mobile engagement and mobile sales increase. So in a sense, every year is the year of mobile." – Jessie Morris

"We in this audience aren't the type to clip a coupon into a mobile wallet. And thus we underestimate a massive opportunity." – John Koetsier

"Providing the right content, in the right mobile moment, is critical." – Jessie Morris

"Our app is the hub for the Beauty Insider experience. But it can't replace the in-store experience." – Tom Sullivan

"The reason mobile commerce isn't taking off is because it's a transformation from web into mobile. It's not innovation." – Sho Masuda
Key takeaways: The majority of shopping time is happening on a mobile device already, but it's going to take time to deliver the full digital experience and increase sales on mobile. Mobile is currently a successful channel for bringing users into retail locations. If you can't attribute app installs, it's hard to optimize.
---
Mobile Data and Privacy
Speakers:
Saira Nayak, TUNE, Chief Privacy Officer
Michael McCullough, Macy's, CPO
Andrew Brinbryer, Applift, VP of Advertising
Janis Kestenbaum, Perkins Coie, Partner
At a glance: Panelists discussed several current privacy issues, the role of government, and debated different approaches to data ownership and privacy by design.
Quotable
"If you show me something that's hyper-contextual, that's an added benefit. Not an annoyance." – Andrew Birnbryer

"We need to build trust with our customers so we can connect an online and offline experience." – Michael McCullough

"Start by taking the highest possible level of security and you won't have to look back." – Andrew Birnbryer

"There's a lot of dialogue going on about whether or not the Safe Harbor agreement is actually safe." – Janis Kestenbaum

"Privacy needs to be your lifeblood. It's not an add-on." – Michael McCullough
Key takeaways: If you have the right amount of opt-in, most users are willing to make deals with businesses (personal information in exchange for a better user experience). But what happens with the data after that exchange is what's important. Be transparent about your privacy practices and ensure that everything that happens is consistent with consumer expectations.
---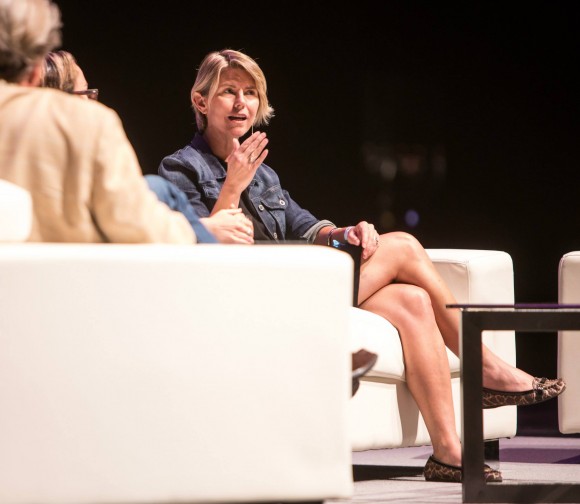 Introducing the Mobile CMO
Speakers:
Greg Stuart, MMA, CEO
Beth Murphy, Deezer, CMO
Kira Wampler, Lyft, CMO
Thomas Zimmerman, Goodgame Studios, Head of Marketing
At a glance: Panelists discussed what it means to be a "mobile first company," changes in the organizational structure, branding, and the importance of being attuned to how customers spend time on their devices. They also shared some advice for folks who might want their job.
Quotable
"It goes back to being a great marketer. Great marketers start with the customer." – Kira Wampler

"If you get attribution right, everything else follows." – Beth Murphy

"There is an extremely strong correlation with brand awareness and cost to acquire." – Kira Wampler

"Hire the right people and get out of the way." – Thomas Zimmerman
Key takeaway: With mobile-first companies, the consumer experience is primarily mobile. Successful marketers focus on determining how to deliver an amazing end-to-end experience. CMOs understand that marketing is equally an art and a science.
Did we miss anything? What were your favorite moments?
Like this article? Sign up for our blog digest emails.
Author
Becky is the Senior Content Marketing Manager at TUNE. Before TUNE, she led a variety of marketing and communications projects at San Francisco startups. Becky received her bachelor's degree in English from Wake Forest University. After living nearly a decade in San Francisco and Seattle, she has returned to her home of Charleston, SC, where you can find her enjoying the sun and salt water with her family.